Missouri: Arrow Rock State Park & Arrow Rock, Boones Lick & Booneville
Places Visited:
Missouri: Arrow Rock State Park & Arrow Rock, Boones Lick & Booneville
Wednesday July 28, 2004 Babler State Park Campground 20-miles west of St Louis: N38° 36.533': W90° 41.214' $18.00 for 30amps no water & central dump
We declared today a down day in order to plan for the next week or so. It takes time to read the available information and make lists of things we want to see and do. Our next big stop will be in Independence, Missouri but that is 220 miles west of here. There is so much that we can stop and see between here and there we just have to sift through all the possibilities and decide what we will stop and see and what will get skipped.
The only thing we did today was visit the visitor's center here in Babler State Park. This visitor's center like most state park visitor's centers has a nice educational display of various stuffed birds, animals and reptiles. Several dioramas featured animals, birds, reptile's flowers, trees and other native plants arranged in a natural setting where you have to find each item.
We drove in to Chesterfield looking for a place to eat and settled on Hometown Buffet. We couldn't agree on anything else then decided that no matter what each of us could find something in a Hometown Buffet to satisfy us. To our surprise Hometown Buffet was great. Most buffets feature starches and more starches. Hometown Buffet was different. They featured wonderful carved roast beef, pork loin, grilled salmon (the big King Salmon filet) not those fishy tasting salmon some places serve. I could go on and on but suffice it to say their salad and fruit selection and deserts were top of the line as well.
It was 7:30 when we headed back to the motorhome and that is prime time to view wildlife. Just outside the State Park we pulled over next to a large field to video several groups of deer feeding in the meadow. Each group seemed to have 5 deer for some reason. After we got into the park several single deer ambled out in front of us in addition to a family of raccoons.
Tomorrow we are headed west toward Independence and Kansas City but will probably stop around Arrow Rock. We also have several places we will probably take time to visit before the day is over.
Thursday July 29, 2004 Arrow Rock State Park Campground near Arrow Rock, Missouri: N39° 3.846': W92° 56.589' $14.00 for 30amps no water & central dump.
We got an early start leaving Babler SP this morning because we had so much we wanted to do today. Our plan was to stop for the night in Arrow Rock State Park (120-miles west) but we wanted to visit the Winston Churchill Memorial & Library located in Fulton, Missouri plus we wanted to tour the area around Arrow Rock.
When wanting to sight see while moving the RV from place to place we have to look for a place like a super market parking lot, Wal-Mart or truck stop to leave the motorhome parked in while we do our sightseeing in the Saturn. As we rolled off I-70 at the Fulton exit we were blessed with three travel centers to leave the motorhome in while we took the Saturn into Fulton and the Winston Churchill Memorial.
Why of all places would a memorial to Winston Churchill be in Fulton, Missouri? The answer to that question goes back to 1946 when Sir Winston Churchill visited President Harry Truman at his home in Missouri. Churchill took the opportunity to deliver a speech. That address was entitled "Sinews of Peace." Sir Winston Churchill's best-remembered words were uttered not in England, but at Westminster College in Fulton, Missouri, on March 5, 1946. In that Sinews of Peace address he coined the phrase "iron curtain" with these words "From Stettin in the Baltic to Trieste in the Adriatic, an iron curtain has descended across the continent…" As the months passed after WWII and the events in post war Germany unfolded his prophetic "iron curtain" was indeed erected.
The Church of St. Mary the Virgin, Aldermanbury in Fulton, Missouri
I don't exactly know the particulars of this memorial but here is what I do know. The Church of St. Mary the Virgin, Aldermanbury, is the major part of the Winston Churchill Memorial. Sir Christopher Wren redesigned the church, which dates from the 12th century, in 1677 after the Great Fire of London. Yes this very church was originally in London, England. Nearly three centuries later, (in WWII) a German incendiary bomb left it in ruin. Slated for demolition, Wren's graceful masterpiece was saved by a bold idea. The structure would be rebuilt on the campus of Westminster College as a permanent reminder of Churchill's visit to the college and his prophetic speech. Stone by stone, architects and craftsmen dismantled the church, shipped the pieces across the Atlantic and halfway across America and painstakingly reconstructed it on its present site at Westminster College here in Fulton. Today visitors from around the world enter Wren's beautiful, light-filled sanctuary where the poet John Milton was married and where Shakespeare is said to have worshipped.
In the Memorial there were detailed descriptions and pictures of the dismantling of the old bombed out church and how workers numbered each individual limestone block. It is an intriguing story. Each limestone block was individually packaged in a wooden crate. While they are big blocks that is still a LOT of wooden crates. Statuary and other items in the church were also crated up and shipped to Fulton, Missouri.
Churchill himself was intrigued by the imaginative idea of a restored Wren church in America's heartland. He wrote, "It may symbolize in the eyes of the English-speaking peoples the ideals of Anglo-American association on which rest, now as before, so many of our hopes for peace and the future of mankind."
Eight massive sections of the Berlin Wall once located near the Brandenburg Gate which represented Churchill's Iron Curtain on display in Fulton, Missouri
A grand daughter of Sir Winston Churchill created a sculpture for the Memorial to celebrate the fall of the Berlin Wall in November, 1989. Renowned British artist Edwina Sandys created her master work "Breakthrough" from eight massive sections of the wall that had been located near the Brandenburg Gate and which had physically represented Churchill's "Iron Curtain" for nearly 30 years. Joyce and I spent time looking over the 8-sections of the wall that separated the two Germany's. Here a section of it was in the heartland of America. One side had graffiti on it the other was spotless. I wonder which side the graffiti was on………………. No I don't.
Upon entering the museum, you immediately become immersed in the life and times of Winston Churchill. Many exhibits lead up to WWII but the central gallery transports you back to World War II, a time of blitzkrieg bombings, unparalleled heroism, and steadfast resolve. Excerpts from Churchill's most memorable speeches can be heard by simply pressing a button on the display to hear his voice rallying his nation when all seemed lost and bringing the world hope and determination. His timeless words remain inspiring to this day.
In the Sinews of Peace gallery, you can listen to Churchill's 1946 Iron Curtain Speech. The recorded murmurs of the crowd enable you to sense the anticipation and importance of what he was saying.
In the Cold War gallery you start to understand the significance of the Iron Curtain Speech delivered that March day in 1946 right here on the campus of Westminster College in Fulton, Missouri.
The architectural significance of both the interior and exterior of the rebuilt Aldermanbury Cathedral is something that is beyond me to describe. It is something you just have to see yourself.
Back in the motorhome our next stop was Arrow Rock State Park in Arrow Rock, Missouri. As you might expect Arrow Rock got its name from the flint early Indians used in making arrowheads. In the early years Arrow Rock was the largest town west of St. Louis. It was the largest town west of St Louis until the 1860's when the center for the movement westward shifted to Independence, Missouri almost 100-miles to the west.
Jail from the 1800's on display in Arrow Rock, Missouri
Arrow Rock had a population of over 1,000 during those years. The population has dwindled to 79 today. Many OLD homes and buildings have been preserved. One old limestone rock building captivated my attention. It was the jail from the 1800's. To me it looked like a large domed oven except it had steel bars for the door. Nothing else is standing around this "monument" for lack of a better word. The walls were over 2' thick and the interior might have been 8' X 10'. I suppose it would hold as many people as could fit into the "dungeon".
Many old homes along Main Street were now functioning as Bed & Breakfast. Signs proclaimed many of the buildings to be CIRCA 1830's. That is mind boggling when you recall that 1830 is 30-years before the Civil War. The westward movement with wagon trains full of settlers was still in full swing, and these houses were here watching the procession of wagons heading west.
Along both side of Main Street was a ditch made of limestone cobbles that served to carry rainwater away from the town perched atop a nice hill. That old ditch is still there and functioning today. One historic marker said that slaves constructed the limestone drainage ditch. We saw no other mention of this unique feature of town.
Joyce on a wall in Booneville, Missouri with the Missouri River in the background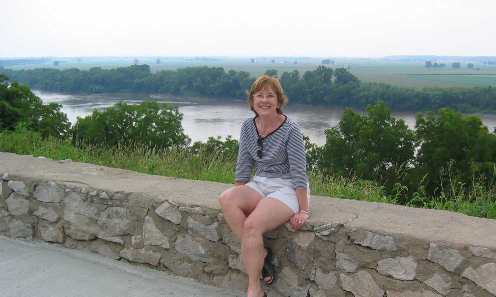 We next drove to Boonville another historic old town. We visited a historic overlook in Boonville located high on a bluff overlooking the Missouri River N38° 58.508': W92° 45.590'. You can find this bluff by following "historical marker" signs. From this bluff you can see the Missouri River down below then the fertile valley on the north side dotted checkerboard style with corn and soybean fields. The view is absolutely captivating and worth the drive to Boonville which also happens to be home to 400 or so structures on the national Register of historic places. From the Isle of Capri Casino parking lot we can see the old RR Bridge across the Missouri that is part of the KATY Trail State Park System. We noticed how the center portion of the bridge was permanently raised allowing vessels to pass underneath. A set of steel steps on each side connected the bridge to the raised center span. I wanted to walk out on the bridge and climb the steps to that raised portion but time would not allow.
Our next stop was Boon's Lick State Historic Site. It is located 13-miles away on the other side of the Missouri River (North Side). Boon's Lick has tremendous significance in both the history of Missouri but the entire western United States. Settlers needed to have rich farmland, water and SALT in order to survive. They had to have salt in order to preserve meat and other foodstuff plus salt was used in the leather tanning process. Boone's Lick was found by following buffalo, deer and elk trails to the salt lick. There were and still are numerous saline springs in this part of Missouri. Lewis & Clark noted them as they made their historic journey in 1804. If you remember the Corps of Discovery stopped by and visited with the Boone settlers when they passed their settlement roughly 100 miles down river from here. Supposedly Daniel Boone discovered these saline springs on a hunting trip. In any event a trail was established from the Boone Settlement to Boone's Lick. By 1808 Nathan Boone was guiding now General William Clark and his troops overland from St Charles to build Fort Osage near present day Independence. The route took them up what became Boone's Lick road and past Boone's Lick.
By 1827 three overland routes (Santa Fe Trail, California Trail & Oregon Trail) passed through the Boone's Lick area along that original Boone's Lick Road. In 1804-1805 Jesse & James Morrison, Daniel Morgan and Nathan Boone formed a partnership and started producing salt. Note that this business is operating prior to the return trip of Lewis and Clark in 1806.
To produce salt from these saline springs water had to be evaporated. Huge kettles or pots were brought in and wood fires were built under the kettles. Saline water was boiled in the kettles until it became thick brine that could be shoveled into drying beds. From there the dried salt was packaged and shipped to St Charles for sale. A large kettle would yield a bushel of salt, about 60-pounds, at each boiling.
Initially, the salt would be transported to St Charles in dugout canoes and later by keelboat. A bushel sold for from $2.00 to $2.50 per bushel. The salt produced here was vital to the economic growth of the area and the daily lives of the settlers. Salt was an essential part of food preservation and the curing and tanning of animal hides. At the height of operations hundreds of people made their living right here. The reason for so much demand for salt was because it required 4-pounds of salt to cure 20-pounds of ham and 15-pounds of salt to cure 100-pounds of pork or beef.
One of the workers at the salt works was William Becknell. William was an adventurer and entrepreneur extraordinaire. It was William Becknell that quit his job at the salt works and organized the first trading expedition to Santa Fe, New Mexico. The time was August of 1821 and the Mexicans had just won their independence from Spain. When Spain controlled Santa Fe and indeed all of present day Mexico they forbid trade with anyone other than Spain. Traders who ventured into the Spanish communities were immediately jailed. Zebulon Pike the army officer who Jefferson sent to explore the Southwest shortly after Lewis & Clark embarked on their epic voyage of discovery. The Spanish jailed Pike when he entered Santa Fe and he and his men spent several years in "Spanish" custody, they were even transported to Central Mexico where they were jailed. They were eventually released but it just goes to show what happened to "Americans" that ventured into the Spanish settlements around present day Santa Fe, New Mexico. Of course trade goods available to the residents under the Spanish system were paltry and expensive; as a result Mexico and the areas previously controlled by Spain were RIPE for trade.
Mexico did not win independence from Spain until sometime in 1821 so Becknell was gambling that the residents of Santa Fe would welcome him and his goods rather than jail him as they had done to Zebulon Pike and others. September 1, 1821 Becknell and his group crossed the Missouri River at the ferry near Arrow Rock with their pack animals loaded. They blazed a trail 900-miles to Santa Fe and when they returned in December with both money and silver and goods they excited the residents with the prospects of trade with Santa Fe. As a result of this trip William Becknell earned the title "Father of the Santa Fe Trail". Note that in this first trip Becknell and the other traders did not have any wagons. They carried everything on pack animals. In May of 1822 Becknell organized a second trade expedition, this time with three wagons. These wagons were the first of thousands that made the journey down the Santa Fe Trail. The trade with Santa Fe was extremely profitable one trader is said to have made $190,000 off his $30,000 investment in trade goods. As profitable as it could be it was extremely dangerous and arduous. The Santa Fe Trail was a long lonely trail through hostile territory. Traders joined together to form "wagon trains" that way they would have enough men and weapons to fight off robbers and Indian attacks. Someone had to stay up all night guarding the livestock that was set out to graze when not pulling the wagons. Indians and thieves were a constant threat so it took "overwhelming-force" and constant vigilance to assure that the wagon trains were not the victim of these bands of ne'er-do-wells. It takes a LOT of men to drive wagons all day, stand watch all night and tend to all the livestock along the way. Banding together in wagon trains was the only way these traders could reasonably assure that they and their goods would actually make it to Santa Fe. They also had to have a large group returning to Missouri so they would not be robbed of the "fruits of their labor".
Becknell's original expedition from this area started the Santa Fe trade route that prospered for many years. Kit Carson was a teenage boy from the Boone's Lick area that ran away from home to work the Santa Fe Trade Route and we all know how he settled in Taos, New Mexico and became one of America's frontier legends. In addition to gold and silver the traders returned with jacks, jennets & mules that were instrumental in helping Missouri become a leading center for breeding and selling mules.
Historic Arrow Rock Tavern in Arrow Rock, Missouri
What a day! And it wasn't over. Joyce wanted to return to Arrow Rock and have dinner at the Historic Arrow Rock Tavern. The Arrow Rock Tavern has been serving food since 1834 and claims to be the "Oldest Continuous Operating Restaurant West of the Mississippi River". The State of Missouri owns the building while local proprietors operate the restaurant. While dining in the restaurant we learned that the building was purchased in 1923 by the State of Missouri and became the first building in Missouri to be publicly set aside for historic preservation purposes. The state operates a small museum in part of the building not being utilized by the restaurant.
The restaurant caters to city folks looking for a dining experience and serves dishes that appeal to that cliental. I decided to try the tender loin of elk. After all, we were trying to experience something different with this dining experience. What was different was not the elk it was the salad. The meal of elk tender loin came with salad, vegetable (corn or green beans) mashed potatoes & gravy and rolls with apple butter. I was expecting a salad of leafy greens like lettuce with possibly radishes, onions, carrots and possibly tomato. Wrong! Their salad consisted of a bowl of mixed hominy and a bowl of coleslaw. Just when I get to thinking I know what I am going to get when the menu reads……."salad" they spring this surprise on me. OK, I can handle that. The hominy and coleslaw were great; it just wasn't what I was expecting. So that turned out to be my "something-different". To be honest it is hard to tell elk from chewy beef but the tender loin was nice and juicy. The owner came out and talked with us. She told us that they got the elk from local ranchers that were raising them not far from here. Other ranchers were raising buffalo and she said they made a mean buffalo stew in the fall and winter months.
Wow! What a day. We could have stretched all this out and been happy for three or four days instead of packing it all into one. We could easily spend a day in Arrow Rock and another day poking around Booneville and all their historic places not to mention spending time walking the KATY trail to the middle of the Missouri River on that old RR Bridge.
All that will have to wait because tomorrow we head to Independence.

Until next time remember how good life is.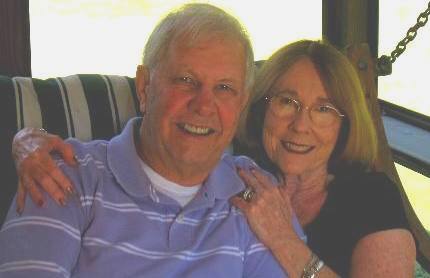 Mike & Joyce Hendrix who we are
We hope you liked this page. If you do you might be interested in some of our other Travel Adventures:
Mike & Joyce Hendrix's home page
Travel Adventures by Year ** Travel Adventures by State ** Plants ** Marine-Boats ** Geology ** Exciting Drives ** Cute Signs ** RV Subjects ** Miscellaneous Subjects
We would love to hear from you......just put "info" in the place of "FAKE" in this address: FAKE@travellogs.us
Until next time remember how good life is.