Places Visited:
July 4, 2003 Taos Valley RV-Park Taos, New Mexico. $33.34 per-night. $1.00 per-connection charge for modem use 15-minute max. We DO NOT recommend this park.
I continue to bad-mouth Taos Valley RV-Park every chance I get. Stay in Red River not Taos. Our new neighbors are steamed because they were charged and extra $6.00 for their two grandchildren. You can bet I jumped in and stirred the pot.
Our first stop this morning was the Mabel Dodge Luhan Historic Inn and Conference center Bed @ Breakfast. My good friend Bob Giddings had written to give us some ideas on things to see and do in Taos. Thanks Bob. Bob said we would like the museum because of the unique floors of rammed earth and bull's blood. We didn't find the museum but did find the famous Mabel Dodge Luhan house now functioning as a B&B. We just sauntered into the place like we were staying there and made ourselves at home. The lady at the desk gave us a room list and history sheet on the place. The history sheet added to our knowledge of adobe roof construction.
After constructing adobe walls, vigas (logs or beams) spanning across the outside load bearing walls are placed on what appears to be 4-foot centers. Vegas are logs between 8" and 10" in diameter. Above the vigas are aspen latillas. Latillas are 2" to 3" in diameter and are placed across the vigas. For some reason they do not put them straight across. The ones we see are always at 45 degree angles to the vigas with the angle changing direction at each viga. On top of the latillas comes a layer of sage then on top of the sage is a cap of adobe mud. I questioned them thoroughly about the roof construction. They have never seen rain seep through. I suppose the layer of adobe on the roof could be a foot or more thick since it is being supported by those massive vigas. I am impressed, although that type of construction would never work back east.
Although I have never heard of Mabel Dodge Luhan she was a prominent figure in the arts and society of New York City and Europe. Born to a wealthy family in Buffalo, New York; she entertained and supported many of the well-known artists, activists, writers and "thinkers" of her time (early 1900s). She was known for conducting salons where people of the political and artistic avant-garde gathered to discuss new ideas.
Somewhere along the line Mabel left New York to settle in Taos, marrying a full-blooded Taos Pueblo man by the name of Tony Luhan. Society publications including New Yorker Magazine featured cartoons lampooning Mabel in Taos. Mabel responded by building the Mabel Dodge Luhan house and began inviting the avant-guard artists and thinkers to spend time with her in Taos. Georgia O'Keeffe, Willa Cather, Ansel Adams, Carl Jung, John Collier and others spent time with Mabel and Tony. Each of these individuals went on to do notable work in the arts and politics.
In 1991 the Mabel Dodge Luhan House was designated a National Historic Landmark and is now open to the public as a bed and breakfast, retreat and conference center.
The lady at the desk said that she was familiar with adobe floors with a coating of bull's blood but that the Mabel Dodge Luhan House did not have any of those floors.
Between the parking lot and the house we passed over the Acequia Madre or mother ditch for irrigating the Taos valley. There was no water in it today but we could tell that water had flowed through the acequia recently.
For those of you enjoying the bed & breakfast travel method you can reach them at: 800-846-2235 505-751-986 www.mabeldodgeluhan.com or mabel@mabeldodgeluhan.com
The Kit Carson Home and Museum was our next stop. We had both heard of Kit Carson but had not really paid any attention to what he was famous for or what he accomplished. After touring the museum we are as impressed with Kit Carson as with any other individual we know about. Born in Kentucky in 1809 the family moved to the edge of the American frontier where Kit caught the "fever of the frontier" and joined a wagon train headed for Santa Fe.
That was in 1824 and the date is significant. Remember that Anglos were not welcome in New Mexico prior to 1821 because it was controlled by Spain. That all changed in 1821 when Mexico gained independence from Spain. Spanish officials were replaced. These were the officials that had kept the American Anglos out. New Mexico was now a province of Mexico. Communities up and down the Camino Real were eager to trade with the outside world (America). That is the political climate when Kit at age 15 joined a wagon train headed for Santa Fe.
For the next 16-years Kit was a fir trapper, mountain man and hunter. During this time his fur trapping activities took him from Mexico to Canada and from Missouri to the Pacific Ocean.
In 1842 Carson entered another phase of his life. At age 33 he had seen more of this country than virtually anyone at that time (for that matter more than most Americans today). In 1842 Carson became a guide for John C. Fremont. Kit let the first of three mapping and exploring expeditions over the next four years that resulted in the opening of the Oregon Trail as well as providing detailed maps of the land west of the Rocky Mountains. During these years Fremont and Carson had numerous extraordinary experiences, including participation in the Bear Flag revolt of 1846 in which America wrested control of California from Mexico. Fremont's published accounts of these adventures became national bestsellers and Kit Carson, the hero of several of the stories, became a household name. To just say Carson led some expeditions does not do justice to what these men did. Three or four times Kit led these explorers and map makers from east of the Rockies all the way to California, Oregon and Washington then back and this was all on horseback or walking. This was LONG before roads, maps, hotels or restaurants. Think about it, they really were explorers at the very edge.
With his scouting services successfully concluded Carson returned to northern New Mexico and tried his hand at ranching from 1847 until 1853. Even with this endeavor Carson did spectacularly. With the help of friends he drove 6,500 sheep from Taos to California through deserts and mountains turning a handsome profit of $35,000.
In 1854 he was appointed as a Federal Indian Agent. Then in the Civil War he was made a Brigadier General. After that the government called upon Carson to help end the Indian raiding in the Southwest. In major campaigns against the Apache, Navajo and finally the great tribes of the southern plains, Carson helped bring peace to a frontier that for over two hundred years had been the scene of almost incessant conflict.
Near the end of his life the government appointed Carson commandant of Ft. Garland, some sixty miles north of Taos. His final appointment was as Superintendent of Indian Affairs for the Colorado Territory.
Carson accomplished all he did yet could not read and write English. However, he had a working knowledge of Spanish, Navajo, Apache, Comanche, Cheyenne, Arapaho, Crow, Blackfoot, Shoshone, Paiute and Ute languages as well as the universal sign language.
Now you know why I am in such awe of Kit Carson and all that he accomplished. He was a mans man having done what most of us can only dream of. During one of the expeditions to California he was sent to Washington to deliver a message to the President. Think about that for a minute. He was sent from California to Washington, not in a motorhome, or airplane or bus or car. He was sent on a horse, over non-existent roads, with no restaurants or hotels. That alone should make him a hero! The more I think about it the more impressed I am. I am going to get a book and read a detailed account of his life and accomplishments.
While in the Kit Carson Museum Joyce noticed an adobe floor with a shiny covering. We wondered whether it could be the "rammed-earth and Bulls blood" that Bob had told us about. We asked the museum person and sure enough that is what it was. Thanks Bob. We would not have seen the Mabel Dodge Museum and would have completely missed the bull's blood floor. Like Bob told us the bull's blood topping actually created a semi-luster.
It has been some time since we have eaten at a restaurant worth mentioning. Today after the first two restaurants on our list were closed for the 4th of July we went with our 3rd choice. The El Taoseno Restaurant and Lounge had been recommended to us as the locals "blue-collar" favorite. It was just what we were looking for. In addition they had a band playing in a big room behind the restaurant. After eating Joyce and I joined them. We were the only "gringos" in the room. We stood out big time, everyone else had on jeans and we were in shorts, but the locals made us feel welcome. The band played a variety of music from 60's rock and roll to Spanish songs that sounded similar to the French songs we have danced to in Louisiana. The band stopped playing at 5PM or we would have stayed there all night.
By 7PM everyone in the RV-Park is outside watching a forest fire that is a few miles away in the mountains. Fireworks have been called off tonight. Things are serious. The fire is still raging north and east of town with flames leaping high in the air and in plain view with the naked eye. By 10PM the wind has died off and the flames are no longer visible but the sky is glowing. Residential areas in northeast Taos are being evacuated. The fire is less than 2-miles from the city. More on the fire tomorrow.
July 5, 2003 Taos Valley RV-Park Taos, New Mexico. $33.34 per-night. $1.00 per-connection charge for modem use 15-minute max. This campground is NOT recommended.
I continue to bad-mouth Taos Valley RV-Park every chance I get. Stay in Red River not Taos. This is Saturday & I have not received or sent e-mail since last Monday.
The raging wildfire that was threatening Taos last night has subsided somewhat. A squadron of aircraft and helicopters are swarming around the fire and teams of fire-fighters are on the ground. We still see a lot of smoke but the towering out of control flames reaching for the heavens are not evident this morning.
Joyce and I have been noticing some things about Taos. Jack, the local I met the other day that told me about the parishioners spending the first two weeks of June replastering the adobe church made an off hand comment that Taos had turned almost communist. I just brushed off his comment the first time but he made several more references to that effect on and off during our conversations. With Jack's comments in mind we noticed that none of the local radio stations played any patriotic music on the 4th of July. There was no mention of anything concerning the 4th of July except fireworks, which ended up being cancelled. All our neighbors in the RV-Park commented about the lack of patriotic music. Then we noticed the absence of American Flags. There were NO American flags on display anywhere in town. Excuse me the post office was flying one but that was the exception. The only other flag we saw flying looked like an American flag with red & white stripes except, where the American flag has stars this flag had white shot glasses, bats, and other symbols. We are not sure what to make of it but things in Taos are certainly much different than in any other town we have been in near on the 4th of July.
We spent the day wandering around Taos, the plaza, the park and galleries. We really can not leave the area because that fire is very close and we may have to move our motorhome. The fire also precludes us traveling north of Taos to visit the Taos ski area and other things north of the city. Any change in weather conditions and the fire could sweep down off the mountain and completely shut down the highway running north out of Taos. For those of you that are familiar with Taos, the fire is on the mountain to the northeast of town. It is threatening both the northeast sections of Taos and the Taos Pueblo. All of the land burning so far belongs to the Pueblo.
We can now also recommend Michael's Kitchen in downtown Taos for dinner. Although we had prime rib others around us were ordering a variety of Mexican dishes. The place would be considered upscale from the price list but otherwise rather ordinary. The ambience inside came from the buildings construction with exposed vigas on the ceiling and wooden floor.
As of nightfall the fire seems to us to be contained. There is plenty of grey smoke over an area of around 1,000 acres but we have not seen flames in hours. I think the smoke we were seeing as night fell was smoldering spots in the area that burned yesterday and last night.
July 6, 2003 Taos Valley RV-Park Taos, New Mexico. $33.34 per-night. $1.00 per-connection charge for modem use 15-minute max. This RV-Park is NOT recommended.
We worshiped this morning with the FBC of Taos. Immediately upon entering the sanctuary we noticed the 2nd American flag in Taos. We had a good time worshiping with the congregation of 58. Knowing that friends from FBC in Pensacola have property in the Taos area we thought there may be a chance to see Dr. Charles and Toni at church this morning. They must not have been in Taos today. Friends back in Pensacola can tell them we were looking for them.
Musical instruments were key board, guitar and harmonica. The harmonica and key board provided "flute" music during the prelude and offering. Most people just listening to the music would have said it was a flute and organ. None of the 58 in attendance today sported a tie. Clean clothes seemed to be the order of the day.
South of town we spotted two more American flags, one proudly displayed by Wal-Mart and the other by the Quality Inn. Note that these are not in Taos proper but south of the "galleries" & turquoise shops that make up Taos proper. Another was later spotted atop a construction crane south of town.
We have been in Taos for the better part of a week now. Over this time Joyce and I have discussed how Taos is "different" but different did not quiet do "different" justice. Describing "different" is difficult. We see "normal" people on the street, then we realize they are the tourist. The different ones are running the shops. They looked like the ones singled out on the first day of boot camp by the "big-dog" that came by to scare the bee-jeebies out of new recruits. I could just see one of these characters out in that sea of new recruits as the "big-dog" stepped up to look over his new charges. The "big-dog" would lower his voice to elicit as much authority as possible then launch into a dissertation of how he was going to make men out of us. Along about the end of that dissertation he would start talking about personal hygiene then one or two of the skuzzy recruits would be picked out and belittled about how nasty they were. Then in a disgusted last order the "big-dog" would direct his new charges to take these skuzzy recruits back to the shower area and give them a cleaning with scrub brushes. "I'll be back in an hour and I want them looking like a brand new penny". Then off he strode. I suspect they do not allow that kind of "camaraderie" in boot camp any longer. However, when looking at the "locals" they so much reminded me of those "skuzzy" kids that first day in boot camp. Personally, I think they need to round up Taos and run the whole lot through boot camp. By the way all these nasty individuals are Anglos not the Native Americans or those of Mexican or Spanish descent.
Enough about the locals and more to the shops. Each shop sells Indian jewelry (turquoise and silver), Indian pottery, belts with silver buttons, woven rugs and peasant skirts. Some throw in scented candles with a smattering of new age rocks and other junk but mostly Indian jewelry, pottery and belts. I honestly don't know where men get the jeans they wear. They must get them at Wal-Mart. By the way Wal-Mart wants to construct a Super Center but the town is fighting them tooth and nail.
Anyway, if you miss Taos you can get your Indian jewelry alongside the road anywhere in New Mexico. If you were to take the turquoise jewelry and pinto beans out of New Mexico I suspect it would float off into the universe somewhere.
If you happen this way make sure you stop by the St. Francis of Assisi Church in Ranchos De Taos 4-miles south of Taos. Also experience the bridge over the gorge (Rio Grande River) on US-64 10-miles west of town (it is the 2nd highest suspension bridge in the national highway system). Other than those two things you could easily skip Taos.
We dined at the Guadalajara Grill for lunch today. Hunter had recommended that restaurant along with "Fred's Place". Hunter was right it has good Mexican food.
Until next time remember how good life is.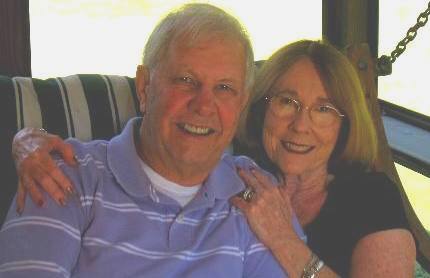 Mike & Joyce Hendrix who we are
We hope you liked this page. If you do you might be interested in some of our other Travel Adventures:
Mike & Joyce Hendrix's home page
Travel Adventures by Year ** Travel Adventures by State ** Plants ** Marine-Boats ** Geology ** Exciting Drives ** Cute Signs ** RV Subjects ** Miscellaneous Subjects
We would love to hear from you......just put "info" in the place of "FAKE" in this address: FAKE@travellogs.us
Until next time remember how good life is.