O'Leno State Park, High Springs, Ichetucknee Springs State Park,
St Joseph's Peninsula State Park Cape San Blas, St Andrews State Park Panama City Beach
Places Visited:
Florida: O'Leno SP, High Springs, Ichetucknee Springs State Park, St Joseph's Peninsula State Park Cape San Blas, St Andrews State Park Panama City Beach
Monday, August 19, 2002 O'Leno State Park; High Springs, FL. (a wee bit northwest of Gainesville)
We got up and headed 68 miles to Oviedo where we stopped to visit with friends James, Jennifer and Jonah Young. James grew up around our house. Joyce and I laugh about James going on about as many vacations with us as our son Jeff. Back in the days when I had rental properties James would ride with us on Saturdays when we did yard work and other maintenance. Now James has the Chic Fillet franchise in Oviedo. I'd say James has graduated big time. I suppose he learned what he DID NOT what to do for the rest of his life when he was cleaning up rental apartments.
We got to see their 12-month old little boy, Jonah for the first time. He is such a cutie pie. They also have a huge well-behaved, lovable Labrador retriever. James has done good and we are proud of him.
After our visit with them it was back on the road. The next hour or so was spent negotiating the suburbs of metropolitan northern Orlando as we made our way across the central part of the state. Finally, between Tavares and Leesburg we were free of the wall-to-wall traffic that now characterizes metropolitan Orlando.
We are heading to O'Leno State Park because we want to take a tube trip down the river at Ichetucknee Springs and O'Leno is the closest place that has a campground where we can stay in our motorhome. O'Leno was once (mid-1800s) a prosperous town along the old road between St. Augustine and Tallahassee. It died when the railroad took traffic away. The town, now the park, was purchased by the State in the early 1930s and was developed by the CCC and the WPA (Works Progress Authority).
O'Leno State Park is located on the banks of the scenic and unique Santa Fe River, a tributary of the Suwannee River. Within the park, the Santa Fe disappears and flows underground for more than three miles before it again becomes a surface stream. That is the unique part of this park. Several sinkholes are also on the property.
A suspension bridge spans the river inside the park. The suspension bridge was built by the CCC (Civilian Conservation Corps) in the late 1930s. At the foot of the bridge we read a plaque that said something about the bridge being the first federally funded bridge on the road leading from St. Augustine to Tallahassee. Obviously the first bridge was replaced by the suspension bridge built by the CCC in the 1930s. The suspension bridge was only wide enough for two people to walk across. Automobiles or horse and buggies could not cross the bridge. A horse and rider could negotiate it so I suppose it was built to accommodate walkers and those riding horses. The bridge now serves as a viewpoint to gaze up and down the Santa Fe and to transport individuals to a nature trail on the other side of the river.
The town of Keno (keno is a game of chance) formed on the western side of the bridge in the mid-1800s. When religion reached the town the name was changed to Leno. Leno has the distinction of being the end of the line for the first telegraph set up to link Florida with the outside world. Now they are lucky to have cell-phone coverage. I have not read why they changed Leno to O'Leno but I suppose there is a good reason for that change also. Some Irish probably settled in the area and they couldn't say just "Leno".
Upon getting to the park the first thing we had to did was experience the suspension bridge built by the CCC then it was off to view where the river disappeared underground. Now we have seen where the river disappears underground. To me it looks like the river flows into a sinkhole because the end of the river is a big circle making it look very much like a cul-de-sac common in residential neighborhoods. The river does not form a whirlpool or anything as it sinks underground. The flow just starts slowing down. The surface of the last several hundred yards of the river is covered with water hyacinths. I had expected a big deal where the river went underground something like the water exiting a bathtub but it was not to be. The Santa Fe reminds us of rivers in the Hill Country of Texas. It is not very big, limestone boulders litter the sides and a single row of cypress trees line each bank.
While walking we were able to observe a group of Coopers Hawks. They normally prey on songbirds but these seemed to have found a park full of gray squirrels. This is as close as we have ever gotten to Coopers Hawks. They were creating an incredible cacophony, from high in the trees that had songbirds and squirrels on edge. Blue jays were adding to the discord as they antagonized "the enemy".
Tuesday, August 20, 2002 Joseph State Park; near Port St. Joe, Florida. Site #41 in the Gulf Breeze Campground.
This was a full day plus some. Our plan was to get up early and float down the Ichetucknee River, then jump in the motorhome and continue our jaunt to St. Joe State Park, 200-miles to the west. We got up early, settled in our Saturn and drove around inside O'Leno State Park looking at deer. Deer were plentiful as Joyce and I try to see who could spot the most. The coopers hawks and blue jays were already caterwauling at each other. Then we headed to Ichetucknee Springs State Park. Before we get to the springs we stop and rent tubes. Our vendor ties the big yellow double tube to the top of our car and we head off. At the State Park the gate attendant informs us we are the first tubers today. Obviously most people wait until later in the day to go tubing. We drive to the big parking lot (there are paces for RV's) untie the tube and head to what they call a "tram" with our double tube. Before we board the tram we start talking with several park employees and volunteers. One of them looks familiar. Simultaneously Joyce and I say "Pete Jones"?
It is Pete and he is stunned, then he recognizes us underneath our hats and sunglasses. Pete and I met on the Internet communicating about RV's 3 or 4 years ago. Then we met again, completely by chance, in the RV Park on Naval Air Station Pensacola three years ago. Last summer Joyce and I visited Pete and his wife Fay in Nails Creeks State Park in Texas where they were volunteering. Since then we have been communicating back and forth via e-mail. Earlier this year they were working in Guadalupe River State Park in Texas. That is where we thought they were. Joyce and I were going to visit them in April when we were heading west and had to return to Pensacola when Kathryn went into labor 3-months early. It turns out Pete and Fay also had an emergency and had to come to Florida to take care of an elderly parent that was not far from Ichetucknee Springs. They had not written since arriving at Ichetucknee Springs so this chance meeting was a total surprise. Joyce and I are on a tight schedule and have to be in St. Joseph State Park tonight because we have a scalloping date with Pat & Louie in the morning. Otherwise, we would have stayed another night and dined with Pete and Fay. Joyce and I are torn, we want to stay and visit with Pete and Fay but we have plans.
Joyce and I did the 2-hour float instead of the 4-hour float. It was great. The water was crystal clear and ice-cold. Actually it is 72 degrees but it feels like ice when the temperature is in the 90s. A series of springs inside the State Park feed the Ichetucknee River with 233 million gallons of water per-day normally. This area has been in drought conditions for 4-years and the springs are only delivering around 175 million gallons of water per-day now. We never saw or heard anyone on the river. We floated under a canopy of giant cypress trees past hardwood hammocks and swamps in complete silence. Later in the day things on the river liven up considerably. In fact the park limits the number of tubers on the river to 2,250 at one time. When we got back to our car the parking lot was filling with arriving tubers.
The entire float was pristine. We did not see trash of any kind. The water is cold but you get used to it. Limestone outcroppings and cypress knees line both banks. Fish are swimming in the crystal clear water flowing from deep within the Florida Aquifer. Ichetucknee is the third largest spring in Florida. The Ichetucknee River flows for 6-miles where it merges with the Santa Fe River as it flows into the Suwannee River that flows into the Gulf.
As we exit the river there is a place to put our rented float. Then we catch the tram back to our car.
Ichetucknee Springs is the nexus of the State Park. They have a great operation that consist of operating a group of "trams" that transport throngs of tubers from the parking area to the start of the float trip then pick everyone up at the finish and return them to their automobiles. For those of you visiting Florida with children or grandchildren this would be an awesome stop. Kids will have as much fun here as anywhere else you take them. If you are looking for it on a map the springs are located on highway-27 southeast of the intersection of I-10 & I-95. It will be a kick in the shorts for you grandparents also. If you do not see Ichetucknee Springs State Park on your map it is located about 4-miles west of Ft. White on highway 27.
Back at the motorhome we hook-up the Saturn and head to St. Joe. Those of you that follow us know about the Chaparral Steak House Restaurant in Perry. You also know that we are NOT going to drive past the Chaparral without stopping. Well we arrived there and turned into the Winn Dixie parking lot. We park in the Winn Dixie parking lot and walk down the street to the Chaparral Steak House because I am tentative about pulling the motorhome and car into Chaparral's parking lot. The Winn Dixie parking lot has a half-acre of empty parking they save just for us. As usual the Chaparral gives us our "country-cookin" fix and we leave completely satiated.
We arrive at St. Joe in time for Joyce to grab her lawn chair and head to the beach. Sitting on the beach watching the sun go down is one of Joyce's favorite things to do and the sunset today is beautiful.
We are both wondering "if it gets any better"? It is a rough life; but someone has to do it.
Wednesday, August 21, 2002 St. Joseph State Park; near Port St. Joe, Florida. Site #41 in the Gulf Breeze Campground.
We are in a wonderful location next to the Gulf . St. Joe State Park has two campgrounds, Gulf Breeze Campground with 59 sites and Shady Pines Campground with 60 sites. Both are nice and both offer beach access. Gulf Breeze Campground is located a few feet from the Gulf while Shady Pines Campground is located a few hundred feet from the Gulf. When we were here a few weeks ago the place was busy. Now it is only half full. School has started.
We get on Pat & Louie's boat and head to the scalloping grounds in St. Joe Bay. The water was murky in the first three places we tried then Louie found some clear water. In the clean water we quickly got our limit.
When scalloping in St. Joe Bay we see lots of conchs, whelks, starfish, sea urchins and live sand dollars while looking for scallops. Years ago we used to keep some of the beautiful conch and whelks. Now it is against the law to take a live conch or whelk. On the boat we watch pelicans and osprey diving into the shallow water around us while mullet and redfish jump and ripple the surface around the boat. Observing nature in and on St. Joe Bay is a remarkable experience.
Back on shore Pat and Louie got a phone call with bad news and had to pack dress clothes and leave the Cape. Joyce and I returned to the campground in the State Park where Joyce got to enjoy another wonderful sunset. In addition to watching the sunset Joyce decided to cook. So those of you wondering, she did cook at least one time this month and I am here to report that it was good. In a pinch she can come to our rescue when a restaurant is not handy.
Birders visiting Cape San Blas should look for common ground dove in the campground areas and around the dunes. We have never seen as many common ground dove as we have around the Gulf Breeze campground area in the State Park. Look for Eurasian Collared Dove along the Cape road leading to the State Park. Along the same drive look for osprey in the tall pines. An eagle nest can be seen in a tall pine snag on the waters edge when looking south from the stone jetty along that same road. During the fall and winter eagles utilize that nest. In January and February you can see the parents bringing the youngsters food. In February the young eagles are fledging and almost always visible atop the nest. During the summer eagles have migrated north.
Thursday, August 22, 2002 St. Andrews State Park, Panama City Beach, Florida. Site #74 on the water
Joyce took a walk on the beach before we connected up and headed to Panama City Beach and St. Andrews State Park.
We stopped by my parent's house and picked them up and took them for a ride in the motorhome to St. Andrews State Park. After getting the motorhome setup we toured the State Parks RV facilities then headed to the Captain's Table Restaurant in the old community of St. Andrews. The Captain's Table is in our opinion the best restaurant in the area to get fresh local seafood. It seems everyone else is selling frozen stuff from Sam's. For $7.95 we had the daily lunch special consisting of oysters, shrimp and two nice pieces of grouper. Someone told me that was a $14.95 meal at night. The place was packed with locals on their lunch hour. When visiting Panama City Beach this is the place to get your fresh local seafood.
The owner came by and spoke with us and nearly everyone else in the place. He said that Florida Senator Bob Graham had eaten lunch there yesterday. He told us one of his waitresses came to tell him someone important and famous was eating in the restaurant. When he asked the waitress who it was she said she could not remember his name but everyone in the restaurant was shaking his hand. For those of you not from Florida Bob Graham is a former Florida Governor and is now Florida's Senior US Senator. As far as United States Senators go Bob is Chairman of the Security Committee as well as being one of the ranking members of the US Senate. Guess what color hair the waitress had? The first 3 guesses do not count. As you can tell I cannot believe someone in Florida would not recognize Bob Graham. I wonder if she knows anyone named Bush?
Thursday, August 22, 2002 St. Andrews State Park, Panama City Beach, Florida. Site #74 on the water
There was nothing to write about today.
Friday, August 23, 2002 Trek mileage: 36,997 ending 37997 drove 100 miles today Back home in Pensacola, Florida.
We returned to Pensacola today.
That is all until we hit the road again. mike
Until next time remember how good life is.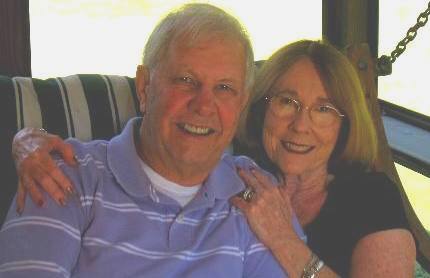 Mike & Joyce Hendrix who we are
We hope you liked this page. If you do you might be interested in some of our other Travel Adventures:
Mike & Joyce Hendrix's home page
Travel Adventures by Year ** Travel Adventures by State ** Plants ** Marine-Boats ** Geology ** Exciting Drives ** Cute Signs ** RV Subjects ** Miscellaneous Subjects
We would love to hear from you......just put "info" in the place of "FAKE" in this address: FAKE@travellogs.us
Until next time remember how good life is.