St Andrews State Park Panama City Beach, St Joseph Peninsula State Park Cape San Blas, Port St Joe & Wewahitchka, Florida
Places Visited:
Florida: St Andrews State Park Panama City Beach, St Joseph Peninsula State Park Cape San Blas, Port St Joe & Wewahitchka
We have been off the road for the past 3-months helping tend to our new Grandson, Stephen Michael Hendrix. He was born 3-months premature. He spent those 3-months in the neonatal unit of a local hospital. However, he is now at home with his parents and doing just fine. Joyce and I decided to head out for a few weeks.
Monday, July 29, 2002 St. Andrews State Park, Panama City Beach, Florida: Site #65
After getting a late start (12:30) we departed Pensacola and headed east to St. Andrews State Park on Panama City Beach. The 100-mile drive takes a little over 2-hours. For those of you familiar with the drive between Destin and Panama City Beach along US highway-98 things are changing fast. The old two-lane highway between the east end of Destin (San Destin) and the west end of Panama City Beach is being 4-laned. Crews are working on the entire 25 or so miles. The new divided highway will be elevated about 5-feet higher than the old highway over much of the distance. All the fill dirt or clay is being hauled in from somewhere. For those not familiar with this area the existing road is only a few feet above the water table. Digging a borrow pit for the road bed may be easy in some places of the country but along this strip a hole more than just a few feet deep will create a lake. Along much of the new construction crews have been required to haul out muck so that the roadbed would have a decent foundation. Somewhere there is a mountain of muck unless they are dumping it into the borrow pit hole. Anyway, the next time some of you take the drive between Panama City Beach and Destin there is a good chance you will be doing so on a nice divided 4-lane highway.
At the campground I struck up a conversation with the man in the next site. It turns out that his name is Cecil Dykes and we went to high school together. He lives in Panama City and works for the Florida State Park system.
Cecil, a local good old boy, told us the best place to eat was BOONDOCKS restaurant in nearby West Bay. He said the seafood was great and a favorite of the locals. We followed Cecil's directions west on US highway-98 then north on state 79 five miles to the foot of the Intracoastal Waterway Bridge. Once on state 79 heading north the world changes rapidly. In the few short miles (5) we drop back in time to "the old Florida" the way it used to be. West Bay community where boondocks is located is an old fishing village and looks the part.
While at the restaurant we enjoyed watching barge traffic traversing the Intracoastal Waterway between Panama City to the east and Pensacola to the west. A boat ramp is next to the restaurant as is an airboat ride business plus a pontoon aircraft-taking individuals for exciting rides. The seafood was better than tourist are going to get on Panama City Beach. The atmosphere and ambience is totally different. Ducks eat grass and palm tree fruit outside the restaurant. Around 16 individuals board the large airboat and don ear protection. The captain explains what they are going to see and experience on the one-hour excursion. The first order of business was for everyone to remove their ball caps; at nearly 60-mph ball caps and fancy hats were not going to stay on anyone's head. After viewing the sunset from West Bay they were going to turn on a high beam spotlight and go looking for gators and bullfrogs.
For those of you planning a visit to Panama City Beach you may want to try Captain Anderson's Restaurant if you are into 5-star dining. There are other things to entertain you also like the Lady Anderson dinner cruise and dance ship (everyone raves about this dinner & dining experience). At the State Park there are excursions to Shell Island for shelling and snorkeling. You can rent jet skis and take para-sail rides. In short, during the summer, there is an unlimited amount of things to spend money on and do.
Tuesday, July 30, 2002 St. Joseph Peninsula State Park, Cape San Blas, Florida: Site #61
We drove the 74-miles from St. Andrews State Park to St Joseph Peninsula State Park in drizzling rain. A banner across the entrance station to St. Joseph Peninsula State Park proclaims the Park as the winner of the 2002 best beach in the America's Award. This award is given annually to the best beach based on a rating system only beach connoisseurs would understand. Once receiving the award the beach is not eligible again for 10-years.
We got settled in at our site in the State Park then headed over to our friends, Pat and Louie Preninger's beach house. Years ago Pat & Louie built their cloister on Cape San Blas overlooking St. Joseph Bay. Everyone has heard of "fish-heads" Pat and Louie are "scallop-heads". Lots and lots of people eat scallops as entrees or on seafood platters. Very few have ever seen a live one. St. Joseph Bay is a "live" bay and is famous for their bay scallops, sea horses, clams, horseshoe crabs and a host of other sea creatures. When anyone visits Louie and Pat during scallop season (July & August) they are going to get to accompany them on their daily jaunts into the bay to gather the day's limit of these succulent bivalves. These two have been scalloping St. Joe bay for so many years that they know where to go to get the "bigguns".
When I was a young feller growing up in Panama City, Florida we could go out in the bay and bring home a washtub full of scallops. Back then the time-honored way to gather scallops was to walk around bare foot in the turtle grass until you stepped on one. When you are bare foot it is easy to tell if it is a scallop or blue crab. While the scallop remains under your foot it was easy to stoop down and pluck it out. When they are thick is easy for a group to fill a washtub in a few hours of fun. Scalloping today is done with a mask and snorkel and preferably a good set of fins. Each individual carries a mesh bag to put scallops in as they snorkel around.
Wednesday July 31, 2002 St. Joseph Peninsula State Park, Cape San Blas, Florida: Site #61
We get up and hurry to Pat & Louie's place since we are leaving in their boat to go scalloping at 9:00am. In short order Louie has the boat on plane and we are headed to Louie's "honey hole" about 5-minutes away. Adroit scallopers like Pat and Louie do not mess around. As soon as the anchor hit the bottom Pat was in the water. Not 10-feet from the boat she comes to the surface and tells Louie to bring his pole gun, she has spotted a big flounder. Before I can get in the water Louie is dropping the first of three big flounder into the cooler. Within an hour or so we had our limit of 8-gallons of scallops and it was time to stop and clean them. Our limit of 8-gallons of unshucked scallops takes about 30-minutes to clean mostly because Pat is lightning fast. Louie is much faster than me and Pat claims to shuck 3 to Louie's one especially when he is talking. We laugh and agree with her. We want to keep anyone shucking scallops happy, especially fast shuckers.
The afternoon finds us driving to Port St. Joe and Wewahitchka. By chance we spotted the honey-processing plant featured in the film Yulee's Gold staring Peter Fonda. It was on a side road not far from down town Wewahitchka. Peter Fonda plays the part of Yulee, a grandfather raising two granddaughters. Yulee is a Wewahitchka beekeeper marketing his tupelo honey as "Yulee's gold". Wewahitchka or "Wewa" as the locals call it is noted for their tupelo honey and as a fresh water fishing paradise. "Wewa" is located on the south end of the dead lakes and next to the Chipola River both are renowned fresh water-fishing meccas. We enjoyed meandering down the occasional paved roads leading to rustic fish camps scattered along the Chipola River.
The multiplicity of sights in "Wewa" includes apiaries, catalpa orchards and house trailers suspended high in the air on pilings. We remark that this is the only place we have ever seen catalpa orchards, if orchard is the correct word for a field of catalpa trees. Catalpa trees are the "host-tree" where the catalpa moth deposits her fertilized eggs on a leaf. In a few days those eggs turn into ravenous caterpillars. These caterpillars are JUICY inside and are prized bait for fresh water fish. The Dead Lakes and catalpa trees are thus inextricably united just like the apiaries producing tupelo honey and the same river system. The catalpa caterpillar is as prized in "Wewa" as the silkworm caterpillar is prized in China. One provides the strands of beautifully died silk that comprise women's scarves while the other adorns a bream hook.
Fish camps, mostly old mobile homes with external tin roofs perched on pilings are as ubiquitous as mosquitoes. We are made aware of why these fish camps are positioned so high atop pilings by the "official" high water signs scattered throughout the area. These red, white & blue signs serve as a constant reminder where the water has been during flood stage. It is so high that it is totally unbelievable to those of us that have not witnessed the event first hand.
While reading some literature on this area it is interesting to note that they almost named the County "Satsuma" (a type of citrus) but someone suddenly jumped to his feet during the vote shouting "Hey! Wait a minute! You know and I know that a freeze could come and destroy every one of those satsumas, but that Gulf will never run dry. Let's Name it "Gulf"" "Gulf" it was - and "Gulf County" it is today!
Pat marinated the three flounder in Italian dressing then baked them in the oven. Scrumptious, delectable, heavenly help me with a description. That marinated flounder literally jumped off the bone and into our mouths. Needless to say we ate like kings. I hope everyone remembers Pat from earlier travelogues as the woman that cooks. The flounder were out of this world and Pat has now, thanks to me, shared the recipe with you. Be prepared to have your tongue slap your eyeballs out if you dare put it on the table.
Thursday, August 1, 2002 St. Joseph Peninsula State Park, Cape San Blas, Florida: Site #61
Like yesterday we rendezvous at Pat & Louie's house for the daily scalloping trip. By 9:30am we are in the water and the search is on. Scallops were not as plentiful today but we managed to get our limit in a couple of hours. Louie speared a 20" flounder that will make a great 2-person meal one night this week.
To finish off our day we journeyed to Apalachicola for dinner and "knickknack shopping".
Friday, August 2, 2002 St. Joseph Peninsula State Park, Cape San Blas, Florida: Site #61
Pat acquiesced and set our scalloping trip at 10:00am (it is HARD to keep a scallop woman out of the water). Louie, the luminary of St. Joe Scallopers, deposited us on another of his "honey-holes". Like the previous two days we got our limit, had them shucked and were headed to the house in about 3-hours. Louie and I were shucking today and I realized that he was doing two to my one. Pat says she is faster than Louie but I believe that only applies when Louie is talking. Pat says Louie's multitasking gene has deteriorated.
Pat, the eternal cook, fries several flounder and a mess of scallops along with a magnificent salad. After eating a feast like that all we could do was flop into comfortable chairs and watch a massive thunderstorm pass over St. Joe Bay with an impressive display of electrical energy. It is an awesome sight to watch puffy cumulus clouds suddenly punch skyward fed by warm moist air that reaches tremendous altitude. The updrafts may attain a velocity of 100 mph and hold moisture in the sky, giving these clouds their dark hue. Some of these storms produce nearly 1,000 strokes of lightning per hour. Thunderstorms are unbelievably terrifying to anyone caught in one on a boat. However, if you are observing one out the picture window of Pat and Louie's villa you are treated to one of the most spectacular displays of raw power and beauty nature has to offer.
Saturday, August 3, 2002 St. Joseph Peninsula State Park, Cape San Blas, Florida: Site #61
We slept in this morning and let Pat and Louie return to their routine prior to us arriving.
My back is pink not unlike the color of a well done lobster. SPF-15 has not done an adequate job. When scalloping you lay on the surface with mask and snorkel looking into the grass for scallops. Your back is exposed to the sun. No other part of my anatomy is affected but my back feels and looks "well-done".
Joyce and I took a long walk down "America's best beach". Large snow-white dunes rise abruptly behind the 50 to 100 yard wide beach area. All along the beach are small areas marked as sea turtle nests. The nests are covered with fencing material to keep raccoons, opossums, rats and the like from digging the nests up. Marker posts and signs warn humans to keep their distance and explain the turtle nest protection program.
After our walk on the beach Joyce and I head to Pat & Louie's. This time we embark on an early afternoon scalloping excursion. They had already gotten their limit for the day now it was time for Mike and Joyce's limit. As usual it did not take long. Pat was again bragging about how much faster she shucked than Louie, especially when he is talking. After a bit we all decided that Pat was a "Mother Shucker". Oh my! That was good for a round of guffaws that could be heard back on shore.
Pat & Louie went to Saturday night mass and we drove to Mexico Beach for dinner at Toucans a beachfront restaurant. In keeping with my policy to not badmouth eating establishments I will just say Toucans is one that you can pass up.
Sunday, August 4, 2002 St. Joseph Peninsula State Park, Cape San Blas, Florida: Site #61
We slept late then spent the day reading. Violent thunderstorms rocked us for around 4 hours. Joyce cooked (a red letter day).
We have noticed that this State Park unlike St. Andrews State Park is predominately motorhomes and travel trailers. Tents and pop up are scarce. I suspect that mosquitoes and daily thunderstorms are the reason. Mosquitoes are thick in the campground area of the park but not bad on the water or outside the park. Anyone in a tent or popup would be hard pressed to endure the daily monsoons we have been experiencing. During the winter months this RV-Park is a haven for snowbirds. During the summer the inhabitants are predominantly families on vacation.
Until next time remember how good life is.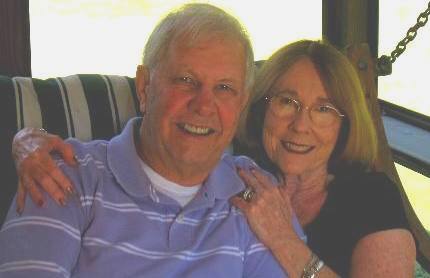 Mike & Joyce Hendrix who we are
We hope you liked this page. If you do you might be interested in some of our other Travel Adventures:
Mike & Joyce Hendrix's home page
Travel Adventures by Year ** Travel Adventures by State ** Plants ** Marine-Boats ** Geology ** Exciting Drives ** Cute Signs ** RV Subjects ** Miscellaneous Subjects
We would love to hear from you......just put "info" in the place of "FAKE" in this address: FAKE@travellogs.us
Until next time remember how good life is.