Staghorn Fern
Staghorn Fern
Staghorn ferns are epiphytic or "air" plants and is native to tropical and temperate areas around the world.
An epiphytic or air plant eh.......so what is that?
Some describe an epiphyte is a plant that grows on another plant but does not receive its nourishment from that plant. Others like to say the same thing like this: "an epiphyte is an air plant, which is described as a plant that does not grow in soil." Like I said, they both say the same thing using different words. m VBG And they both accurately describe the staghorn fern.
They are native to jungle areas in Africa, Australia and other tropical regions.
In the wild since a staghorn fern does not need soil to grow, and will often be found high in a tree attached to the bark.
Here in the United States we most often see them displayed in tropical gardens in south Florida, Hawaii and south Texas.
Staghorn Fern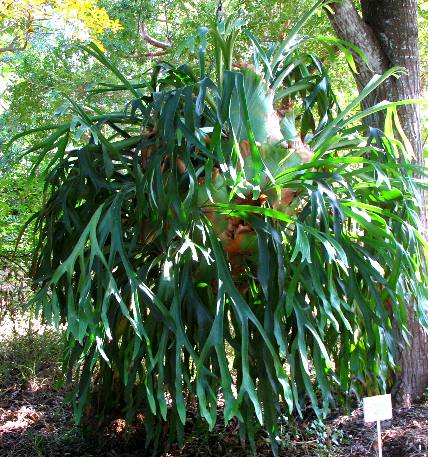 They get their nutrition substantially from the air and rotting debris collected from falling leaves.
Stags are therefore in the same class as bromeliads, which also grow in trees with no soil
A staghorn fern will get all of its nutrients from the air, rain and dew.
Most people will grow a staghorn fern outside, hanging it from a tree by a chain like the one displayed here..
Staghorn Fern
Tropical gardeners often display their staghorn ferns by hanging them from large tree limbs with heavy duty chains. As you can imagine, it takes a substantial limb to hold a large plant like the one in this picture.
In its native habitat, the equatorial jungles around the globe, the staghorn grows in branches in the tops of trees. Staghorn roots attach to the limbs, but are not detrimental to the tree.
Staghorn Fern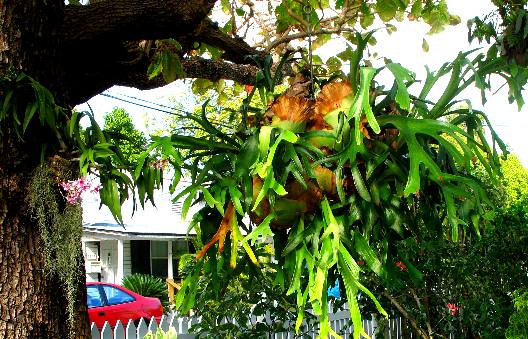 On the tips of the fertile fronds are brown masses of spores. Staghorn ferns are very slow to grow from the spores. The mother plant also makes pups, and this is the easiest and quickest method of propagating.
Grown outdoors, leaves and other debris will fall out of the tree into the fern. This will decompose and give the staghorn nutrients.
Outdoor grown staghorn ferns should also be given a good amount of light, but no direct sunlight. This is because in their natural habitat of the jungle, there is generally a dense canopy overhead blocking all direct sunlight.
Staghorn Fern
Can you imagine the weight of this large staghorn fern. That is why a substantial chain in needed to hold the weight.
Isn't this a beautiful specimen! It was on display in a park in Key West.
Staghorn Fern
Remember, staghorn ferns do not develop seeds, but spores. Look for spores on the tips of those "staghorn" leaves they are the attractive brown spore clusters.
Until next time remember how good life is.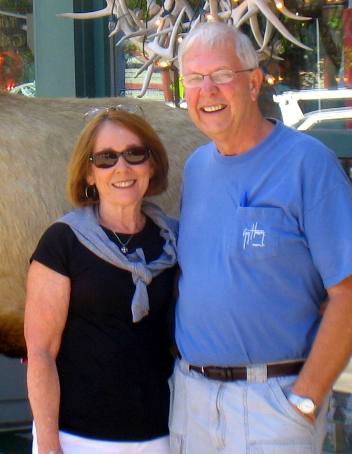 Mike & Joyce Hendrix who we are
We hope you liked this page. If you do you might be interested in some of our other Travel Adventures:
Mike & Joyce Hendrix's home page
Travel Adventures by Year ** Travel Adventures by State ** Plants ** Marine-Boats ** Geology ** Exciting Drives ** Cute Signs ** RV Subjects ** Miscellaneous Subjects
We would love to hear from you......just put "info" in the place of "FAKE" in this address: FAKE@travellogs.us
Until next time remember how good life is.