Melon Rocks
Deposits of melon gravels can be found near Hagerman, in Malad Gorge, in Melon Valley south of Wendel, at Swan Falls south of Melba, and near the towns of Hammett, Glenn's Ferry and King Hill.
Now let's find out what "Melon-Rocks" or "Melon-Gravels" are.
Melon Rocks decorating lawn in Hagerman, Idaho
These "melon gravels" were created during the great Bonneville Flood. When the ancient earthen dam that held back Lake Bonneville gave way a lake the size of Lake Michigan roared down the present day Snake River in southern Idaho.
As the water ripped through narrow parts of the Snake River canyon, it dislodged large basalt boulders and tumbled them downstream. Within a few miles these boulders had been rounded. Some had diameters ranging from three feet to ten feet. The process created large bars of sand and boulders, some of them several miles long and nearly 300 feet high. These remnants were given the name melon gravels because many of them look like "petrified-watermelons."
Melon Rocks remnants of Lake Bonneville flood
Joyce photographed these melon rocks in the Hagerman Valley of southern Idaho.
Massive Lake Bonneville covered present-day western Idaho until about 15,000 years ago, when a natural dam ruptured. The resulting enormous flood lasted about 8-weeks, widened and deepened the Snake River Canyon, and carved new alcoves, side canyons, and valleys.
One of the remnants of the Bonneville flood are numerous water-rounded boulders know around the Hagerman Valley of Southern Idaho as "melon gravel" or melon rocks.
Melon Rocks scattered through the Hagerman Valley
Melon Rocks, are scattered throughout the Hagerman Valley where they were deposited as water from the Lake Bonneville flood that roared through the Snake River Canyon began to slow down.
Snake River littered with Melon Rocks in Hagerman Valley
This section of the Snake River flowing through the Hagerman Valley, is littered with melon Rocks.
Melon Rocks in the Snake River as it passes through Hagerman Valley
Looking down on the Snake River from the bluff above the river you can see those melon rocks deposited here during the great Bonneville Flood.
Mike & Joyce Hendrix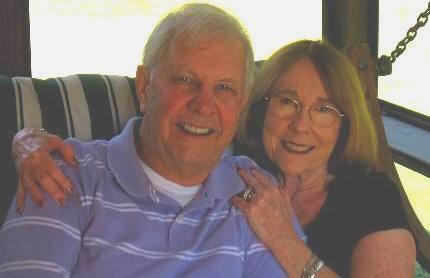 Mike & Joyce Hendrix who we are
We hope you liked this page. If you do you might be interested in some of our other Travel Adventures:
Mike & Joyce Hendrix's home page
Travel Adventures by Year ** Travel Adventures by State ** Plants ** Marine-Boats ** Geology ** Exciting Drives ** Cute Signs ** RV Subjects ** Miscellaneous Subjects
We would love to hear from you......just put "info" in the place of "FAKE" in this address: FAKE@travellogs.us
Until next time remember how good life is.