Kettles
A kettle is body of water formed by retreating glaciers.
Kettles are formed by a detached mass of glacial ice that became wholly or partly buried. This frozen mass of ice is in the way of glacial melt so the glacial melt is flowing around it and depositing the debris that makes up the sides of these kettles.
A kettle lake in Waterton National Park referred to as Lower Waterton Lakes
The Lower Waterton Lakes occupy part of a huge trough which extends from the Waterton River Bridge to Waterton Village. This depression was formed during the last ice age when a block of ice, which broke away from the main Waterton Glacier, became stationary.
The surrounding active glaciers continued depositing glacial till against the ice block until the ice age ended some 12,000 years ago, leaving this depression.
In geology this depression is known as a kettle, as in a depression left in a mass of glacial drift, formed by the melting of an isolated block of glacial ice.

This is another kettle Lake in Waterton National Park Alberta, Canada.
This is a section that was created by that huge block of ice. The material on this side of the lake is the glacial till that was pushed up against the large block of ice by other glaciers.
This is a kettle pond left when a big chunk of ice broke off the main glacier and made this depression before finally melting.
Evidence of ancient glacier in this kettle and the glacial erratics
This scene from Yellowstone National Park is evidence of a long gone glacier.
After carving the mountains and valleys a once powerful glacier melted and retreated, leaving clues of its existence like scattered kettle ponds (this green depression is a kettle pond), ground moraines, and isolated boulders (glacial erratics).
Born during the glacier's retreat, kettle ponds are now home to many plants and animals.
As geologists tell time, the last glacier retreated from here around 12,000 years ago.
As a glacier recedes, house-sized blocks of ice are sometimes left behind, partially buried in ground-up rock and soil. Although insulated by glacial silt, the ice gradually melts, leaving a steep-sided or kettle-shaped depression that can later fill with water and form a pond.
The large boulders seen strewn about are glacial erratics.
This is another kettle pond although it is harder to distinguish.
The large boulders are glacial erratics.
Mike & Joyce Hendrix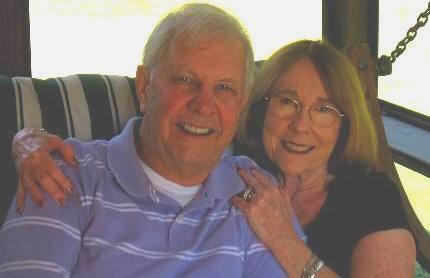 Mike & Joyce Hendrix who we are
We hope you liked this page. If you do you might be interested in some of our other Travel Adventures:
Mike & Joyce Hendrix's home page
Travel Adventures by Year ** Travel Adventures by State ** Plants ** Marine-Boats ** Geology ** Exciting Drives ** Cute Signs ** RV Subjects ** Miscellaneous Subjects
We would love to hear from you......just put "info" in the place of "FAKE" in this address: FAKE@travellogs.us
Until next time remember how good life is.