Waterton Village
July 12, 2007.
We are staying in the campground at The Great Canadian Barn Dance in Hillspring, Alberta. The campground is a PPA park $12.50 weekdays with no discount on weekends thus $25 for 30-amps and water. We located this place 6-years ago and had a good time at the Barn Dance, this time we decided to stay at their campground. These are great people. If you are looking for the Great Canadian Barn Dance and Campground it is located at: N49° 20.635' W113° 36.972' for those of you not into GPS drive 14-miles south of Pincher Creek on PH 6, then turn east on PR 505 and go another 14-mles where you will see the signs for the Great Canadian Barn Dance. Turn north on that road the Great Canadian Barn Dance will be less than 3-miles up that road on the west side.
For those of you that are not familiar with PPA (Pass Port America) it is an organization you can join for less than $50 per-year. Campgrounds that belong to PPA offer 1/2 price discounts. That kind of savings can quickly add up. While participating PPA parks generally have some restrictions on dates the PPA offer is valid, or possibly days of the week the discount is valid, or perhaps the number of days that the PPA discount will be honored the discount is genuine. Many times PPA campgrounds are new campgrounds that need help in getting established. Other times PPA campgrounds may be on the outskirts of town instead of in the "prime" location thus they need to provide an incentive for campers to stay with them. Whatever the reason PPA campgrounds generally provide a much cheaper option. PPA is the only campground organization that I think is worth the cost. PPA does not have a gimic. What you see is what you get. Once you join they send you a directory listing all participating campgrounds. The PPA directory is the FIRST directory we check when trying to locate a place to spend the night. You can join PPA by calling 228-452-9972. If you decide to join PPA, it would be nice if you gave them my number "R-0156251" as the PPA member that told you about PPA. In return PPA will give me a $10 credit toward next years membership. I will thank you in advance for that kindness. Thank you.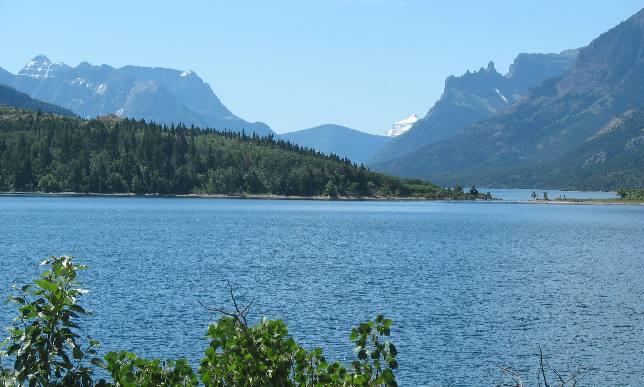 The Prince of Wales Hotel in Waterton National Park from much closer.
In Waterton Village deer are so abundant that wire cages have to be constructed around all vegetation you do not want eaten.
Deer in Waterton Village
This deer is on main street, in front of a business eating leaves.
Deer in downtown Waterton Village
Deer resting in shade at police station in Waterton Village, Waterton National Park
This deer is taking a break in front of the police station.
Mike & Joyce Hendrix who we are
We hope you liked this page. If you do you might be interested in some of our other Travel Adventures:
Mike & Joyce Hendrix's home page
Travel Adventures by Year ** Travel Adventures by State ** Plants ** Marine-Boats ** Geology ** Exciting Drives ** Cute Signs ** RV Subjects ** Miscellaneous Subjects
We would love to hear from you......just put "info" in the place of "FAKE" in this address: FAKE@travellogs.us
Until next time remember how good life is.