Earthquake or Fault Scarp
An earthquake scarp or fault scarp is the feature on the surface of the earth that looks like a step caused by slip on a fault. Earthquakes can move laterally or vertically. Movement or slippage in either direction can cause a visible scar or scarp.
While they look like steps to some they look like road cuts in the side of a hill to me.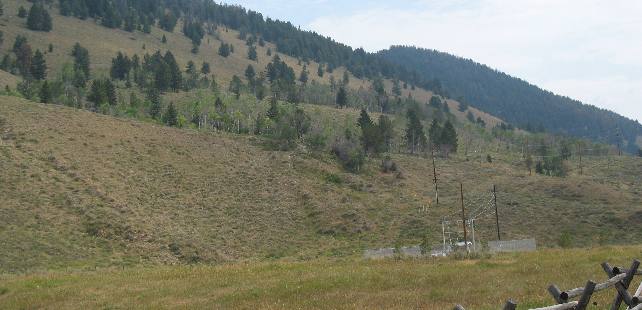 There are a series of old scarp scars in this picture. They are old scars and vegitation has covered the nasty scar and wind/water erosion has softened it. But you can still see them.
When we visit Yellowstone National Park we usually stay in West Yellowstone, Montana (out the west entrance). There are geological points of interest outside Yellowstone National Park and very near West Yellowstone, Montana that we like to see. One of them is the scars left by earthquakes. A variety of these scars can be viewed by driving north out of West Yellowstone, Montana on US-191 about 10-miles then turning west on US-287 that follows the Madison River through Grayling and on to Ennis, Montana. Not far after taking that turn on US-287 you can spot earthquake scarps on the mountain to the north. In at least one place and probably more there are turnouts with kiosk that tell all about the earthquakes that caused each paticular scarp. When we are in this area we are constantly looking for earthquake scarps or scars from earthquakes.
Two scarps can be seen in this picture. Both were created in the August 1959 earth quake that created Earthquake Lake near West Yellowstone, Montana.
If you do not see the scarps they are the two almost horizontal lines through the center of this picture. The bottom of this mountain fell along the fault while the uphill side rose.
This picture was taken shortly after an earthquake, before vegetation and erosion begin to cover evidence of the scarp. In this instance it appears that there was only a few feet of vertical movement. Also note that there are three scarps not just one.
The telltale sign of an earth quake scarp is a scar running horizontally on the side of a mountain.
In this picture it is easy to see the scarp running for over a mile along this mountain. The movement in this scarp is much greater than a few feet.
The ground on one side of the fault rose up while ground on the other side of the fault dropped. This cliff like break is called a fault scarp. I think on this scarp one side dropped 22 feet.
Fault scarp or earthquake scarp
This area has been struck with multiple quakes in the past but the scars are still visible even if they have been covered by vegetation.
Geologist look at the Tetons and marvel at the structure. With trained eyes they see things most of us would not notice. One of those things is a prominent "fault scarp".
From a distance this one looks like a road cut in the side of the mountain. If you have not spotted this scarp look on the picture and find the words "Fault Scarp"........To the left of those words is a dark ribbon.....that dark ribbon is the actual fault on the mountain. The kiosk just shows in graphic terms what has happened.
A fault scarp provides visual evidence of displacement of adjoining blocks of the earth's crust along a fault. The "scarp" in this picture shows nearly 60-feet of movement, mostly in the down-dropping of the valley. This movement generated earthquakes of the highest magnitude.
Geologists estimate that displacement will continue as it has for the last nine million years. Through periodic earthquake producing jolts, the mountains will hinge upward and the valley will tilt downward.