Panama City Jellyfish Industry
During certain times of the year estuaries along Florida's gulf coast are invaded by schools of cannon ball jellyfish. When the large schools of cannon ball jellyfish swim into St Andrews Bay in Panama City some inevitably get washed ashore on area beaches.
Joyce took this picture on a beach in St Andrews State Park. That Panama City you see in the background.
Cannon Ball jellyfish floundering in shallow waters of St Andrews Bay
In some countries, such as Japan, jellyfish are known as a delicacy.
"Dried jellyfish" has become increasingly popular throughout the world.
However, you can not go to a sea food market and purchase fresh jellyfish. While jellyfish like the one in this picture are edible they have to be carefully prepared.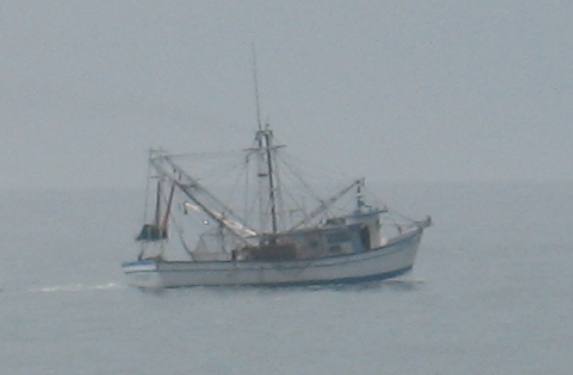 Fisheries have begun harvesting the American cannonball jellyfish, along the southern Atlantic coast of the United States and in the Gulf of Mexico where after processing they are exported to Asia
I know you think this is a "shrimp boat" and it certainly was at one time. But this one is fishing for cannon ball jellyfish along the beach on Panama City Beach.
Cannonball jellyfish are caught by the use of surface trawls. Shrimp trawls operate by dragging the bottom.
A single school of cannon ball jellyfish can consist of several million jellyfish. This boat is hoping to drag his nets through one of those large schools.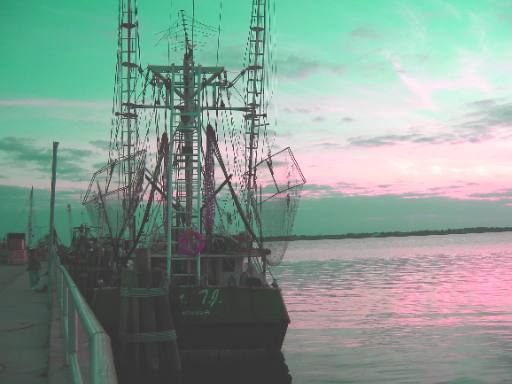 The cannon ball jellyfish unfortunately spoils very fast after being caught and must be processed right away.
This suction pipe is sucking tons of cannon ball jellyfish out of the hold on this converted shrimp boat.
The jellyfish being removed from this trawler are being loaded on a refrigerated 18-wheeler to be transported to the processing facility about 50 miles east of Panama City.
Processing involves removing the water from the jellyfish by using salt and alum that draws water from the tissue of the animal.
OK, I did leave out a few steps like separating the umbrella part from the rubbery legs or tentacles and removing the guts & gonads.
Don't you know that would be fun!!!
After separating the head from the umbrella part dry salt and alum are applied to draw out the moisture.
From what I read more salt and alum is applied time and again as water is removed from from the jellyfish. It seems that the final product is a pretty dry patty.
Processed jellyfish can be stored for weeks without going bad and it is these jellyfish that are exported.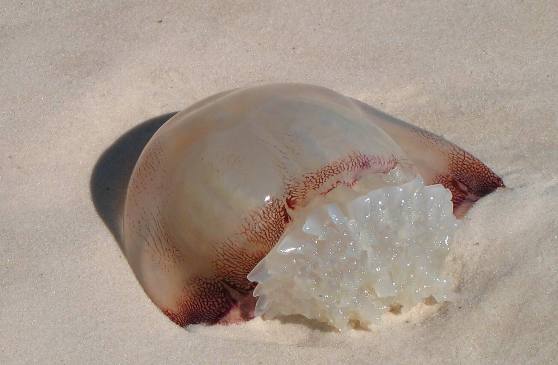 This is a cannon ball jellyfish that washed up on Panama City Beach.

In this picture you can see the umbrella part and the legs. Keep in mind that the legs and umbrella part are separated during the process that prepares them for food.

In both China and Japan these jellyfish are used in salads and stir fries.

Click on one of these links for more about cannon ball jellyfish and the jellyfish industry: