St George Island:
St. George Island is one of the best examples of Florida's Gulf Coast barrier islands. St. George Island is a long narrow east/west trending Barrier Island sheltering Apalachicola Bay and the mainland towns of Apalachicola and East Point. The "natural" island has it all ---------------sand dunes, sea oats, pine and oak trees, fresh water marshes, lagoons, unspoiled sandy beaches, and abundant bird and marine life. St. George Island offers so much, but especially attractive is the how the relatively unspoiled island has maintained a family atmosphere devoid of the "arcade" atmosphere so prevalent in other beach communities.
St. George Island State Park protects nine miles of undeveloped beaches and dunes, surrounded by the Gulf of Mexico and Apalachicola Bay from commercial development. In all it protects 1,962 acres of this pristine islands eastern end. Natural features of the park include extensive beaches (more than 10-miles) dunes, forest of slash pines and coastal scrub. The bay side features needle rush marshes, while the gulf side features white quartz sand beaches littered with sea shells.
Waters of the Gulf and Apalachicola Bay support an abundance of marine life. Some of the world's best oysters are harvested from Apalachicola Bay while shrimp are abundant in both Apalachicola Bay and surrounding Gulf waters. Waters surrounding St. George Island are some of the most productive commercial and sport fisheries in Florida.
Bald Eagles and ospreys nest and rear young on the island as do terns and gulls. Sea turtles nest along the park beaches, with loggerhead turtles being the most common. St. George Island is an important "rest stop" for a wide variety of migrating birds. In the winter we have watched a large flock of tree swallows feeding over the marsh and dune areas. Morning dove, ground dove and Eurasian collared doves are abundant on the island as are laughing gulls and brown pelicans.
While the state park occupies the eastern end of St. George Island St. George Island Plantation a private, gated community occupies the western end. Private and gated probably doesn't adequate describe this community where 100' wide gulf front lots command $2.7 million price tags. "Guests" of the "Plantation" enjoy a plethora of amenities one would expect in a posh a private gated community.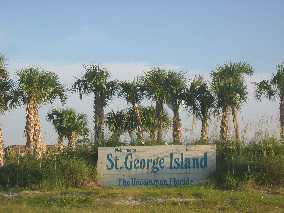 This quaint sign welcomes visitors to St George Island. Beachcombing, bird watching and shelling are just some of the activities enjoyed by visitors.
The Gulf surf can be slick calm or rough and angry. On this day it was rough and angry. Note the large cumulous clouds bringing wind and rain. These clouds were what the weather reporters on TV call feeder bands that were circulating off hurricane Dennis as it approached landfall in Pensacola Sunday July 10, 2005. These Pictures were taken on Saturday as we were evacuating St George Island. The entire island was under a mandatory evacuation. Remember these pictures were taken a day and one half before Dennis made landfall and nearly 200 miles east of here in Pensacola, Florida.
Beach houses on the island come in all shapes and sizes but strict building codes regulate the height. There are no huge condos or hotels. New building codes make it mandatory to build on pilings 14 to 17 feet in the air. On top of the pilings I think you can have 37' or enough for 3 stories.
While some of these places look like they are build to the ground those are breakaway panels surrounding pilings. When a storm surge comes ashore those panels will blow out allowing water to flow through.
Note the sherbet colors. Some refer to them as "island" colors or "Caribbean" colors. Out west some communities enact building codes prohibiting anything but "earth tones" and certain types of architecture. While St George Island doesn't have any color codes to deal with that I am aware of owners tend to stick with pastels.

Some of the beach houses are small while others are large. The new trend is toward tin or aluminum roofing in those same "island-colors".
To the left is two oyster boats that are finished working for the day while above is a fleet of those oyster boats positioned on an active oyster reef in Apalachicola Bay. These boats are a familiar sight on most days when crossing the bridge to the mainland from St George Island.
Some people prefer gulf side beaches and all that it offers including wonderful shelling and beachcombing.
Can you believe this pile of shells?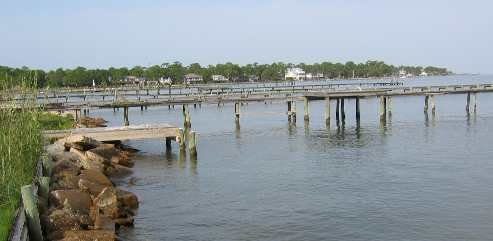 Others have houses on the bay side of the island, many of which are available as weekly rental units. The bay side offers excellent fishing and access to oyster beds as well as docks for boats.
Fresh seafood is available from local fishermen who peddle their catch of crabs, fish, oysters and shrimp out of trailers conveniently located on the island.
Family-oriented activities are the order of the day on St George Island. That is Stephen our 3 year old grandson on the left while on the right my son and I are headed to the beach to throw some jigs at a school of mackerel feeding below a flock of birds.
Whether you enjoy watching an eagles nest or taking a stroll down a pristine beach you can't help but fall in love with St George Island.
When we visited St George Island in 2007 this eagles nest was gone.
The uncrowded natural quartz sand beaches are among the top rated beaches in the world.
Everywhere you look there is something to enjoy on this picturesque Island.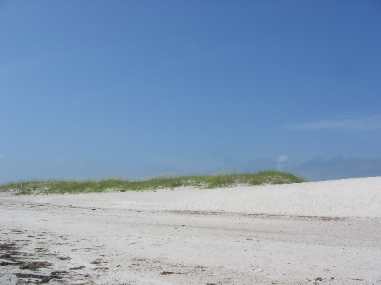 Pristine beaches are as beautiful as anywhere you will ever visit.
Sea oats and the Gulf of Mexico, does it get any better?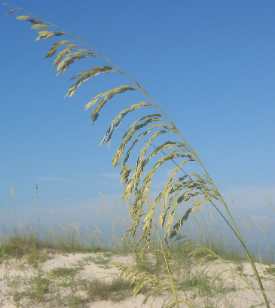 Between sea oats and sunsets Joyce keeps the camera busy.
Natural beauty abounds everywhere.
On little St George Island we stopped to investigate this old ship wreck.
Turtle tracks in the fresh morning sand lead to a nest. These are tracks of a loggerhead turtle that lumbered ashore during the night to dig a hole in the sand dunes above the high tide line and deposit about 100-eggs before covering the nest with sand and lumbering back to sea. Look closely at the tracks and you can see where the turtle went ashore in the middle of the picture. If you look almost in the center of the picture you will notice a set of tracks that lead out to the right where the turtle returned to the Gulf. As you will note this nest is directly behind a beach house. Volunteers patrol the beach every morning looking for these tracks. They then mark the nest with sticks and flags. A record is made of the date when the eggs were deposited in the nest. From that date they will know when the baby turtles will hatch. In some cases volunteers will cover the nest with a wire mesh to keep dogs, cats, raccoons, opossums, rats and such from digging up and eating the eggs. People on the island are very protective of their turtle nests. Everyone wants a turtle nest on "their" beach. Wouldn't it be exciting to know that turtles would be digging their way to the surface on a night when you could be on the beach with your children or grandchildren to watch them emerge and scramble to the sea?

Bird watching is exciting and fun.
St. George Island State Park
This is the entrance to St George Island State Park. Once in the state park and past the gate house we stopped and took this picture back toward the entrance. That is the gate house in the middle with a huge condo complex on the left that sits just outside the entrance.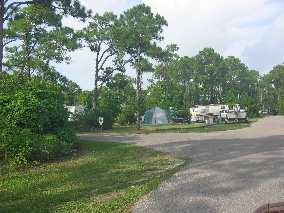 The campground on St. George Island State Park has paved interior roads with compacted shell pads 30-amps and water with a central dump station. They feature some nice sites for larger RV's as well as more rustic settings for tent campers. The bath houses are nice modern facilities.
The state park has preserved a large section of St George Island where miles and miles of sand dunes like this can be seen.
This is an oyster boat exhibit in St George Island State Park. It is typical of the hundreds of boats working oyster beds in Apalachicola Bay. The long "stick" resting on the shelter is actually two sticks that make up the "oyster-tongs" used to harvest oysters off the bottom of the bay in 6 to 10 feet of water.
This is a sunset picture taken across one of the beautiful estuaries located in the state park. To the right is another picture of that same estuary during the day and at a different angle. The tide is going out and exposing oyster beds or oyster bars. During high tide a foot or more of water will cover those bars that are now visible.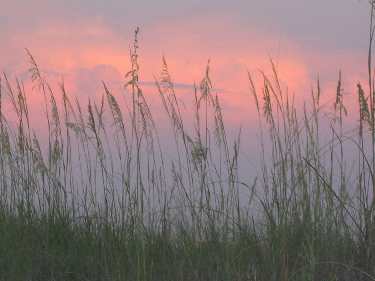 Sea oats are pleasing to the eye and St George Island covets every one of them. Whether you look at them in the middle of the day when the bright green foliage and golden oats are juxtipoxed so beautifully against bright blue sky or the more azure color of the gulf or the sugar white sands on the beach they are the ultimate beach plant. Even at dusk one can not help but be mesmerized by the golden heads of grain waving in a beautiful painted sky.
Sand dunes, secluded beaches, miles and miles of shell strewn shoreline to explore, what more can you ask for?
This is a dune walk over in the state park leading to yet another secluded beach. No matter where you are on the island gorgeous sea oats are waving their golden heads of grain.
Note that the dune has grown to almost cover this walkway. Dunes never seem to get high enough before another storm comes ashore and flattens them. This walkway will certainly look different after the storm surge from hurricane Dennis reshapes the coastline. Hurricane Dennis is supposed to come ashore in Pensacola in three days. This may actually be one of the last photographs of this dune walk.
Dunes, white sand beaches, sea oats, drift wood and surf, what more could one ask for?
This is a link to another of our visits to St George Island and St George Island State Park.
Another of our visits to St George Island was early in 2006 when we were returning from spending the winter in South Florida. 2006 Travelogue # 16.
Mike & Joyce Hendrix