Places Visited: Carrabelle, & St George Island, FL
Ho Hum RV-Park Carrabelle FL. 850-697-3926 N29° 52.298' W84° 36.593' $25.26 on the water (Apalachicola Bay) they advertise WIFI sometimes it works sometimes it doesn't but their cable TV is just fine.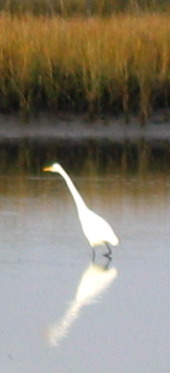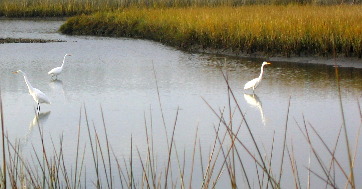 While staying at Ho Hum RV-Park we took a sight seeing drive to the small fishing community of Panacea. Joyce took these pictures of great egrets feeding in a salt marsh.
This area reminds us of the Golden Isles of Georgia which is the area around Brunswick, Jekyll Island, St Simons Island, Sea Island and Darien. Crabbing is a big business here as is shrimping and oystering. The marshes are a great producer of the ingredients that nurture an estuary such as this.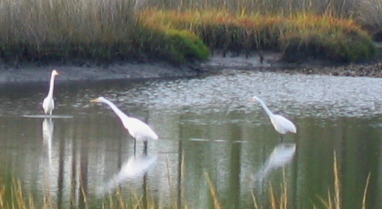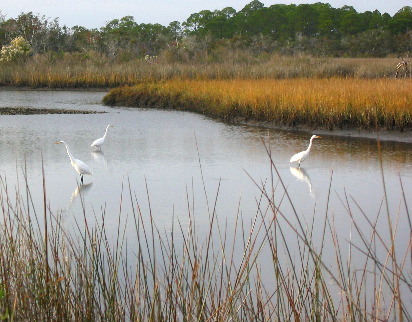 Great egrets were feeding on small fish and shrimps exposed as the falling tide trapped them in shallow pools.
Wildlife depend on rising and falling tides to concentrate food in shallow areas where it can be easily caught.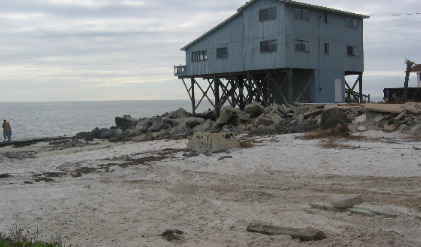 This sign caught our eye. Although you may not be able to see the humor in this sign one only had to know where this sign was.
That is the remains of a septic tank, yes a septic tank. A beach house used to be on pilings nearby. Hurricane Dennis that roared into Pensacola, Florida 200-miles to the west pushed a 12' tide over Alligator Point causing considerable damage. One casualty was the house that went with this septic tank. The house was situated in a bad location on the Gulf of Mexico. Now you know the background on this sign. You can see the remains of this septic tank in the middle of the picture on the right. By observing the picture on the right you can see how waves swept across the Alligator Point peninsular carrying the beach house with it.
In case you are trying to locate Alligator Point on a map it can be found on the Gulf of Mexico south of Tallahassee, Florida. Alligator Point is that finger of land 10-miles south west of Panacea, FL.
On Thursday we said good bye to our friends at Ho Hum and moved the motorhome to St George Island State Park. $20.00 for 30-amps, water & central dump.
www.floridastateparks.org N29° 44.976' W84° 42.641' www.reserveamerica.com (1-800-326-3521)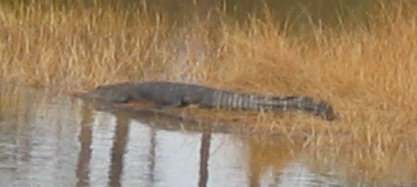 While still in the motorhome and entering the campground we stopped to unconnect the Saturn from the motorhome. We spotted this 6 to 8 foot alligator sunning on a small island in the lake. We have often seen signs at these lakes warning about alligators and telling tourist not to swim in the lakes but this is the first time we have spotted one of the gators. Ironically, this park has started allowing dogs into the campground. Seeing this alligator makes me doubt the wisdom of changing this policy. I can visualize the day this gator wanders into the campground to feed on a yapping dog.
Signs around the campground prohibit dogs from all areas except paved roads. Of course signs also say to pick up your pooches poop. We all know how many dog owners read and follow signs. OK, enough on gators and dogs. I am just wondering how long it will take.
The Gulf of Mexico and beach is a short walk from the campground.
A walk on the beach is so interesting.
On the left heron tracks in white sand, a cockle shell and sea weed at the surf line packs so much information in such a small area.
On the right a cockle shell momentarily wedded with a sea oat. Both have been washed around by the surf becoming partners for a short term until either the tide brings water to separate them or the wind dries everything and blows the sea oat to a place in the dunes where it can sprout.
Walking along the shoreline in St George Island State Park is a shellers delight. Clam and cockle shells litter the surf line especially after a storm.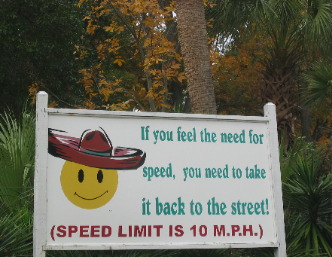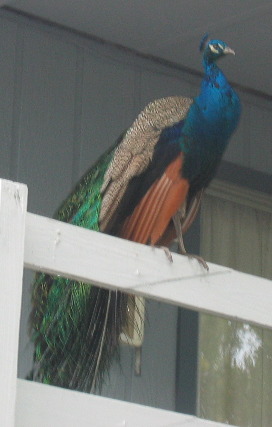 We visited a campground marina complex in Eastpoint, a small fishing community near St George Island, looking for alternate places to stay when we are in the area. As we turned into the complex we both noticed this sign. It was so clever. We had to share this picture with you. As if to emphasize the laid back atmosphere this peacock was purched on the second story porch railing of one of the buildings.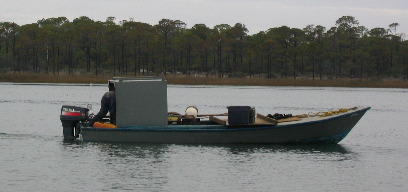 We stopped and chatted with this oysterman who was taking his oyster boat out to see if he could catch a mess of mullet for lunch. He told us that he had already oystered 5-days this week and was hoping to throw his cast net over some mullet. We did not stay around to see if he caught anything.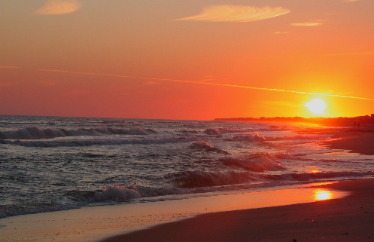 The second night at St George Island State Park Campground Joyce headed to the beach to capture this sunset. I'd say she did a good job.
We spotted this small raccoon on a walk out of the campground.
This colorful fungus was in the understory of new growth pine trees.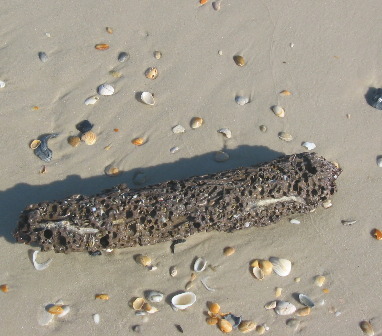 A sponge adds color and texture to floatsome deposited on the beach at high tide.
To the right is a worm riddled piece of drift wood resting among shells washed ashore by the tide.
St George Island's impressive dune system was seriously damaged by hurricane Dennis that roared ashore in Pensacola 200-miles to the west on the 4th of July weekend in 2005. Dennis pushed 12-foot tides and huge waves into the coast. Dunes that had built up over the years to impressive heights were either destroyed or seriously damaged. Sea oats and other vegetation helped hold dunes together.
During the summer giant loggerhead sea turtles lumber ashore, under the cover of night, to the foot of these dunes to lay their eggs in a crude hole laboriously dug in the sand by the turtles hind flippers.
While severely damaged some dunes survived though not in their original state.
This is the new bridge from the mainland to St George Island shrouded in fog.
Sometimes this beach will have piles of shells. Today the piles are gone until the next storm. Single shells scattered about was on the menu this day.
Currents and storms deliver and take away shells. One never knows what the day will bring until you arrive at the surf line.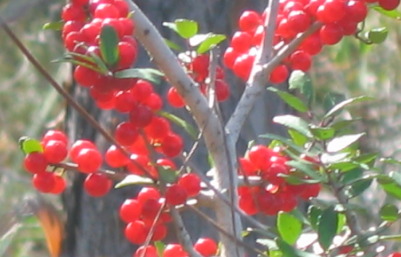 Yupon holley thickets are scattered throughout the pine woods area of the island. These and other berries help feed birds that winter on this barrier island.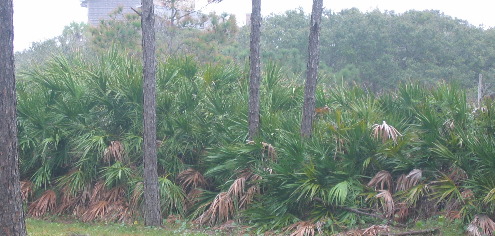 Palmetto thickets like these are scattered throughout the island.
Nine miles of undeveloped beaches and dunes, surrounded by the Gulf of Mexico and Apalachicola Bay along with this lagoon that inserts itself along three miles of the island's backbone. St George Island is one of a string of barrier islands along this section of coastline. Topography in the State Park includes palm hammocks, magnificent sand dunes, sandy coves, salt marshes, oak thickets pine uplands and sugar white beaches all packaged in this narrow barrier island.
Bald eagles, ospreys and great horned owles nest in the isolation of those pine trees you see across this lagoon.
This small lagoon stretches for around 3-miles down the middle of St George Island State Park. This picture is looking east.
This is the same lagoon looking west.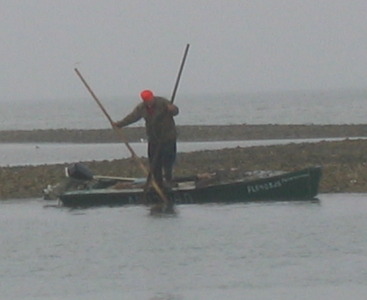 Blue herons are common and frequently pose for Joyce's camera.
This oysterman was using tongs to harvest oysters from an oyster bar in the State Park.
This bright pink scallop shell was in contrast to the more common clam shells.
Cockle shells seem to be the most plentiful shell on this day.
We were on St George Island last Summer. This is a link to that trip report. St George Island & St George Island State Park
Another of our visits to St George Island was earlier in 2006 when we were returning from spending the winter in South Florida. 2006 Travelogue # 16.
Until next week remember how good life is.
Mike & Joyce Hendrix