Hurricane Hole Pelicans Key West
It seems like every piling in the Hurricane Hole has a resident brown pelican. Those not finding a suitable piling are painting the back side of charter boats and floating in the water.
The Hurricane Hole is a marina on the south side of US-1 as you enter Key West. I guess the Hurricane Hole Marina is actually on Stock Island not Key West proper. If you are looking for fishing charters, or want to rent a kayak or paddle board then you want to locate the Hurricane Hole.
Brown pelicans resting on the back of this charter fishing boat
This Sea Vee and those Yamaha outboards are being decorated by the resident brown pelicans of the Hurricane Hole in Key West.
Behind the mangroves on the far side of Hurricane Hole is US-1. Hurricane Hole Marina is located on the south side of US-1 at the bridge as you Key West proper.
Hurricane Hole Marina sports a bar and restaurant. The restaurant is a popular lunch spot complete with live music most afternoons.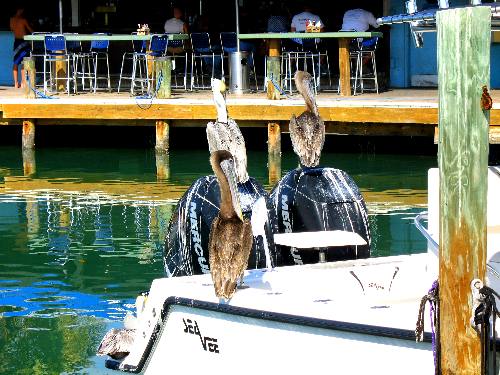 Folks if you think that chicken poop is nasty you ain't seen nothing until you deal with pelican poop and these pelicans are doing a fine job on this charter boat operating out of the Hurricane Hole in Key West.
Someone is going to have one jolly time cleaning the poop off this boat before the next charter arrives.
In the background you can see tables and chairs at the Bar and Restaurant at Hurricane Hole Marina.
I love the reflections in the water.
These brown pelicans are "residents" of the Hurricane Hole in Key West. Of course they are part of the ambience and tourist love them.
If I was a boat owner they would drive me crazy the way they desicrate a boat but the boat captains seem to pay no attention to them. I am guessing but it appears that the owners of the Hurricane Hole have decided that the pelicans are a tourist attraction and are treated as such.
Until next time remember how good life is.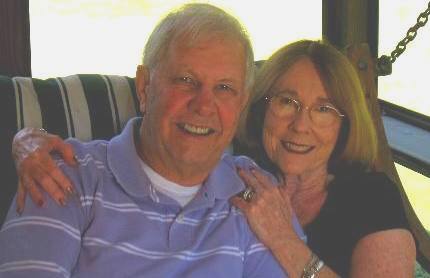 Mike & Joyce Hendrix who we are
We hope you liked this page. If you do you might be interested in some of our other Travel Adventures:
Mike & Joyce Hendrix's home page
Travel Adventures by Year ** Travel Adventures by State ** Plants ** Marine-Boats ** Geology ** Exciting Drives ** Cute Signs ** RV Subjects ** Miscellaneous Subjects
We would love to hear from you......just put "info" in the place of "FAKE" in this address: FAKE@travellogs.us
Until next time remember how good life is.