Blue Heaven Key West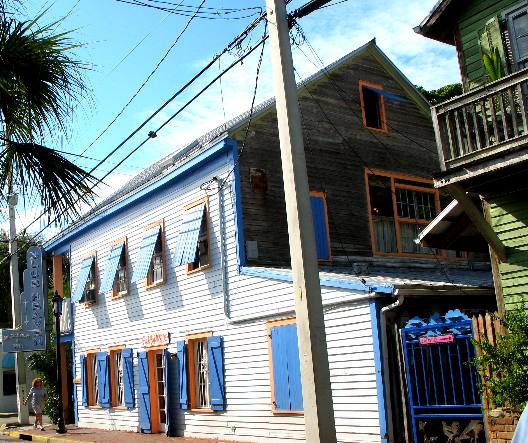 This is a view of Blue Heaven Restaurant as seen from the corner of Petronia and Thomas Streets. The facade of the old historic home is quite a sight with its pretty blue shutters.
There is no parking at Blue Heaven Restaurant so you must, walk, bike or take a taxi.
729 Thomas Street
Key West, Florida, 33040
305 296 8666
Hopefully this picture will give you a good idea of the outdoor dinning area at Blue Heaven Restaurant. It is well shaded with a lot of nice landscaping of Palms and tourist trees. However not all the outdoor dinning area is covered as you see in this picture.
There is also dinning inside, but we prefer to dine outside in Key West if possible. So you have both options at Blue Heaven.
This is a picture of the Petronia Street entrance to Blue Heaven Restaurant. It will take you right into the outdoor dinning and bar area.
There is Joyce in front of the showers for $2:00 sign at Blue Heaven Restaurant. It seems that everyone wants to have there picture taken in front of this sign. Make sure you stroll around before or after dinning so you don't miss out on all the cute signs which make up the ambiance at Blue Heaven Restaurant. And don't forget to visit their gift shop for your Blue Heaven tee shirt.
Salute is located on Higgs Beach facing the Atlantic Ocean. So don't miss Blue Heaven's sister Restaurant in Key West.
Salute Restaurant
1000 Atlantic Blvd.
Key West, Florida, 33040
305 292 1117
Breakfast Menu
"BREAKFAST WITH THE ROOSTERS"
RICHARD'S VERY GOOD PANCAKES
(MADE FROM SCRATCH) ORDER OF THREE
Plain • Banana • Pecan • Pineapple
- pure maple syrup available -
BENEDICTS
- served with poached eggs, english muffin with lime Hollandaise -
Vegetable Benedict • Ham Benedict
Sausage Benedict • Bacon Benedict • Beef Tenderloin Benedict
HOMEMADE GRANOLA
(made in our kitchen with organic oats)
available with milk, soy milk, fruit, and organic low-fat vanilla yogurt
BLUEBERRIES & YOGURT
(drizzled with honey)
FRUIT CUP
FRUIT PLATE & HOMEMADE BANANA BREAD
FRESH FRUIT SMOOTHIE
made with apple juice, strawberries and bananas
OMELETTES SERVED WITH BLUE HEAVEN BAKERY TOAST
Suanne's Favorite
(mushroom, cheese and onion)
Cheese Omelette
(with Vermont white sharp cheddar)
Chef's Delight
SHRIMP AND GRITS
Five sautéed Key West shrimp served over grits
with Vermont white cheddar cheese, scallions
and bakery fresh toast
ROOSTER SPECIAL
Two eggs, any style, and grits or seasoned potatos,
and bacon or country sausage,
with toast, homemade pancakes or Betty's Banana Bread
BREAKFAST TORTILLA
Scrambled eggs with onion, peppers,
herbs and cheese on flour tortilla topped with sour cream and salsa
BREAKFAST SANDWICHES
(On bakery fresh bun)
Egg • Egg and Cheese • Egg and Bacon or Sausage
Egg, Cheese and Bacon or Sausage
À LA CARTE
Pancake • Bacon • Egg
Fruit or Pecan Cake • Country Sausage • Hollandaise Sauce
Betty's Banana Bread • Toast (freshly baked) • Salsa
Grits • Toasted Bun • Side Yogurt
Lobster bites • Potatoes
Until next time remember how good life is.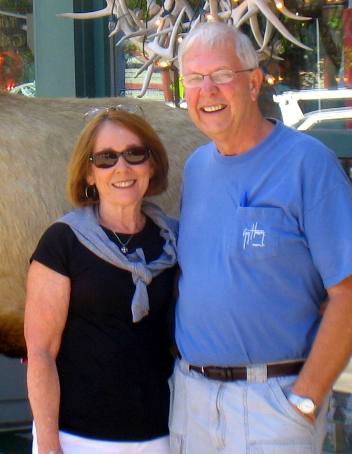 Mike & Joyce Hendrix who we are
We hope you liked this page. If you do you might be interested in some of our other Travel Adventures:
Mike & Joyce Hendrix's home page
Travel Adventures by Year ** Travel Adventures by State ** Plants ** Marine-Boats ** Geology ** Exciting Drives ** Cute Signs ** RV Subjects ** Miscellaneous Subjects
We would love to hear from you......just put "info" in the place of "FAKE" in this address: FAKE@travellogs.us
Until next time remember how good life is.