Blue Heaven Restaurant Key West
This is the view of the Blue Heaven Restaurant take from Thomas Street. I think it is appropriately name with all these blue shutters. So if you are looking Blue Heaven Restaurant just look for an old historic house with blue shutters and a crowd of people.
You will have to walk, drive your bike or take a taxi because there is no parking which is not uncommon in Key West.
729 Thomas Street
Key West, Florida, 33040
305 296 8666
Most people seem to prefer dinning outdoors at Blue Heaven Restaurant. The Key West chickens are roaming around and roosting in the trees and there is often a band playing. According to the picture it looks like a group may have just pulled up some chairs to enjoy the entertainment.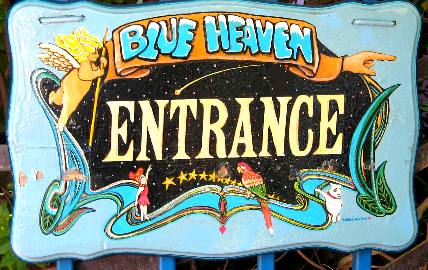 A sign welcoming you to Blue Heaven. There are so many cute signs that add to the ambiance of Blue Heaven. Restaurant.
Make sure you get your picture in front of this sign at Blue Heaven Restaurant. It is just as you enter the restaurant from the Petronia Street entrance and it is in the outdoor eating area and close to the gift shop.
I would say that this sign is 100% correct! So go and enjoy!
Dinner Menu
APPETIZERS
CARROT AND CURRY SOUP
Garnished with mango chutney
VEGETARIAN GUMBO SOUP
Mildly spicy, with okra, tomatoes and peppers
VEGETARIAN BLACK BEAN SOUP
With sour cream and cheese
SPLENDID SALAD
Romaine, fresh vegetables, and orange cider vinaigrette
BABY GREENS
With twice baked miso eggplant, goat cheese, and our house vinaigrette
CARIBBEAN BBQ SHRIMP
Seared with jerk seasonings, deglazed with beer, and
served with freshly baked corn bread muffins
ENTRÉES
- served with fresh vegetable and corn bread -
CARIBBEAN BBQ SHRIMP
Seared with garlic and jerk seasonings,
deglazed with Red Stripe beer and served with brown rice and black beans
PORK TENDERLOIN
Pan seared and served with sweet potato,
mango chutney and curry butter sauce
JAMAICAN JERK CHICKEN
"Jerked" in Caribbean spices and served with brown rice and black beans
BEEF TENDERLOIN
An eight-ounce center cut Angus filet with Cabernet demi-glace
VEGETABLE PLATE
Brown rice, black beans, grilled plantains, fresh vegetables and red onion marmalade
TOFU STIR-FRY
Organic tofu and fresh vegetables, wokked in olive oil, tamari, garlic, ginger and sherry. Served with brown rice
FRESH SEAFOOD SPECIALS
Seared Sea Scallops Provençale
Sauteed Yellowtail Snapper with Citrus Beurre Blanc Sauce
(Lobster & Stonecrab when in season)
SIDES
Green Vegetables • Herbed Red Potatoes • Plantains
Fresh Corn • Wilted Spinach • Rice & beans
DESSERTS
BANANA HEAVEN
Until next time remember how good life is.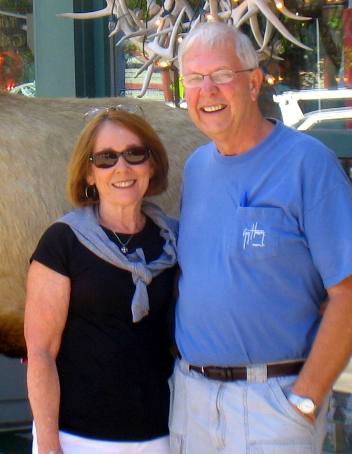 Mike & Joyce Hendrix who we are
We hope you liked this page. If you do you might be interested in some of our other Travel Adventures:
Mike & Joyce Hendrix's home page
Travel Adventures by Year ** Travel Adventures by State ** Plants ** Marine-Boats ** Geology ** Exciting Drives ** Cute Signs ** RV Subjects ** Miscellaneous Subjects
We would love to hear from you......just put "info" in the place of "FAKE" in this address: FAKE@travellogs.us
Until next time remember how good life is.