June 10 through 14, 2009
Marine Tank at CMA Music Festival Nashville, Tennessee 2009
This travellog is about our adventures at the CMA Music Fest in Nashville, Tennessee June of 2009.
We stayed in Seven Points COE Park 12-miles east of downtown Nashville, Tennessee. Paved sites & interior roads with water and electric for $10 with our "geezer" pass. It will cost you young whipper snappers $20.
The CMA Music Fest starts hopping on Wednesday the day before the official "start" of activities with a parade down Broadway and a good number of other events and activities. We just happened to be in one of our favorite honky tonks on Broadway when we noticed a commotion going on outside. When we checked to see what the excitement was about we watched as a Peterbuilt dropped this lowboy trailer with a tank on it. Those of you familiar with Broadway in Nashville will recognize the "Wheel", "Full Moon" and Rippies honky tonks behind where this tank has been deposited. It was across the street from "The Stage on Broadway" & Tootsies". Within seconds the folks you see in this picture jumped to work. The fellow you now see on top entered the tank and cranked it.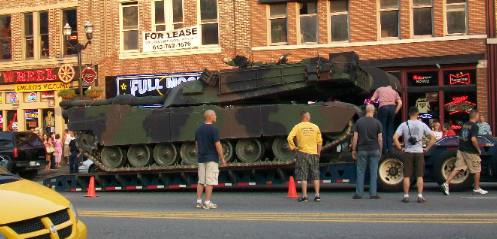 Everyone is getting off that tank & lowboy in this picture. I would have expected those military folks to be in uniform but they weren't as you can see.
The fellow you see there in the shorts is giving hand signals to the tank driver. As you can see the tank is now off the lowboy.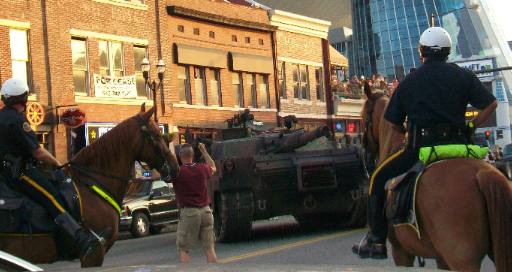 Here is that fellow directing the tank as it gets in the middle of Broadway where it spins around so the barrel is pointed away from the direction of travel. The horses weren't too sure of this activity. The police were as gaga as the rest of us. Who ever heard of a tank in the middle of Broadway.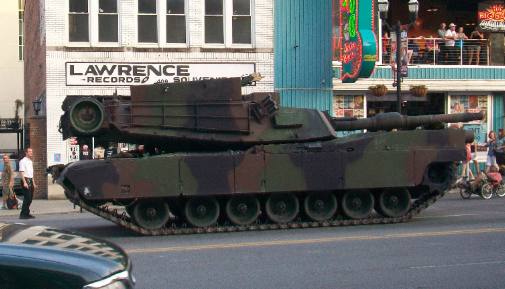 Here is the tank rolling down Broadway to the corner of 2nd street & Broadway where it spent the weekend. If you are familiar with Nashville 2nd and Broadway is the corner where Hard Rock Cafe is located and a few doors down from the Wild Horse Saloon. That section of Broadway is blocked off during CMA Music Fest for a wide variety of activities including this Marine recruiting exhibit.
Ain't life grand?
That is all there is.