CMA Music Fest in Nashville
June 10 through 14, 2009
Riverfront Stage & LP Field CMA Music Festival Nashville, Tennessee 2009
This travellog is about our adventures at the CMA Music Fest in Nashville, Tennessee June of 2009.
We stayed in Seven Points COE Park 12-miles east of downtown Nashville. Paved sites & interior roads with water and electric for $10 with our "geezer" pass. It will cost you young whipper snappers $20.
The CMA Music Fest starts hopping on Wednesday the day before the official "start" of activities with a parade down Broadway and a good number of other events and activities.
I took this picture of the Riverfront stage (one of many stages) where the stars perform during the CMA Music Fest (Fan Fair). I took this picture from a bridge crossing the river north of this event. Rain had delayed some of the performances on that stage and they were running much later than normal. Neal McCoy was performing and had a good size audience considering that it was after 7PM and the performances would begin at LP Field (Titans Stadium) located across the river at 8PM. It is a good walk from that venue to your seat in Titan stadium is the point I am trying to make. We took this picture while walking to LP Field.
This was a common sight in downtown Nashville, Tennessee.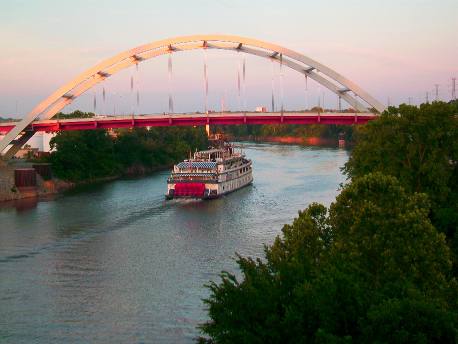 We took this picture while walking across the river another night. That is the paddle wheel cruise boat General Jackson that operates out of the Gaylord Convention Center complex where the Grand Old Opry is now.
LP Field across the Cumberland River from Riverfront Stage during CMA: Nashville, Tennessee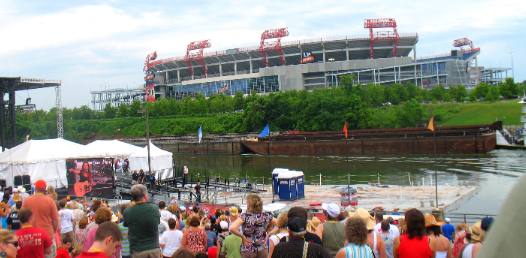 This is a view of Titan Stadium (LP Field) where the big concerts are held each night from 8pm until after midnight. The picture was taken from the Riverfront stage area. Note the passing barges in the river.
This is Kid Rock who was one of the performers on the "Big-Stage" at LP Field. When he did his hit song "The Picture" Martina McBride stepped on stage and sang Cheryl Crow's part. Talk about hitting a bases loaded home run. They knocked it slap out of the park.
LP Field (Titan Stadium; Nashville, Tennessee during nightly CMA Music Fest Concert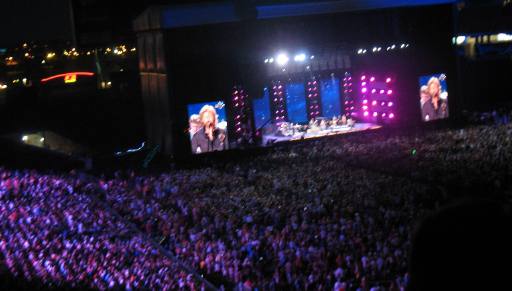 This is a picture of the stage area at LP Field (Titan Stadium) during the Brooks & Dunn Concert. They were the first act on the first night, followed by Reba, Julianne Hough, Darius Rucker, Dierks Bently, Rascal Flats and Brad Paisley.
With lineups like this you want to be in your seat when the first act appears.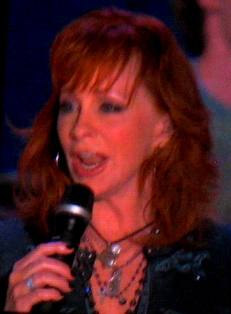 Reba on the big stage at LP Field during CMA, what else needs to be said?
Brad Paisley doing his thing on the big stage at LP Field.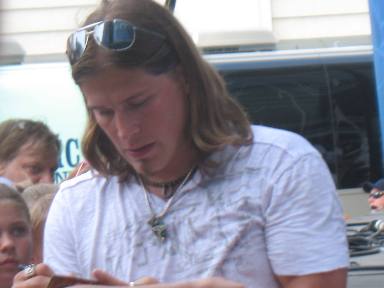 Jason Michael Carroll on one of the alternate stages during the day. He also performed one night at LP field.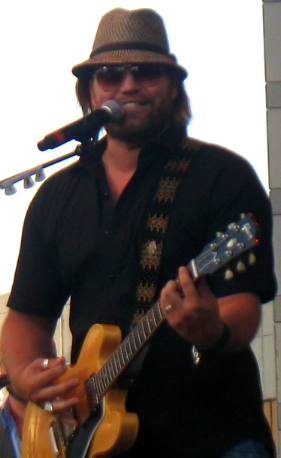 James Otto playing on the Chevy Stage one afternoon. James also performed on the "big stage" at LP field.
We saw so many more artists but did not bother with getting pictures. We were having too much fun.
Ain't life grand?
That is all there is.