Elkhorn Scenic Byway in Eastern Oregon
The Elkhorn Scenic Drive out of Baker City through Sumpter, Granite and over the pass on NF road 73 is a good outing when visiting Baker City.

June 19, 2007.
We are staying at Mountain View Travel Park in Baker City. $24.79 FHU, shade and a nice enough RV-Park. It must be a former KOA since they charge extra for everything, $2 extra for wifi, $2 extra for larger sites, you get the picture.
Blue Springs Summit on National Forest Road 73
National Forest road 73 takes us over several passes the first one, Blue Springs Summit, was almost 6,000 feet in elevation.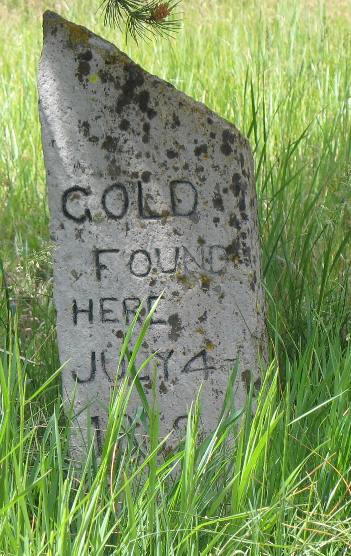 So you do not forget we are following the Elkhorn Scenic Byway out of Baker City, Oregon.
We found ourselves visiting the small community of Granite. This might look like a grave marker but if you examine it closely it is just a marker commemorating the discovery of gold nearby.
Lodgepole pine is a pioneer species dependent on disturbance to regenerate and rejuvenate the stand. Fire, wind, insects, and disease are natural disturbance agents that open up the mature lodgepole pine stand; allowing the prolific seed-producing pine cones to release abundant seeds.
New stands grow dense, starving for light until the next disturbance renews the stand. We saw this phenomena in Yellowstone where the Great Yellowstone Fire was the was the disturbance that regenerated the new stand of lodgepole pines that we now see throughout Yellowstone.
In the 1970s a mountain pine beetle epidemic swept through the Elkhorn Mountains killing thousands of mature lodgepole pine trees. Tree mortality resulting from this epidemic was variable. In some areas, tree mortality was as high as 90%.
Lodgepole pine
This stand of lodgepole pines resulted from the mountain pine beetle epidemic that killed 90% of the mature lodgepole pines in the 1970s.
Snow in the Elkhorns
This pass has just recently opened for the summer season. Sawdust is still visible where trees have been removed from the highway that fell during the winter.
This is Elkhorn Summit where we were seeing the snow.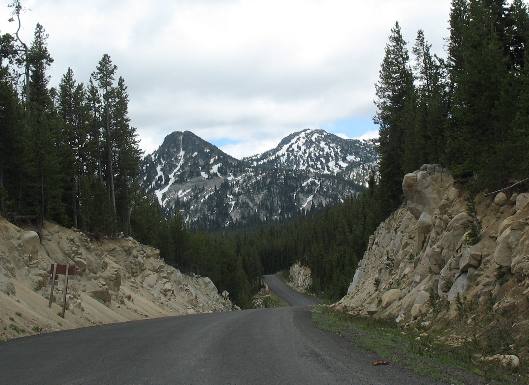 While descending Elkhorn Mountain these beautiful snow capped mountains were framed by the roadcut.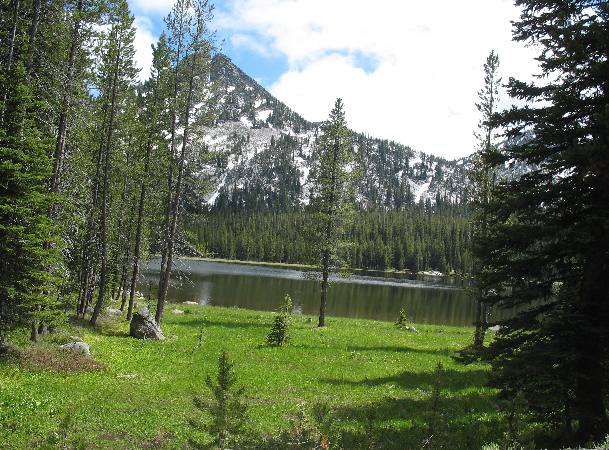 And one last photo of Anthony Lake with Gunsight Mountain in the background.
Easing down Elkhorn Mountain on the Elkhorn Scenic Byway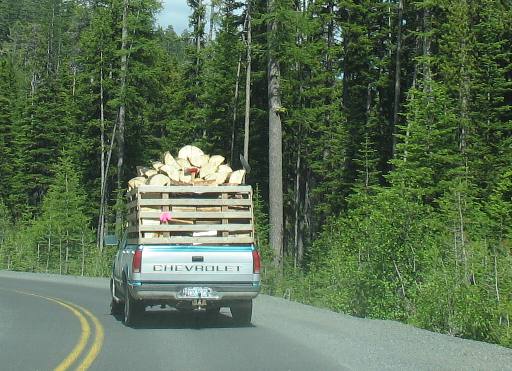 As we descended the grade on Elkhorn Maintain we followed several pickup trucks like this heavily loaded with firewood. I think they were scavenging trees that fell across the highway during the winter. We saw sawdust along the route where those trees had been removed from the roadway.
All of these truck were easing down this steep grade in 1st gear.
About halfway down from the summit of Elkhorn Mountain we started seeing glimpses of the Baker Valley in the distance.
Once in the Baker Valley Joyce took this picture of where we had just come from.
This farmer is mowing a large field of alfalfa in Baker Valley.
After the close of the Sioux and Piute Indian wars ranchers of Wyoming and Montana, discouraged in their attempts to fatten Texas longhorns turned to Oregon for their cattle. During the spring cattlemen and their cowboys arrived daily from the Rocky Mountain area to purchase herds which had been assembled around Baker from remote parts of the state. The herds were sometimes six months in making the 1,200 mile drive and required an outfit of 40 cowboys with a remuda of several hundred Oregon cow ponies which were also superior to the eastern breed. It is estimated that as many as 1,000,000 head of cattle were trailed overland annually during the more favorable years between 1875 and 1884.
Mike & Joyce Hendrix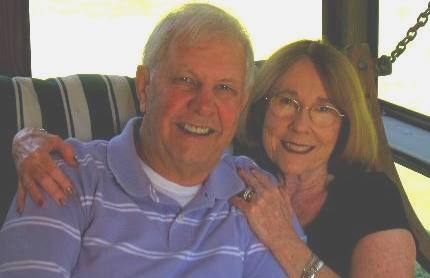 Mike & Joyce Hendrix who we are
We hope you liked this page. If you do you might be interested in some of our other Travel Adventures:
Mike & Joyce Hendrix's home page
Travel Adventures by Year ** Travel Adventures by State ** Plants ** Marine-Boats ** Geology ** Exciting Drives ** Cute Signs ** RV Subjects ** Miscellaneous Subjects
We would love to hear from you......just put "info" in the place of "FAKE" in this address: FAKE@travellogs.us
Until next time remember how good life is.