Baker Oregon Gold Mines
June 16, 2007.
We are staying at Mountain View Travel Park in Baker City. $24.79 FHU, shade and a nice enough RV-Park. It must be a former KOA (Keep On Adding) since they charge extra for everything, $2 extra for wifi, $2 extra for larger sites, you get the picture Keep On Adding.
Baker Valley as viewed from Flagstaff Hill east of Baker City, Oregon
The discovery of gold at Sutter's Mill in California in 1848 escalated the great migration across the continent, and opened up the need for supplies and food for the rapidly growing population of miners. Oregon's economy flourished; shipping produce, cattle and timber south. As the gold fields of California played out, prospectors looked for fortune in other regions. Strikes in Nevada, Colorado, Montana, Idaho, British Columbia and Oregon generated new trail routes, new settlement and new trade patterns as miners followed the rumors of gold.
Some miners considered the story of the "Lost Blue Bucket Mine". In 1845, a wagon train looking for a short cut through central Oregon became lost and wandered through the hills and desert country. At one campsite, some shiny yellow pebbles were found, and allegedly, most of the rocks were left behind in a blue bucket. The story and a few samples however were saved, and after news of the find at Sutter's Mill it was recognized that the lost pioneers had found gold - but they could not remember the location of their find.
In 1861, prospectors searching the mountains of eastern Oregon for the Lost Blue Bucket location found gold in a gulch about seven miles south west of present day Baker City. The news started a stampede, with an estimated 15,000-30,000 gold seekers coming into the Blue Mountains in the next year and over 1,700 mining claims filed. It became the county seat of newly formed Baker County, and for a short while was the largest town in Oregon - two years later it was headed for oblivion with less than 150 residents.
As early methods of placer mining gave way to lode mining, the need for supplies - especially heavy equipment - led to changes in the economic life of communities supporting the mining business. Freighters developed routes to haul goods from Columbia River ports to the mountains around Baker Valley. A railroad route was developed, and completed in 1884. A stamp mill built on the Powder River in 1864 became the starting point for the town of Baker City, which soon became the county seat, and a hub for suppliers of hardware and heavy equipment. Lumbermen started mills to supply timbers. Ranching and farming expanded to meet the growing market for produce, beef and draft animals. Hotels and banks accommodated the investors, engineers and businessmen as mining changed from the work of lone prospectors into corporate ventures. Churches and schools developed for families; saloons and more carnal entertainment establishments were constructed for the single miners. Civic and fraternal organizations, libraries, and musical bands appeared in even the most rudimentary and temporary mining camps.
Settlement patterns chased gold finds throughout the West, encroaching on traditional Indian lands. Treaties and reservations reduced Indian territory. The lust for gold created a mobile society, able to quickly relocate, establish governments and communities, and then leave when the gold became scarce and new rumors lured restless miners away.
The Baker Valley changed rapidly in the years after the Oregon Trail. Placer and lode mining, and the spread of farming and stock raising changed the face of Baker Valley forever. A mixed population including Chinese laborers, Basque shepherds, and recent European immigrants scrambled for the land. They washed gold and irrigated their fields. They erected handsome buildings, planted trees, and called the place home. By 1890 Baker City had 4,500 residents.
Oregon Trail Ruts on Flagstaff Hill east of Baker City, Oregon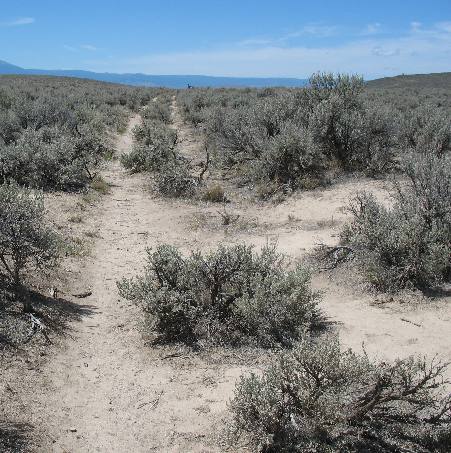 I am including this picture of ruts left over from the great emigrant trail known as the Oregon Trail as it crested what is now Flagstaff Hill and looked down at the Baker Valley.
The pictures I am about to share with you were taken from this spot on the top of Flagstaff Hill. Yes, all the gold mine pictures to follow were taken from this spot on Flagstaff Hill east of Baker City.
Abandoned gold mine on Flagstaff Hill near Baker City, Oregon
When Henry Griffin, a prospector from California, discovered gold eight miles southwest of present-day Baker City in 1861, the emigration pattern changed radically.
Eastern Oregon quickly became a destination for gold-seekers and settlers--many arrived from the Willamette Valley reversing their initial journey along the Oregon Trail to settle in this area.
Mining camps sprang up with the prospect of gold and many boomed into towns. By 1862 the nearby town of Auburn, which no longer exists, had a population over 5,000 and was among Oregon's largest cities. Local settlers established farms and stores, providing hay and produce to miners, and for much of the 1860s large wagon trains loaded with freight were a common site along this segment of the Oregon Trail.
Placer deposits of gold sparked Oregon's gold rush boom, but lode mining became an industry. Placer miners worked from sunrise to sundown. They panned, cradled, rocked and ground-sluiced the paydirt. They invested in crazy contraptions called " gold machines," and hoarded their precious gold in leather pouches and fruit jars. They also helped found towns like Auburn, Baker City, Eldorado, Sumpter, and Granite.
The opening of rich lodes like the Virtue Mine in the 1870s poured more money into the Baker Valley. Load mining required months of labor with hammers, drills, and dynamite. Dust clogged the men's lungs, stamp mills deafened them, and the cyanide plants exposed them to all kinds of hazards. But mining was work and work meant meals, a place to bunk, and maybe even a paycheck.
Abandoned gold mine on Flagstaff Hill near Baker City, Oregon
Eastern Oregon today is still marked with remnants of mines large and small, of tailing piles, abandoned shafts and placers, rock walls built by Chinese laborers, empty ditches which brought water to placer operations, abandoned buildings and cabins where gold once was the center of life and activity. Gold production since World War II has been considerably less than the boom years of the late 19th and early 20th century when Baker County was a leading producer of gold in Oregon. As with many regions in the West, the roots of present day communities reach back to the quest for gold.
Abandoned gold mine on Flagstaff Hill near Baker City, Oregon
This picture captures several of those old mines.
Gold display in U.S. Bank of Baker City, Oregon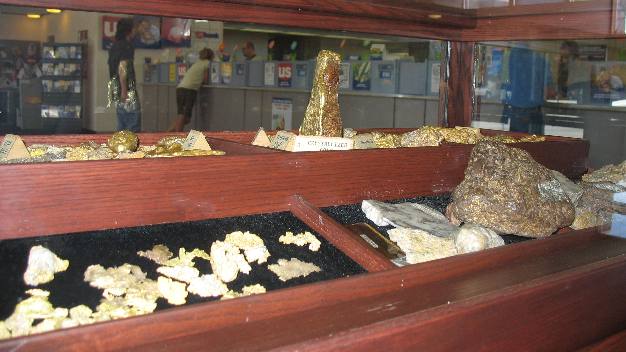 One of the stops on our walking tour of historic homes and businesses in Baker City was the U.S. Bank where they have a gold display. Among trays of gold flakes and gravel-sized nuggets on display is a heart-stopping specimen that was pulled from a muddy stream in 1913.
The miner's name was George Armstrong, and he spotted the hunk of gold as he followed his son out of a placer mine near Susanville in Grant County.
The nugget weighed 80.4 ounces --that's 6 and 3/4 pounds --- and was worth more than $1,400 at the 1913 gold price of $17.50 an ounce. That's more than $25,000 in today's dollars.
The nugget sits front and center in the bank's gold display that features metals mined from the Baker Mining District.
Mike & Joyce Hendrix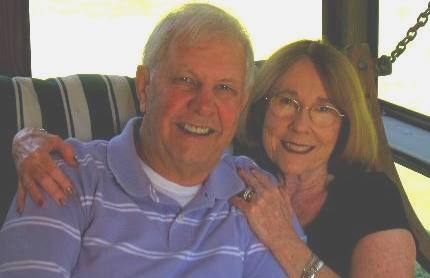 Mike & Joyce Hendrix who we are
We hope you liked this page. If you do you might be interested in some of our other Travel Adventures:
Mike & Joyce Hendrix's home page
Travel Adventures by Year ** Travel Adventures by State ** Plants ** Marine-Boats ** Geology ** Exciting Drives ** Cute Signs ** RV Subjects ** Miscellaneous Subjects
We would love to hear from you......just put "info" in the place of "FAKE" in this address: FAKE@travellogs.us
Until next time remember how good life is.