Grand Junction & Fruita at Colorado National Monument
May 22, 2007.
There are several campgrounds available in the Fruita / Grand Junction area. We chose Monument RV-Park just because we needed to easily & quickly get into the campground and head out to experience Colorado National Monument. Monument RV-Park is a good clean park but at at $35 price tag. They do have location ---- like, within a mile of the western entrance to Colorado National Monument. The Colorado River State Park is located directly across the street from Monument RV-Park. I think we would probably stay in the State Park on a return trip if for no other reason than cost.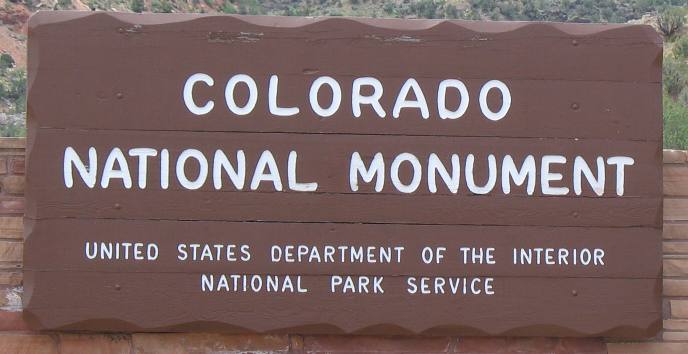 We arrived in Fruita today expressly to tour Colorado National Monument. The Colorado National Monument isn't one of the "top-10" destinations for tourist but it is one of the most spectacular drives you can take. The views and geology exposed in the monument are some of the best available.
Only moments after entering Colorado National Monument we start our climb up the shear sandstone cliff. Joyce snapped this picture of the Fruita/Grand Junction Valley below Colorado National Monument from midway on that climb.
Years ago there wasn't a valley. There was a time when the the valley and the mesa was flat. Forces in the earth's crust made them move to the positions they now occupy. These forces in the earth's crust made the Mesa rise while a fault line developed and the valley fell. The fault runs east and west almost parallel to I-70.
Across the valley you can see the entire block that faulted and fell creating this valley.
The sandstone rock in the bottom left corner if this picture is almost vertical. We are standing on the fault line while taking this picture. Rocks did not bend here the block on one side of the fault fell and created a sharp cliff face.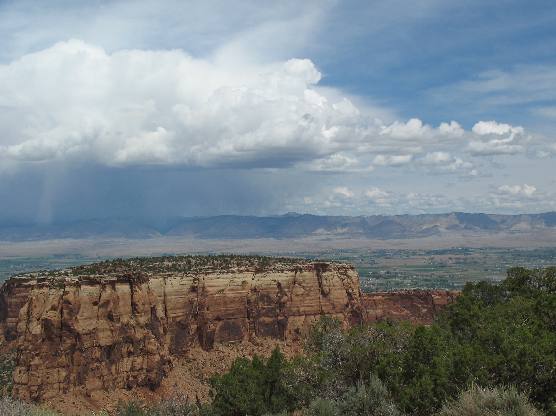 Afternoon rainstorm over the Grand Junction valley.
Red Canyon Colorado National Monument exposing Kayenta formation and Wingate Sandstone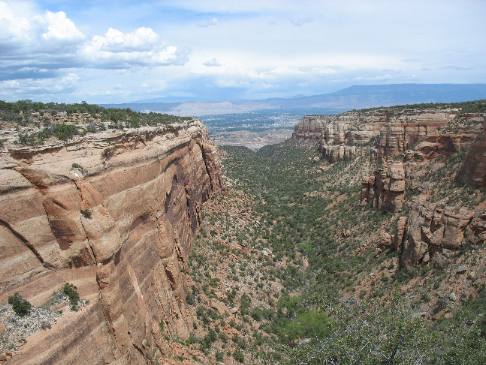 This is Red Canyon on the eastern side of Colorado National Monument. This view is looking north into the valley and Grand Junction, Colorado in the distance.
These are some of our other Travel Logs in this area:
The John Wesley Powell Museum in Green River, Utah
Arches National Monument in Moab, Utah
Driving US-191 from Blanding to Moab, Utah
Until next time remember how good life is.
Mike & Joyce Hendrix
Mike & Joyce Hendrix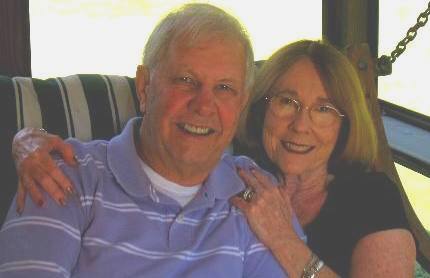 Mike & Joyce Hendrix who we are
We hope you liked this page. If you do you might be interested in some of our other Travel Adventures:
Mike & Joyce Hendrix's home page
Travel Adventures by Year ** Travel Adventures by State ** Plants ** Marine-Boats ** Geology ** Exciting Drives ** Cute Signs ** RV Subjects ** Miscellaneous Subjects
We would love to hear from you......just put "info" in the place of "FAKE" in this address: FAKE@travellogs.us
Until next time remember how good life is.