July 6, 2007.
Passport America - Discount Camping Club
Huge lumber mill near Canal Flats, British Columbia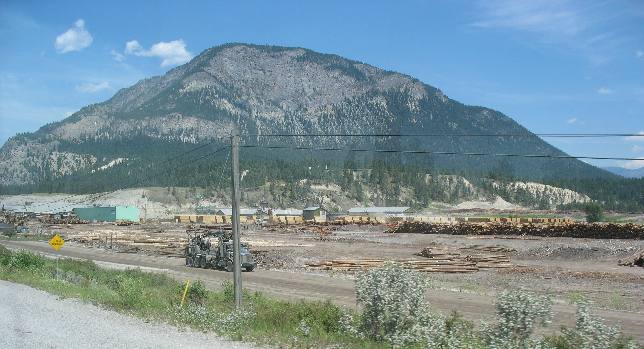 We are on PH 93/95 somewhere near Canal Flats a small community north of Fort Steele. This is one of several large lumbermills in the area.
This is lumber country now but back in the 1860's this was a a gold mining area.
The Wild Horse Trail led into the gold fields of Canada from Hope, Idaho. There was a large movement of men and pack animals along the Wild Horse Trail until the gold rush ceased around 1880.
The Wild Horse Trail originated around Hope, Idaho east of Sandpoint passing through Bonner's Ferry and on into the Gold Mines around Wild Horse Creek in Canada. Fort Steele is the town that remains after the goldmines around Wild Horse Creek played out.

In 1864 the Kootenay Gold Rush began. Gold was discovered on Wild Horse Creek, a small stream which flows into the Kootenay River just south of present-day Fort Steele. The creek quickly became the centre of the Kootenay Gold Rush. The makeshift town of Fisherville was started on the west bank, and by the end of the season it boasted six general stores, four saloons, a brewery, two butcher shops, a blacksmith's shop, and a large number of miners' cabins. John Galbraith began a ferry service across the Kootenay River just north of the confluence of Wild Horse Creek and the Kootenay River, on the site of the current town of Fort Steele.

By 1865 the Kootenay Gold Rush had reached its peak, the decline of the diggings soon became apparent. At Wild Horse Creek, the Victoria Ditch was completed and supplied water to placer claims located high off the creek bed (this ditch can still be seen today). Hydraulic mining was introduced in an attempt to recover deeply buried deposits more efficiently. Peter O'Reilly replaced Haynes as the Gold Commissioner and the Dewdney Trail, extending from Hope to Wild Horse Creek, in Canada was completed, providing a direct link with the colonial capital at New Westminster. Fisherville was demolished because it sat on some of the richest claims, and the community of Wild Horse was established further up the bank. In case you are trying to where the Dewdney Tail was located think of it stretching across southern British Columbia along what is now the Crows Nest Highway. Hope was Fort Hope located east of Vancouver and Wildhorse Creek was in the foothills of the Rocky Mountains in southeastern British Columbia a bit south of Radium Hot Springs.
Large hay operation around Fort Steele in southeastern British Columbia
This is a large hay operation but there are not nearly as many hay operations along this route.
Until next time remember how good life is.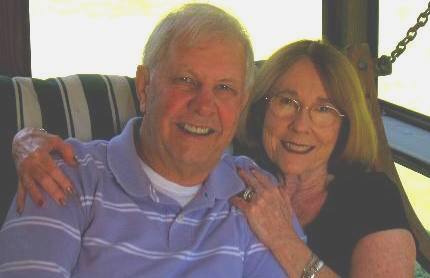 Mike & Joyce Hendrix who we are
We hope you liked this page. If you do you might be interested in some of our other Travel Adventures:
Mike & Joyce Hendrix's home page
Travel Adventures by Year ** Travel Adventures by State ** Plants ** Marine-Boats ** Geology ** Exciting Drives ** Cute Signs ** RV Subjects ** Miscellaneous Subjects
We would love to hear from you......just put "info" in the place of "FAKE" in this address: FAKE@travellogs.us
Until next time remember how good life is.