Places Visited:
Idaho: Scenic Drive along northern edge of Lake Pend Oreille

July 1, 2007.
We are staying in Hi De Ho RV Park, in Sandpoint/Ponderay, Idaho $32.40 gravel interior roads, FHU including cable and wifi. This is an OK RV Park.-----but much a much better choice than the campground at the Best Western in Sandpoint (the Best Western campground had LOCATION but is was within feet of a HEAVILY used RR track and was nothing but a badly maintained dirt parking lot.
We took a scenic drive east on SR 200 along the northern edge of Lake Pend Oreille.
Lake Pend Oreille offers a series of scenic vistas for travelers on SR 200.
We decided to drive down the road and see where David Thompson established his fur trading business in 1809. This date impresses me because Lewis and Clark were making their historic journey between 1804 and 1806. There was a lot of "unofficial" activity in the west that wasn't necessarily recorded as evidenced by this David Thompson fellow who constructed a building here in Idaho just three years after Lewis and Clark passed this way.
David Thompson's fur trading business was located on a peninsular about 2-miles east of the small community of Hope, Idaho.
The community had signs all over the place pleading for people to NOT feed the deer.
The signs obviously were not working. Deer were in yards like they were pets. Someone was feeding them.
The greenery in this area is so beautiful.
We stopped to examine this "drift-yard" on the Clark Fork River.
This is a series of booms that are part of a drift collection system which diverts floating debris from the Clark Fork River. In an average year 10 acres of driftwood is prevented from entering Lake Pend Oreille.
A sign said that the public was welcome to take driftwood in the area as long as they did not disturb the boom, chains and or cables because damage to any part of the booms could result in all or part of the drift entering the lake and causing a hazard to boating.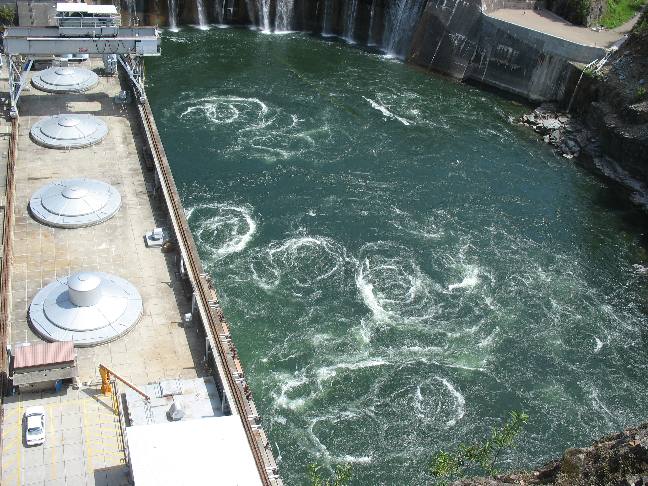 One of the wonders on SR 202, east of Sandpoint, is Cabinet Gorge and the Cabinet Gorge Dam. Cabinet Gorge Dam is located on the Clark Fork River in Idaho near the Montana border. The Dam is 208' high and 600 feet long creating a 20-mile reservoir. The powerhouse consists of 4-turbines generating 231 megawatts.
The Cabinet Gorge Dam.
This turbine blade is one of the four originally installed when the dam was completed in 1952. It was replaced in 2001 with a more efficient turbine that boosted power production.
Until next time remember how good life is.
Mike & Joyce Hendrix