Pawnee National Grassland in NE, Colorado
July 5, 2006:
Joyce and I are staying in Robidoux RV-Park operated by the city of Gering, Nebraska N41° 48.757' W103° 40.644' phone: 308-436-2046. They have paved interior roads with concrete pull-thru pads featuring green grass overlooking Scotts Bluff the bluffs so often mentioned by travelers on the Overland Trail: 50-amps, water and sewer, $15. We normally like to stay in PPA (Pass Port America) Campgrounds because of the 1/2 price arrangement but one was not near where we wanted to stay.
We headed north out of Greeley, Colorado on the 5th of July on our way to Scotts Bluff, Nebraska where we plan to meet up with the old Overland Trail (Oregon Trail, Mormon Trail, California Trail). While the Overland Trail started in Independence, Missouri we are going to start following it west from Scotts Bluff, Nebraska.
Earlier today we went through Ault, Colorado then turned east on SR-14 toward Stoneham, Colorado where we turned north on SR-71. Around 12-miles east of Ault on SR-14 we entered the southern portion of the Pawnee National Grasslands then popped out of the Pawnee National Grasslands at Biggsdale, Colorado. Then about 10-miles east of Biggsdale we entered the Pawnee National Grasslands once again.
Eastern Colorado is in the rain-shadow of the Rocky Mountains and traditionally only gets around 12 to 15 inches of rain each year. Land that is not irrigated is still short grass prairie. we enter Pawnee National Grasslands where the traditional short-grass prairie is being maintained as it was in the 1800's. Land not part of the Pawnee National Grasslands system is being used as open range land or cultivated for grain. Throughout our journey today we see huge fields of grain probably some type of wheat.
Pawnee National Grassland sign
Joyce took this picture in order to give us a reference as to where we were.
Windmill in an otherwise open prairie
Wind mills and solitairy oil wells were spotted from time to time as we made our way across the open expanses of this prairie. Private lands were being used to grow grain or graze cattle.
Solitairy oil wells are spotted from time to time
Wheat field around Stoneham, Colorado near the Pawnee National Grasslands
In Stoneham we turn north on SR-71 that took us into Gering, Nebraska. On SR-71 we stayed in the Pawnee National Grasslands for the next 50 miles.
Until next time remember how good life is.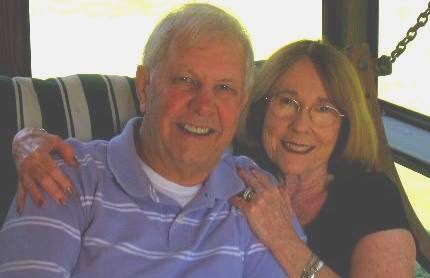 Mike & Joyce Hendrix who we are
We hope you liked this page. If you do you might be interested in some of our other Travel Adventures:
Mike & Joyce Hendrix's home page
Travel Adventures by Year ** Travel Adventures by State ** Plants ** Marine-Boats ** Geology ** Exciting Drives ** Cute Signs ** RV Subjects ** Miscellaneous Subjects
We would love to hear from you......just put "info" in the place of "FAKE" in this address: FAKE@travellogs.us
Until next time remember how good life is.