We headed north out of Greeley on the 5th of July heading to Scotts Bluff, Nebraska where we plan to meet up with the old Overland Trail (Oregon Trail, Mormon Trail, California Trail). While the Overland Trail started in Independence, Missouri we are going to start following it west from Scotts Bluff, Nebraska.
We have been traveling north on State Road-71 through the Pawnee National Grasslands north of Stoneham, Colorado. We crossed under I-80 then went through Kimball, Nebraska and are now approaching Gering, Nebraska near Scotts Bluff.
Dry land wheat farming is the economy south of Gering, Nebraska
Tiny wheat, at least tiny in my view, is grown from horizon to horizon. What I mean by tiny is that it looks like it is less than one-foot tall when mature. It has a mature head of wheat but is not very tall. I guess I want wheat to be about 18 to 24-inches tall. But what does a Florida cracker know about any kind of wheat -- Zero!
Sandstone bluffs south of Gering, Nebraska
Nearing Gering we started seeing the bluffs this area is known for.
Sandstone bluffs south of Gering, Nebraska
Looking north from SR-71 toward Gering, Nebraska.
Sandstone bluffs south of Gering, Nebraska
While the bluffs supply an interesting backdrop fields of alfalfa and corn fill the valley floor that is being irrigated compliments of the North Platte River.
Alfalfa hay field in Gering, Nebraska
Alfalfa hay being produced compliments if the irrigation provided by the North Platte River.
Huge field of irrigated corn in Gering, Nebraska with Scotts Bluff in the far right background

Let it be said that irrigation will turn the desert green. That is Scotts Bluff in the background of the picture on the left.
Irrigation has turned this prairie green around Gering, Nebraska
The Gering, Scotts Bluff valley area along the North Platt River turns out to be extremely scenic, bucolic if you will. What was a bone dry short grass prairie just a few miles south is now a vibrant bright green farming valley with corn, sugar beets, several varieties of dried beans and alfalfa hay are occupying what appears to be the entire landscape of the broad valley.

Joyce had a full day planned and we only had a half day to pack it in. As soon as we set up we headed out to the North Platte Valley Museum in Gering. This was a wonderful museum that got us up to speed on the history of the area especially the Overland Trail that flowed through here from the mid-to-late 1800's. In fact one of the popular routes went right by the museum.
The two days we spent in Gering and Scotts Bluff couldn't have been any better.
Until next time remember how good life is.
Until next time remember how good life is.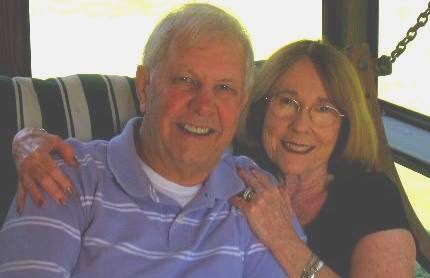 Mike & Joyce Hendrix who we are
We hope you liked this page. If you do you might be interested in some of our other Travel Adventures:
Mike & Joyce Hendrix's home page
Travel Adventures by Year ** Travel Adventures by State ** Plants ** Marine-Boats ** Geology ** Exciting Drives ** Cute Signs ** RV Subjects ** Miscellaneous Subjects
We would love to hear from you......just put "info" in the place of "FAKE" in this address: FAKE@travellogs.us
Until next time remember how good life is.