Joyce and I stopped in Carrabelle to visit with friends from Iowa that were escaping the cold for several weeks in the Florida Panhandle. One of the best campgrounds in that area is St. George Island State Park but it is closed due to hurricane damage suffered last summer and will not be open until near the end of next summer (2006). Snowbirds take heart it should be open for the winter of 2006. The next best place is Ho Hum RV-Park in Carrabelle a small private campground on the water. It is one of the few private campgrounds remaining in Florida on the Gulf or Ocean. While it is unfortunately not a PPA Campground (Passport America) it is still a great place to camp on the water in Florida and many snowbirds winter there.
View of oyster beds on a bar off St George Island
The brown bar exposed at low tide is an oyster bed. Joyce and I are with friends visiting St George Island and we are at this moment actually in St George Island State Park. While St George Island is bordered on one side by the Gulf of Mexico we are not on that side of the island now. These oysters are growing in the sound between St George Island and the mainland. I am not sure exactly what the body of water is referred to but it is an extension of Apalachicola Bay.
Recreational oysterman tonging oysters
This recreational oysterman is gathering oysters from shallow water with oyster tongs. You can see oysters piled on the front of his boat. The oysters on the front of the boat will have to be processed. The oysterman will take a break from the backbreaking work of tonging to sit down and cull the undersize oysters out of the clusters. Everything but the good legal size oysters will be returned to the water.
Recreational oysterman tonging oysters
He is emptying oysters from his tongs. Note the dry oyster bar in the background. It would be possible for recreational fishermen to walk out on that oyster bar and collect oysters. Oystering by that method does not require a boat.
Recreational oysterman tonging oysters
Note the pile of oysters that he has collected. He will put those tongs down and start sorting through that pile looking for the good (legal size) oysters while returning the remaining shell and small stuff to the water.
Mike holding a cluster of small oysters
Mike is holding a cluster of oysters here. As you can see this is a cluster of small oysters. The shells must be 3" in length to meet minimum size limits. Most of these are no more than 2". I was able to pick up this cluster of oysters from where we were on the beach. The oysterman we are watching is hopefully, finding larger oysters.
Beach scene from St George Island on the Gulf of Mexico side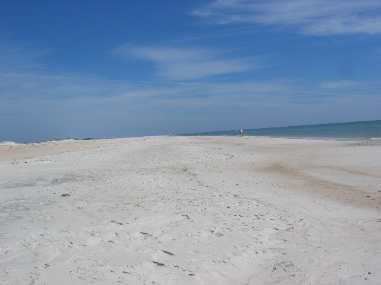 This is what the beach looks like on St. George Island in the State Park. All the beautiful dunes are gone. All the sea grass is gone. The storm surge from hurricane Dennis that hit Pensacola last July 4th not only destroyed the dunes in St. George Island State Park but destroyed the road in the park as well. The campground is at the end of that road. The campground is operational but there is no way to get to it until the road is replaced. It should be open by September or October of 2006.
Until next week just remember how good life is.
Until next time remember how good life is.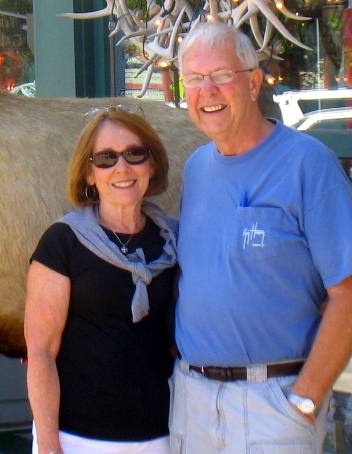 Mike & Joyce Hendrix who we are
We hope you liked this page. If you do you might be interested in some of our other Travel Adventures:
Mike & Joyce Hendrix's home page
Travel Adventures by Year ** Travel Adventures by State ** Plants ** Marine-Boats ** Geology ** Exciting Drives ** Cute Signs ** RV Subjects ** Miscellaneous Subjects
We would love to hear from you......just put "info" in the place of "FAKE" in this address: FAKE@travellogs.us
Until next time remember how good life is.