St George Island State Park
March 4th & 5th, 2008
We arrived on Tuesday, but on Wednesday headed to to St George Island for some shelling or rather "beach combing".
When Joyce & I arrived on St George Island we immediately headed to St George Island State Park where we plan to do our beach combing. We are heading to St George Island State Park because that is where we can find shells and other floatsum that makes its way onto the beach..
This piece of driftwood has been visible in St George Island State Park for a few years. It is the remains of a huge tree that may have grown deep in the Amazon Rain Forest where it floated down the Amazon River to the Atlantic and eventually washed ashore here during a terrible storm. As you can see this huge old log is far from the surf so it took a major storm like a hurricane to wash this unique piece of driftwood to its present resting place.
But now, back to the shelling, I mean, beach combing. There may be a few broken shells on public beaches on other parts of the island but the "good" beach combing, on St George Island, is located deep in St George Island State Park. The best shelling is reached by driving to the parking lot at the far end of St George Island State Park ----- don't worry about finding this parking lot since there is just one road in the State Park. Once parked in the parking lot start walking down the beach in the same direction you have been driving. Resist looking for shells for about 30-minutes. Everyone can walk for 30-minutes so good shells within about 30-minutes walk of that parking lot are pretty scarce ---- they have been picked over to say the least.
After walking for 30-minutes you can start looking for shells but keep in mind that the further you get from that parking lot the better the shelling will be. So, keep moving away from the parking lot. The further you go the better the shelling becomes since fewer and fewer people are picking over them. If by chance you are visiting the area when a storm comes through make sure to get out to the beach for some shelling early the morning after the storm. Storms always wash new shells and other sea life on the beach and "the early bird gets the shell".
As we walked away from the parking lot at the end of the road in St George Island State Park out to where the best shelling is this is the view we are treated to. Keep in mind we are headed away from the "populated area".
Crab shells such as this colorful crab are some of the normal objects found when combing the beach looking for shells in St George Island State Park.
This is a remnant of a once grand line of sand dunes in St George Island State Park that were leveled by huge waves and an extremely high tide caused by Hurricane Dennis. Hurricane Dennis came ashore in Pensacola (almost 200-miles west of here in 2005). It will take a decade or more for the dunes to regenerate.
Shelling & beachcombing on the beaches of St George Island State Park are tops in our book.
The pattern on this crab shell is so vivid that I couldn't help but try to capture it juxtaposed against the other shells and surf.
At this end of the beach here in St George Island State Park there is no one in sight, shells are everywhere, the sky is blue, what else can we ask for?
And one last look at the beach. This has been a wonderful day on St George Island State Park.
Until next time remember how good life is.
.
Mike & Joyce Hendrix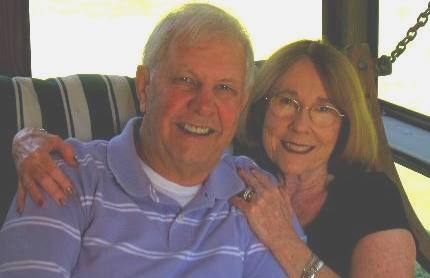 Mike & Joyce Hendrix who we are
We hope you liked this page. If you do you might be interested in some of our other Travel Adventures:
Mike & Joyce Hendrix's home page
Travel Adventures by Year ** Travel Adventures by State ** Plants ** Marine-Boats ** Geology ** Exciting Drives ** Cute Signs ** RV Subjects ** Miscellaneous Subjects
We would love to hear from you......just put "info" in the place of "FAKE" in this address: FAKE@travellogs.us
Until next time remember how good life is.