Crooked River Lighthouse, WWII D-Day Training site Carrabelle Beach
We left Destin, heading east on US-highway 98 along the Gulf of Mexico through Panama City, then Tyndall Air Force Base, Mexico Beach, Port St. Joe, & East Point before stopping in Carrabelle at Ho Hum RV-Park a quaint little mom & pop type RV-Park located on the water $23 per-night full hookup.
We stopped and visited the Crooked River Lighthouse just west of Carrabelle, Florida.
Crooked River Lighthouse near Carrabelle, Florida.
Sand Pine pollen generators
Although this is mid-January and the nation is in the grips of one blizzard after another weather around here is in the 70's and pine trees are generating pollen with a vengeance. This is the pollen generators (my term) on a sand pine common along the sandy dune systems of coastal Florida.
Long leaf pine pollen generators
This is the pollen generator on a long leaf pine also common in the Florida Panhandle. Pollen is so thick everything is coated with a thin dusting of yellow. Our normally red automobile is reddish yellow.
Yellow pine pollen on the ground
It rained a bit this morning and pollen was washed off of parking lots and such areas where it became concentrated and easily visible to even to the oblivious.
Remember that this is mid-January.
World War II D-Day training site Carrabelle Beach & Dog Island
Just east of Carrabelle, on Carrabelle Beach, is a wayside/public park that is frequented by RV'ers passing through the area on US-98. Look for it around N29° 49.835' W84° 41.362' if you are traveling with a GPS mapping system.
It is a good place for RV'ers to pull off the highway and stretch their legs. There is also restroom facilities for those so inclined, but more importantly it has a place for an RV to pull off the highway and park.
This area of the United States played a crucial role in WW II as a training site for the D-day invasion. Then during the war it became the second largest POW camp in Florida.
We are talking about the World War II D-Day training site on Carrabelle Beach & Dog Island, Florida.
One of the German POW's who was interned at Camp Gordon Johnson POW camp has a good perspective of the place at:
http://home.arcor.de/kriegsgefangen/deutsch/memoir/gordon_johnston.html
And another perspective from a German/American emigrant-- you will have to read the story to understand, but it is very compelling:
http://www.foitimes.com/internment/Ahrens.htm
While the US Army 4th Infantry Division was training here (World War II D-Day training site Carrabelle Beach & Dog Island) other Army Divisions were also preparing for the D-day invasion on sites close by.
With our involvement in WW II an amphibious Training Center was constructed beginning in the summer of 1942. A 20-mile swath of coastline was used to train for amphibious assaults. Originally known as Camp Carrabelle the name was soon changed to Camp Gordon Johnson for a Medal of Honor recipient. Over 100,000 acres of training area was utilized in training over 30,000 troops.
Another Historical Marker commemorating those who served in the military at this camp is located on Oak Street at the American Legion Hall in Lanark Village a few miles east of Carrabelle.
More information on Camp Gordon Johnson and the role it played in WW II can be found using a search engine.
Mike & Joyce Hendrix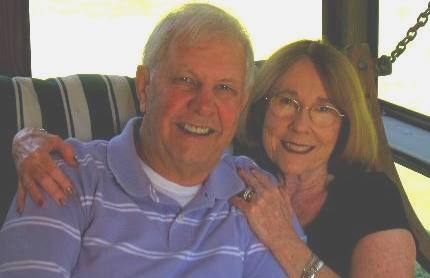 Mike & Joyce Hendrix who we are
We hope you liked this page. If you do you might be interested in some of our other Travel Adventures:
Mike & Joyce Hendrix's home page
Travel Adventures by Year ** Travel Adventures by State ** Plants ** Marine-Boats ** Geology ** Exciting Drives ** Cute Signs ** RV Subjects ** Miscellaneous Subjects
We would love to hear from you......just put "info" in the place of "FAKE" in this address: FAKE@travellogs.us
Until next time remember how good life is.