Florida: Sun N Fun RV Resort in Sarasota, Historic Spanish Point
Places Visited:
Florida: Sun N Fun RV-Resort in Sarasota, Historic Spanish Point
Tuesday January 18: Sun N Fun RV Resort 7125 Fruitville Road Sarasota, Florida 941-371-2505-- N27° 20.477' W82° 25.612' $41.00 per-night for the cheapest sites on a weekly rate. 30-amps, water & sewer with paved interior roads.
According to weather station information temperatures around here dropped to 39 last night and will only get to 60 today with another night in the 30s scheduled. Someone needs to close that door and do it soon.
Packing House restaurant in Sarasota, Florida
The most notable thing we did today was enjoy dinner with friends from Sun N Fun. Friends Ron & Thea introduced us to their friends Gary & Sue who knew about a local dive that served catfish to die for. The Packing House restaurant turned out to be a tatty quintessential honky-tonk that some of our friends back home would not have entered on a bet. Joyce and I laughed and joked that it was right up our alley, which it was. Most of you know that we search for those one of a kind joints where we can experience local flavor. This place scored high on all three counts---joint, one of a kind & local flavor. We were fairly certain that we were not going to be seeing any of the rich and famous inhabiting the condo's and barrier islands a few miles away. No rolodex and diamond types if you get my drift. The outside could easily be described as rustic while the interior was lavishly decorated with red neck regalia.
I chose the special of the day which was shrimp stir-fry with chorizo & fresh vegetables over a bed of Spanish rice. Most of those ingredients were straight forward but I wasn't familiar with chorizo which turned out to be highly seasoned pork (most likely chili powder and garlic) sausage. This highly unusual mixture turned out to be good and was more than I could eat. We also tried a bean soup with chorizo that was tasty as well. A small house band provided music, what they lacked in quality they made up for with volume, but ------- we were all spoiled by the entertainment at Sun N Fun. Joyce and I will probably return to this place just because of the local flavor.
Wednesday January 19: Sun N Fun RV Resort 7125 Fruitville Road Sarasota, Florida 941-371-2505-- N27° 20.477' W82° 25.612' $41.00 per-night for the cheapest sites on a weekly rate. 30-amps, water & sewer with paved interior roads.
Cold weather has quietly descended upon the nation including Florida like a plague. Although it is not really COLD by most standards people down here want to wear shorts and T shirts and lounge by the pool ------ not wear jeans and long sleeve shirts. It has been a few days since the high temperature has reached the mid-70s. Everyone is ready for those days to return.
Joyce located a quaint Latin restaurant for our lunch. We are still trying to sample the local Latin flavor available in this area. Even though we chose the Cantina Latina the menu didn't offer anything with uniquely Latin flair other than caramelized plantains which we devoured. They did a good job of this dish. We spoke with the personable owner who was from Columbia. She told us that the reason we were not able to get our plantains to taste as good as theirs was because the plantains we purchase in grocery stores are picked green and are stored in air conditioned buildings. She said their supplier provided plantains that ripened naturally. That was the difference. OK now we know. We will have to look for plantains at the local farmers market and get the yellow ones. We are continually amazed at the things we learn by asking questions.
After lunch we headed south on the Tamiami Trail (US-41) to Historic Spanish Point. Historic is the operative word in that description. The history started sometime around 30 AD and lasted until around 1,000 AD when indigenous people inhabited the area and left behind shell middens (garbage mounds). When these people inhabited the area they foraged the surrounded waters for fish and shellfish then returned to this point or finger of land jutting into Sarasota Bay to clean, cook and eat their catch. These huge mounds of shells many upwards of 20' high give evidence of the bountiful seafood available in the immediate area. One of these mounds has been excavated by archeologist and is on display. This excavation was accomplished by digging into the side of one midden examining the entire strata from top to bottom. This cut out in the midden now has a roof on it and a locked door to allow entry into what is now a lighted room. Glass walls protect the shell strata allowing visitors to get up close and personal with the shells and other objects comprising this ancient garbage mound. By examining the different strata we can determine the different seasons. Scallops are adult size and harvestable in August and September. We can clearly see layers of scallops then layers of oyster shells then clam shells. Fish bones are scattered throughout the pile in a random manner. Archeologists uncovered a variety of crude implements in the process of inspecting this dig. These ancient ancestors of ours made ingenious tools out of shells. In addition human bones and ceremonial offerings of shark teeth, smashed pottery and other materials were periodically placed on the mounds then covered by sand. For some unknown reason these indigenous people left the area long before the Spanish arrived and settled areas north of here such as Georgia.
The next known inhabitants were the John Webb family from New York. John's wife Eliza had asthma and doctors recommended they relocate to a warmer climate. John decided to take advantage of the Homestead Act of 1862 that gave a plot of land to homesteaders that constructed a homestead and produced a crop. In addition to John and Eliza and their five children Eliza's sister accompanied them. They sailed from New York in 1867 just after the Civil War to Key West where John met a Spanish trader that recommended an elevated spit of land jutting into Sarasota Bay as the perfect place for them to homestead. The Webb's settled here, naming their new home "Spanish Point" for their friendly adviser and for the land's prominent extension into Little Sarasota Bay. Over the next 40 years the family farmed oranges on more than 10 acres at this site, shipping their oranges to Key West on their own boats. From Key West commercial ships delivered their oranges to markets in Philadelphia and New York. Remember that the settlers journeying from New York were John Webb's wife and children plus his sister-in-law. A few years after settling Spanish Point Eliza, John's wife passed away. As you might imagine, after a suitable grieving period John married his deceased wife's sister. After all she was the only companion for miles and miles along this desolate coast. Now you know the "rest of the story".
Historic Spanish Point near Sarasota, Florida
Boat builder Frank Guptill built the boats John Webb used to transport his oranges to Key West. He built a home nearby on another midden just above his boat yard. He married Lizzie Webb one of John & Eliza's daughters. Actually, that is only part of the Frank Guptill, famed boat builder, story. Frank actually married one of John Webb's daughters and they lived on Frank's schooner anchored near the boat works. When Frank's first wife died in child birth he married Lizzie his first wife's sister (that would be another daughter of John Webb). Lizzie did not like living on the schooner and informed Frank that if he wanted to continue enjoying privileges he would build them a house. Needless to say Frank constructed a fine home on the midden overlooking his boat house. That house became the weekend social hall for the area. We toured that house on our docent led examination of the grounds. It is located in an absolutely beautiful setting. From the second story window you can look west to the north end of Casey Key and the Steven King compound and castle nestled among the towering palms and other tropical vegetation.
This is a view of Sarasota bay from the front yard of Frank & Lizzie Guptill's place. The historic boat house is just to the left of this picture. While the island you see in the distance is the north end of Casey Key where Stephen King owns the north end and has his "compound".
Stephen King's place on Casey Key as seen from Historic Spanish Point near Sarasota, Florida
This Picture is on the Stephen King compound/estate whatever. It was taken standing on the shoreline underneath that oak tree in the picture above.
The next owner was Bertha Matilde Honore Palmer the widow of Chicago magnate Potter Palmer. When Potter Palmer passed away his $9 million estate became the responsibility of Bertha Palmer. Mrs. Palmer was a visionary who in 1910 recognized the subtropical paradise of Sarasota as one of the world's choicest locations. Acting on this feeling she purchased a large portion, 180,000 acres of present-day Sarasota County. She set about planning her acreage for real estate development, cattle ranching and citrus groves. East of here in Myakka River State Park you can see the foundation of the Ranch house where the foreman of the Palmer ranch resided. We saw the remains of that ranch house when we recently spent the day at Myakka River State Park with Paul and Linda. The docent on the parks safari tram tour took us by the ranch house and explained how it was the hub of operations for the Palmer cattle ranch. Joyce and I did not make the connection between the ranch at Myakka River State Park and Historic Spanish Point until today.
Learning that Mrs. Palmer's full name was Bertha Matilde Honore Palmer also filled in some other blanks about local history. Honore and Palmer are two major roads in Sarasota. Now we know where those names came from.
Mrs. Palmer built a house and formal garden on Historic Spanish Point. The formal gardens consisted of many exotic plants and trees imported from tropical forest around the world. Many of these exotic trees and palms remain on the grounds. Remember that citrus trees are not indigenous to Florida. The Spanish introduced orange trees to Florida that came from China in the 1500s. The orange trees that John Webb planted on Spanish Point came from Spanish stock in north Florida.
Thursday January 20: Sun N Fun RV Resort 7125 Fruitville Road Sarasota, Florida 941-371-2505-- N27° 20.477' W82° 25.612' $41.00 per-night for the cheapest sites on a weekly rate. 30-amps, water & sewer with paved interior roads.
This was a down day for laundry and house cleaning. Yea, yea ------- those little annoyances still have to be done even when enjoying paradise.
We lunched at Yoder's, our favorite Amish restaurant. As usual the grub was outstanding. As we were savoring our dessert I could not help but think of my brother-in-law up in Charleston that had been sitting with us at this very table a week ago. I remember him enjoying a huge piece of chocolate cake to such a degree that our waitress developed a relationship with "champ". Old "champ" not only devoured his giant piece of chocolate cake that night he lit into the remains of his wife's after she surrendered. That is when he acquired the "champ" moniker. Obviously, anyone who can consume one of Yoder's enormous deserts and tackle even more is assigned an appropriate title. Anyway, I digress, back to lunch today ----- as Joyce and I shared a huge piece of utterly divine key lime pie I pulled out the cell phone and gave my BIL a quick call. Not wanting to "rub-it-in" --- far be that from me, I just wanted share the moment with "champ" err, Andy. I can unequivocally state that "champ" was transported back to a night in Yoder's when he was devouring that awesome piece of chocolate cake. You reckon "champ" is going to be taking Sarah to dinner tonight?

Until next week just remember how good life is.
Until next time remember how good life is.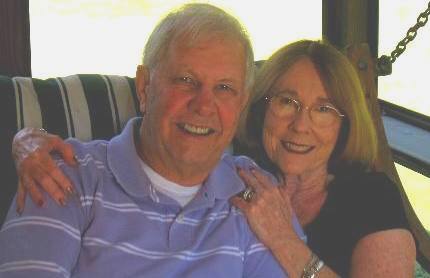 Mike & Joyce Hendrix who we are
We hope you liked this page. If you do you might be interested in some of our other Travel Adventures:
Mike & Joyce Hendrix's home page
Travel Adventures by Year ** Travel Adventures by State ** Plants ** Marine-Boats ** Geology ** Exciting Drives ** Cute Signs ** RV Subjects ** Miscellaneous Subjects
We would love to hear from you......just put "info" in the place of "FAKE" in this address: FAKE@travellogs.us
Until next time remember how good life is.