Places Visited:
California: Morro Rock
Saturday, May 28: Cypress Bay RV Park Morro Bay, California: $31 FHU-30amp. Paved interior roads & sites. N35° 72.165' W120° 51.044'
We drove south out of Morro Bay to Montana De Oro State Park located on the extreme southwest corner of Morro Bay. This state park preserves 8,000 acres of rugged coastal cliffs, secluded sandy beaches, coastal plains, streams, canyons and hills if you call 1,347-foot Valencia Peak a hill. It is truly a jewel. The park also preserves Spooner's Ranch one of those wonderful slices of historic natural California.
Morro Rock an ancient volcanic plug in the distance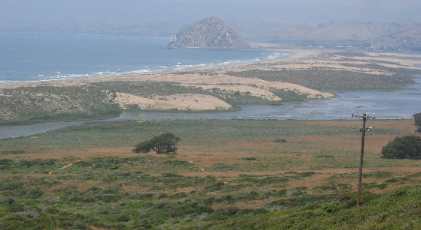 To reach Montana De Oro we just followed signs through the small hamlet of Los Osos. The park entrance is heavily wooded with mature eucalyptus trees. The road climbs through this eucalyptus forest before emerging on the North West side of the mountain to a captivating vista of Morro Bay to the north with Morro Rock an ancient volcanic plug standing sentinel over the channel, while the emerald Pacific splashes against the strand of sandy beach separating Morro Bay from the Pacific Ocean. We feel fortunate to be able to stop here and enjoy the sheer beauty displayed before us. We cover Montana De Oro in another travellog, we are concentrating on Morro Rock in this one.
Sunset view of Morro Bay from around Morro Rock
We drove to Morro Rock for the sunset event where we took this picture of the small community of Morro Bay across the mouth of the bay.
Sunset from beach near Morro Rock
We ended the day by paying homage, once again, to the setting sun. This time we watched from a vantage point on the beach near Morro Rock.
We found yet another location to watch the sun set tonight. This time we chose a bluff overlooking the harbor in town.
Life would be better if my #1 computer would boot. I might be shipping it back to Florida so my BIL can work magic on it if I can't find help here.

Morro Rock is an ancient volcanic plug.
Until next time remember how good life is.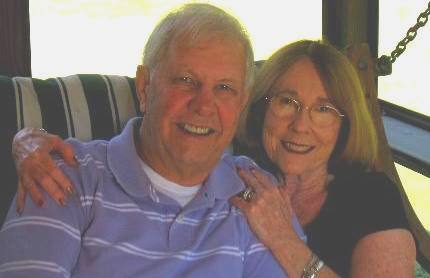 Mike & Joyce Hendrix who we are
We hope you liked this page. If you do you might be interested in some of our other Travel Adventures:
Mike & Joyce Hendrix's home page
Travel Adventures by Year ** Travel Adventures by State ** Plants ** Marine-Boats ** Geology ** Exciting Drives ** Cute Signs ** RV Subjects ** Miscellaneous Subjects
We would love to hear from you......just put "info" in the place of "FAKE" in this address: FAKE@travellogs.us
Until next time remember how good life is.