Montana De Oro State Park near Morro Bay, California
Places Visited:
California: Montana De Oro State Park near Morro Bay
Saturday, May 28: Cypress Bay RV Park Morro Bay, California: $31 FHU-30amp. Paved interior roads & sites. N35° 72.165' W120° 51.044'
Our destionation today is Montana De Oro State Park located on the extreme southwest corner of Morro Bay. This state park preserves 8,000 acres of rugged coastal cliffs, secluded sandy beaches, coastal plains, streams, canyons and hills if you call 1,347-foot Valencia Peak a hill. It is truly a jewel. The park also preserves Spooner's Ranch one of those wonderful slices of historic natural California.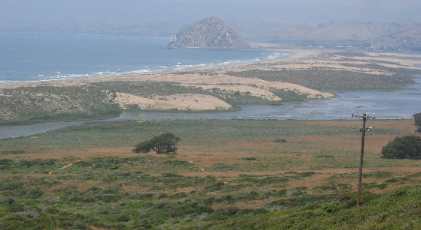 To reach Montana De Oro we just followed signs through the small hamlet of Los Osos. The park entrance is heavily wooded with mature eucalyptus trees. The road climbs through this eucalyptus forest before emerging on the North West side of the mountain to a captivating vista of Morro Bay to the north with Morro Rock an ancient volcanic plug standing sentinel over the channel, while the emerald Pacific splashes against the strand of sandy beach separating Morro Bay from the Pacific Ocean. We feel fortunate to be able to stop here and enjoy the sheer beauty displayed before us.
The park is a popular equestrian facility and we watch horses and riders gallivanting on the strand. Many trucks with equestrian trailers are parked in select parking areas.
From that first vista point the state park road turns south and follows the coast for several miles. There are parking places for people who want to access the beach as well as those entering the park with horse trailers. Trails lead back into the forest and the chaparral covered coastal mountains as well as down to the beach. At one point we stopped at a large cove where a number of sun bathers were enjoying the day. On a cliff above the beach snuggled in a small grove of Monterrey Cypress trees is the old Spooner Ranch house now performing duties as the state park visitor center.
Geology of sedimentary rock fromation in Montana de Oro State Park in California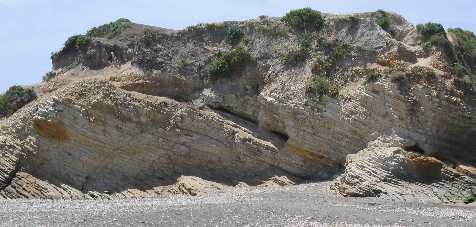 I am intrigued by the geology present in Montana de Oro. The exposed rock that I can see is Monterey Shale. Formerly an ancient sea bed, it is composed of mudstone deposited millions of years ago when tiny fragments of once-living organisms drifted to the bottom of the sea and mixed with silt and sand providing the "bonding-agent".
Mudstone rock fromation in Montana de Oro State Park in California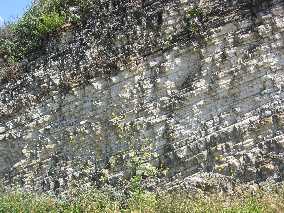 In this area the Pacific Plate grinds against the North American Plate. This is what causes the earthquakes California is noted for. This grinding action has buckled and tilted the sedimentary layers, raising them out of the sea in odd angles.
Over the eons the ocean level has changed as ice ages came and went. This process has been repeated several times over the past five to ten million years. We can see the successive marine terraces (former beaches) in some of the road cuts and hillsides.
The northern end of Montana de Oro sand dunes prevail on that finger of sand that separates the ocean and Morro Bay.
Then to complete the geology picture Morro Rock bulges out of the landscape. Morro Rock is the extremely hard core of an ancient volcano. What else can be crammed into a geologic picture?
Geology in "river rocks" on beach at Montana de Oro State Park in California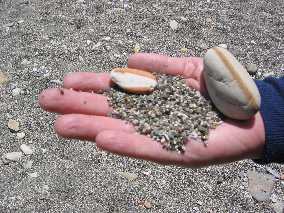 I am fascinated by beach composition. It isn't sand as one might expect it is small pebbles. No matter the size they are all rounded like river rock. You can see the size of the "sand/pebbles" in my hand. The smaller ones are actually larger than a BB.
Later we learned that Montana de Oro is Spanish for "Mountain of Gold", after the golden wildflowers that bloom in the spring. One publication says that mustard and California poppy are the flowers that give off that golden color. A golden flower was blooming that was not California poppy so it must have been mustard.
Don't miss Montana de Oro when you visit Morro Bay or San Luis Obispo.
Sunset over the Pacific Ocean near Morro Bay, California
Joyce is getting quiet qood with these sunset pictures.
Until next time remember how good life is.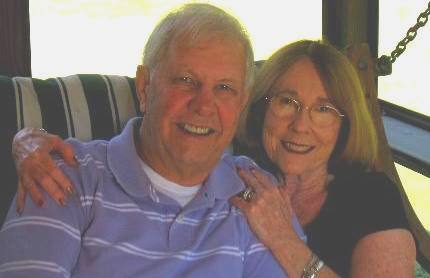 Mike & Joyce Hendrix who we are
We hope you liked this page. If you do you might be interested in some of our other Travel Adventures:
Mike & Joyce Hendrix's home page
Travel Adventures by Year ** Travel Adventures by State ** Plants ** Marine-Boats ** Geology ** Exciting Drives ** Cute Signs ** RV Subjects ** Miscellaneous Subjects
We would love to hear from you......just put "info" in the place of "FAKE" in this address: FAKE@travellogs.us
Until next time remember how good life is.