Places Visited:
California: Laguna Beach
Tuesday, May 17, San Mateo Campground (state park) San Clemente, California: Free but normally $24 with water & 30-amps central dump. Paved interior roads and sites. N33° 24.365' W117° 35.006'.
We had a great day packed with fun and excitement. The big event we were looking forward to was meeting "Stan" from the RV-Talk e-mail group. We have been "virtual" friends for years but today was our day to actually meet each other.
But first we had to make our way from San Clemente to Newport Beach and the Balboa Peninsula where our agreed upon meeting place AKA, Blue Water Grill restaurant was located. Stan and his "supervisor" AKA wife had an 11AM meeting with their landscape architect so we weren't meeting for lunch until 1PM. This gave us ample time to leisurely drive up the coast and stop at various vista points, marinas, beaches etc., on our way.
It goes without saying that we stopped and took pictures at every opportunity. In Laguna Beach we stopped at one of California's famous beaches. It is often referred to as the Pacific Riviera of Southern California. It is easy to see why this resplendent seaside resort would garner that moniker.
While we were enjoying that city park a number of residents walked through the park each speaking with the government employee "gardener" that was tending to the plants and sprinkler system. Each sang his praises bragging on how nice he maintained the park.
In addition to a beautiful sandy beach they have rocky shoreline coves with sheer cliffs, small bays, pristine waters where dolphins, sea lions and whales perform in addition to numerous protected tide pools.
The public beach in town was totally enchanting. Professional level volley ball players were performing/volleying at multiple volley ball nets. Exercise buffs were performing routines much to the delight of onlookers. Some were just sitting on the lush green grass enjoying the wonderful sea air and scenery.
Others were walking, roller skating, doing whatever people do with dogs and plastic bags. We enjoyed it all in addition to the immaculately manicured lawn and colorful landscaping.
Back on the Pacific Coast Highway Joyce spotted a "Vista Point" sign that we followed to Crescent Bay Point Park a City of Laguna Beach and County of Orange Park located in a ritzy neighborhood. Limited parking was available around an enlarged cul-de-sac. Crescent Bay Point Park is situated at the end of the cul-de-sac on several "residential" lots perched high atop Crescent Bay Point.
Until next time remember how good life is.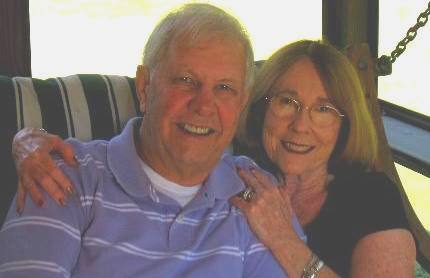 Mike & Joyce Hendrix who we are
We hope you liked this page. If you do you might be interested in some of our other Travel Adventures:
Mike & Joyce Hendrix's home page
Travel Adventures by Year ** Travel Adventures by State ** Plants ** Marine-Boats ** Geology ** Exciting Drives ** Cute Signs ** RV Subjects ** Miscellaneous Subjects
We would love to hear from you......just put "info" in the place of "FAKE" in this address: FAKE@travellogs.us
Until next time remember how good life is.