Newport Beach, California
Places Visited:
California: Newport Beach, Balboa Peninsula, Balboa Island
Tuesday, May 17, San Mateo Campground (state park) San Clemente, California: Free but normally $24 with water & 30-amps central dump. Paved interior roads and sites. N33° 24.365' W117° 35.006'.
We had a great day packed with fun and excitement. The big event we were looking forward to was meeting "Stan" from the RV-Talk e-mail group. We have been "virtual" friends for years but today was our day to actually meet each other.
But first we had to make our way from San Clemente to Newport Beach and the Balboa Peninsula where our agreed upon meeting place AKA, Blue Water Grill restaurant was located. Stan and his "supervisor" AKA wife had an 11AM meeting with their landscape architect so we weren't meeting for lunch until 1PM. This gave us ample time to leisurely drive up the coast and stop at various vista points, marinas, beaches etc., on our way.
Newport Bay entrance at Lookout Point and Begonia Park in Corona del Mar, California
Joyce and I could watch the boats entering and leaving the protected harbor for hours. But we have a dinner date and a list of other things to see and experience. After leaving Begonia Park we followed Bayside Drive around to the bridge leading to Balboa Island.
Joyce had read about Balboa Island in some of our literature, in other words she knew what to expect. I had to hit the door locks as we passed through the business area on Marine Avenue lined with oodles of beachwear shops, boutiques and eateries. A home on Balboa Island would be something we could both agree on but it ain't going to happen unless we hit a double lottery. Extremely nice homes are shoehorned together on Balboa Island making maximum usage of each square foot of land. Managing to stay in the Saturn and avoid the shopping melee that certainly would have occurred if a parking spot would have been available, we followed signs across Balboa Island to the small 3-car ferries shuttling cars and people from Balboa Island to Balboa Peninsula.
Ferry Ride from Balboa Island to Balboa Peninsula in California
Ferry rides are so unique. We like to do them when we have a chance. This one was no different. The ferry ride across the harbor is only a few hundred yards but the view is priceless. Sea lions were playing in the water; huge yachts were moored choc-a-block. It appeared that any vessel less than 40' in length was not allowed. From their immaculate appearance we could only assume each vessel had had a cadre of hired hands to keep it that way. Ninety nine percent of these showpiece boats are secured in their dock space with virtually no vessels under way except the two ferries. Even on the weekend over 90% of the boats were in their moorings. What gives? Do these people just own the boats to sit in the marina? I suppose they are like trophy motorhomes. And the world moves on.
While on the ferry we called Stan on our cell phone to let him know where we were. Our GTG set for 1PM at the Blue Water Grill was still a go all Joyce and I had to do was spend about 30-minutes getting familiar with Balboa Peninsula which we did in high style. We tried hard to get to the area know as the "Wedge" one of the world's premier body surfing spots attracting surfers from around the world. The road in that area was closed for some major work so we could not get close enough to the beach to watch the surfers. All we got to see was the opulent waterfront homes with impeccable landscaping.
Legendary "Pavilion" on Balboa Peninsula
We did locate the legendary "Pavilion" on Balboa Peninsula but didn't locate a parking space and actually walk around in it.
That is the Pavilion at the end of this prominade.
Then it was time to head to Blue Water Grill which was easy to find. It was located across the marina from another upscale restaurant located in an old cannery building.
An anchovy purse seine boat docked outside the Blue Water Grill on Newport Beach
An anchovy purse seine boat was tied up between the two restaurants. I was fascinated with all the winches and gear on the anchovy boat but did not get a chance to ask questions of the crew until after lunch.
The Blue Water Grill featured a large assortment of pictures showing trophy fish landed in the area for the past 50-years. This area has produced some huge sea bass and sword fish in addition to blue marlin. We always enjoy looking over the classic old photographs of the giant fish caught in the "good old days".
Our lunch with Stan & Anne was wonderful. We are no longer just "virtual" friends. I could sit and listen to Stan tell about improvements he has made to his coach for hours on end. Stan is a retired engineer that still loves to tinker.
View from the 3-car ferry transporting us across Newport Bay
After lunch and generous chatting we each headed our separate ways. Joyce and I returned to the little 3-car ferry that took us back to Balboa Island where we retraced our route through the ritzy Balboa Island shopping area and back to the Pacific Coast Highway.
View from the 3-car ferry transporting us across Newport Bay
The 3-car ferry was transporting us from Newport Beach, back to Balboa Island.
Commercial purse seine boat in the Dana Point Harbor
On our way back to the motorhome we decided to stop by Dana Point Harbor one last time. It attracts us like a magnet. The boats and water have that effect on us.
Commercial fishing or processing boat in the Dana Point Harbor
The commercial fishing boats are what really interest me.
Neither of us had the energy to head to the beach for the sunset. We must be getting lazy.
Until next time remember how good life is.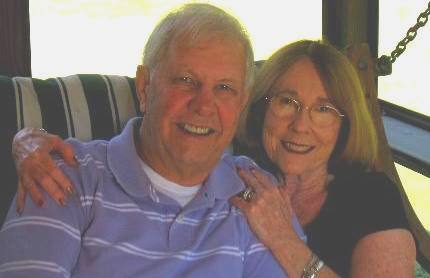 Mike & Joyce Hendrix who we are
We hope you liked this page. If you do you might be interested in some of our other Travel Adventures:
Mike & Joyce Hendrix's home page
Travel Adventures by Year ** Travel Adventures by State ** Plants ** Marine-Boats ** Geology ** Exciting Drives ** Cute Signs ** RV Subjects ** Miscellaneous Subjects
We would love to hear from you......just put "info" in the place of "FAKE" in this address: FAKE@travellogs.us
Until next time remember how good life is.