Places Visited:
California: Laguna Beach
Tuesday, May 17, San Mateo Campground (state park) San Clemente, California: Free but normally $24 with water & 30-amps central dump. Paved interior roads and sites. N33° 24.365' W117° 35.006'.
In Laguna Beach we stopped at one of California's famous beaches. It is often referred to as the Pacific Riviera of Southern California. It is easy to see why this resplendent seaside resort would garner that moniker.
The lawn & landscaping were stunning. The place was absolutely beautiful from the street.
Then we parked and walked to the multiple "vista-points" located strategically around the park.
While we were enjoying that city park a number of residents walked through the park each speaking with the government employee "gardener" that was tending to the plants and sprinkler system. Each sang his praises bragging on how nice he maintained the park.
Totally breathtaking is the only way to describe views from this cliff. Hundreds of feet below are beautiful rock tide pools.
Overlook at Laguna Beach, California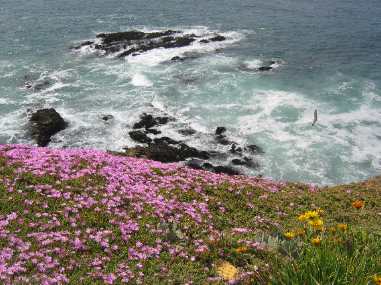 Guano covered rocks off Laguna Beach, California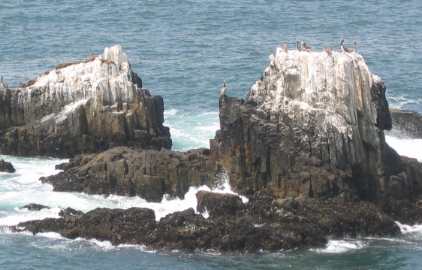 Offshore large rocks project up from the water.
Coastline around Laguna Beach, California
On either side of the point are protected bays with sandy beaches.
To the south is the large city beach in downtown Laguna Beach complete with picturesque hillside filled with exquisite homes and condominium complexes.
Coastline at Laguna Beach, California
We could have stayed there all day but we other opportunities beckoned.
Until next time remember how good life is.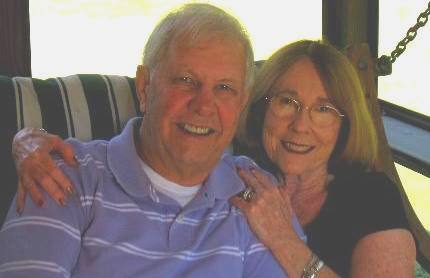 Mike & Joyce Hendrix who we are
We hope you liked this page. If you do you might be interested in some of our other Travel Adventures:
Mike & Joyce Hendrix's home page
Travel Adventures by Year ** Travel Adventures by State ** Plants ** Marine-Boats ** Geology ** Exciting Drives ** Cute Signs ** RV Subjects ** Miscellaneous Subjects
We would love to hear from you......just put "info" in the place of "FAKE" in this address: FAKE@travellogs.us
Until next time remember how good life is.