Torrey Pines State Park, California
Places Visited:
California: Torrey Pines State Park
Monday, May 9, Paradise RV-Resort Oceanside, California: $39.50. FHU with 50-amps, Paved interior roads and sites plus cable and free WIFI. N33° 10.707' W117° 21.993'.
We can't believe it but we are still here and will be for a few more days. Several people have written to give us suggestions on things to see and do. We are going to take them up on their suggestions.
We drove along the coast on the Coast Highway in a leisurely manner stopping in various pull outs and parking areas with good ocean views. The first stop on our list was Torrey Pines State Park just north of La Jolla. Torrey Pines State Park is a majestic wilderness in the middle of a huge urban area. It consists of a fragile environment of high, broken cliffs and deep ravines overlooking the sea plus it is home to one of the world's rarest pine trees ---- the Torrey Pine. Torrey pines are believed to be the remnants of an ancient woodland that once flourished along the southern California coast, but now they grow naturally only on this small strip of San Diego coastline and on Santa Rosa Island. In Torrey Pines State Beach the tree clings to the face of crumbling sandstone cliffs and flourishes in sheltered canyons.
View from Torrey Pines State Park looking north
This pic is from atop the northwestern most cliff edge in Torrey Pines State Park looking north across the lagoon area as it empties into the Pacific. The residential area beyond the lagoon is Del Mar.
Sedimentary rock display in cliffs at Torrey Pines State Park on the southern California coast
I was fascinated by the geology revealed in the exposed cliffs although the park chose to completely ignore it in their literature. From sea level to the loftiest heights all I could see was sedimentary deposits. There were several different layers of sandstone divided by layers of conglomerate (river rocks mixed with mud/sandstone into a "conglomerate").
Even complete amateurs like me can see the layer of conglomerate capping this sandstone cliff. The "river-rocks" are clearly visible in that dark layer. My guess is thes smoth edge stones were in some ancient surf rather than in river bed because the width of this layer stretches from miles and miles. Alothough we did not get pictures there are several exposed areas where the conglomerate is covered by another layer of sandstone that is capped with yet another layer of conglomerate.
Looking south from Torrey Pines State Park at La Jolla, California
This pic is looking south from Torrey Pines State Park at the La Jolla. Note the La Jolla pier located on the north side of town. Also the errie looking erosion in the dark rock formations closer to the camera.
The only mention in Park literature of geology is that some of the formations are more than 45 million years old and that some rocks have traveled from as far away as central Mexico. I have to wonder if some of the conglomerate layers were formed on some beach long ago. Even now winter storms pull sand from beaches along Southern California leaving only round stones behind. Then mysteriously returns the sand during the spring and summer.
Joyce Hendrix and the oceanside cliffs of Torrey Pines State Park
This pic is looking north from the oceanside cliffs of Torrey Pines State Park. Note the sandstone cliffs with the darker conglomerate cap. That high ground to the south in the pic is the ultra chic community of La Jolla.
We enjoyed a long walk from the Visitor Center down the road to the Guy Fleming Trail where we took our time meandering along the trail at the top of the cliff above the ocean. Awesome views prevented moving any faster, changes in elevation also played a part but the views made traversing the rugged terrain worth it.
Torrey Pines Gliderport located along the coast north of La Jolla and south of Torrey Pines State Park
After getting our fill of Torrey Pines State Park we headed south again to Torrey Pines Gliderport. The glider port is located along the coast north of La Jolla and south of Torrey Pines State Park. We found it with a bit of difficulty but we did it. The glider port was one of those things that we had no idea about until someone mentioned it to us on the RV-Newsgroup. The glider port appears to be a business but I am not sure that the property is private. Whatever it is they have a seating area where spectators can watch. Click on Torrey Pines Gliderport if you are interested in that adventure.
Until next time remember how good life is.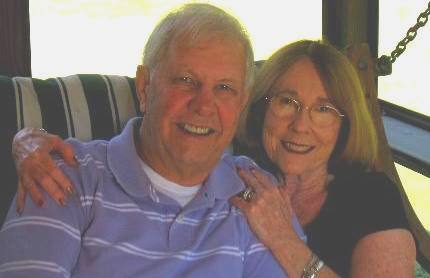 Mike & Joyce Hendrix who we are
We hope you liked this page. If you do you might be interested in some of our other Travel Adventures:
Mike & Joyce Hendrix's home page
Travel Adventures by Year ** Travel Adventures by State ** Plants ** Marine-Boats ** Geology ** Exciting Drives ** Cute Signs ** RV Subjects ** Miscellaneous Subjects
We would love to hear from you......just put "info" in the place of "FAKE" in this address: FAKE@travellogs.us
Until next time remember how good life is.