San Gorgonio Wind Park Tour
Places Visited:
California: San Gorgonio Wind Park Tour near Indio and the Coachella Valley in California

Friday, April 29 Desert Springs Spa & RV-Park; Desert Hot Springs, California.-- $25.00. FHU - 30-amps, paved interior streets with gravel sites N33° 55.368' W116° 26.582'.
The wind is howling. It blew relentlessly all day yesterday and rocked the motorhome until after 11PM last night. We are in Desert Hot Springs and located in that wind tunnel where all the wind turbines are. I suppose sustained heavy winds are to be expected when staying in Desert Hot Springs. We did a wind generator tour this morning. It was a great tour. The tour guide did an excellent job. We could tell he was someone who loved his job.
San Gorgonio Wind Park in California is the oldest wind farm in the US

While those wind generators do not look very big when viewing them from I-10 many of them are giants. There are some near the interstate that sport 20-year old technology that only have blades of around 20' to 30' and only generate 350KW of electricity, however they are in the minority.
Mike & Joyce with the San Gorgonio Wind Park in California
Many of the new generators have 80' to 90' blades and produce 1,500KW of electricity. These are serious wind generating machines. The blades in this pic are each 90' long. The necelle (housing around the generators) are large enough to drive a full-size 15-passenger van into. In other words they are BIG. They just look small.
According to our docent, many states could produce more wind generated electricity than California but those states do not have transmission lines in place to transport the generated electricity to the urban areas that consume it, and transmission lines are very expensive to build.
The generators on those truly big units are the size of a small bus. I guess they would have to be to generate 1,500KW. The large blades, 80' to 90' in length are not only heavy they have to be transported on loooooong trailers as wide loads. Most of the blades are made of fiberglass and have to be transported to the wind fields from areas of the country that specialize in fiberglass manufacture.
Mike & Joyce with the San Gorgonio Wind Park in California
These wind generators are not owned by a power company they are owned by individual investors and companies. There are over 80 wind farm in the valley with a wide variety of owners that all sell electricity to area power grid. According to our docent there are over 4,000 wind generators with many more coming on line. These 4,000 wind generators are producing more electricity than a medium sized nuclear power plant.
After the wind generator tour we headed to the Palm Springs Aerial Tramway. This tram is located a few miles west of Palm Springs off SR-111. A steep drive in your automobile takes you to 2,643' where you catch the tram. The Tram passes through five unique life zones from the hot Sonoran Desert to snow covered alpine peaks atop Mt. San Jacinto at 8, 516'. If you are interested in the Palm Springs Aerial Tramway you will want to check out that travel log.
Until next time remember how good life is.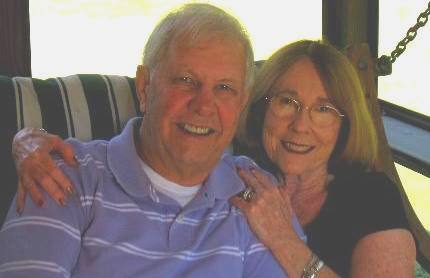 Mike & Joyce Hendrix who we are
We hope you liked this page. If you do you might be interested in some of our other Travel Adventures:
Mike & Joyce Hendrix's home page
Travel Adventures by Year ** Travel Adventures by State ** Plants ** Marine-Boats ** Geology ** Exciting Drives ** Cute Signs ** RV Subjects ** Miscellaneous Subjects
We would love to hear from you......just put "info" in the place of "FAKE" in this address: FAKE@travellogs.us
Until next time remember how good life is.