Rayne & Crowley , Louisiana
Places Visited:
Louisiana: Rayne & Crowley

Thursday, June 23: Acadiana City Park & Campground in Lafayette, Louisiana. $13 for 50-amp & water with central dump paved interior roads & sites: N30° 49.436' W91° 59.417'
We are having problems with our motorhome's engine which is a 6.5 L Chevy Diesel. It hurt but we were up early and got the motorhome back to the Chevy Dealer by 7AM where we left it while the mechanic installed that warranty part. After dropping off the motorhome Joyce and I headed out to enjoy the day driving through the rice fields west and south of Lafayette around the towns of Rayne & Crawley, Louisiana
Bright green rice field around Rayne, Louisiana
We were determined to make the most of our time in the Lafayette area so we headed out to get a better look at the rice crop growing to the west and south of Lafayette.
Frog mural on wall of commercial building in Rayne, Louisiana
We passed through Rayne the self proclaimed frog capitol of the world or some such. They do have a lot of bullfrogs in this neck of the woods. We almost always see one of these huge critters crossing the road when we are in this area. Rayne is one of those cookie cutter small towns in Cajun Louisiana and as such each commercial building has their own unique mural.
Frog mural on wall of commercial building in Rayne, Louisiana
Keep in mind that Rayne, Louisiana is the self proclaimed frog capitol of the world.
Catholic church and the adjacent above ground cemetery
In Louisiana Cajun Country life revolves around the ubiquitous Catholic Church and adjacent above ground cemetery. Rayne is no different. These small towns also like to paint murals on buildings depicting things that are important in the life of the community. For some reason the rice processing facilities were not busy. For those of you that do not understand and have never heard of above ground cemeteries they do it this way because caskets float and the water level around rice country is such that they would have to pump water out of the hole in order to dig it them when the casket was in the hole it would pop up as soon as the pumps were turned off. In otherwords above ground is necessity.
Rice elevators and silos in Crowley, Louisiana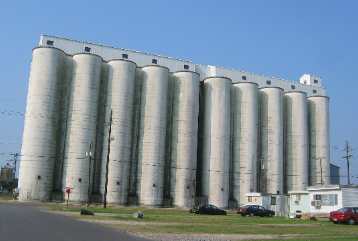 A little further west is the town of Crowley where rice is truly king. It seems that every rice packager in the country has at least one facility in Crowley. We stopped to watch as several hopper trucks arrived for unloading.
Rice elevators and silos in Crowley, Louisiana
Crews loading 110 pound sacks of rice at a plant around Crowley, Louisiana
I also got out and watched a crew of laborers stack 110-pound sacks of rice on the flat bed of an 18-wheeler. They told me the rice was a special shipment to Iraq. Sure enough I looked at the labels on those large bags and it said something about the Iraq Agriculture Minister yada, yada. The conveyor belt was delivering these sacks in staccato fashion. The loaders were removing the bags from the conveyor belt and placing them on what appeared to be pallets situated on the deck of the 18-wheelers flat bed. A machine with a special arm was applying a strip of glue to one side of each bag. The loaders informed me that the glue would keep the bags from shifting once they were stacked. While talking with two of the laborers taking a break I remarked that they would not need anyone to rock them to bed at night. They let me know that after a 12-hour shift it was difficult to drive home. I can only imagine! There is no way I could handle 110-pound bags for an hour much less 12-hours and I certainly wouldn't be back the next day.
When the truck loaded with these bags of rice destined for Iraq pulled away from the loading dock all the driver did was wrap a tarp over the pallets of rice and off he went. I suppose that they are delivering it to a warehouse on the Mississippi River where a freighter will pick it up for delivery to Iraq.
Old Victorian Home in southern Louisiana's rice country
Like most of these small towns in Cajun country they have their beautifully restored Victorian homes. This one has been restored to the "9's". Can you imagine the upkeep to keep this house looking great?
Mural on commercial building in the rice country around Rayne and Crowley, Louisiana
Also like other towns around here commercial buildings have beautiful murals. This one is of a horse and buggy at a cross road in the middle of rice fields.
Green fields of rice around Crowley, Louisiana
As we headed south out of Crowley through miles and miles of bright green rice fields we spotted one of those crop duster planes and turned down a side road to get a closer look. We really enjoyed watching the aircraft swoop down so very close to the fields of rice as they applied, fertilizer on some, chemicals on others, and rice seeds on yet others. For more on "rice farming by air" see our travel log dedicated to Rice Farming by Air.
Until next time remember how good life is.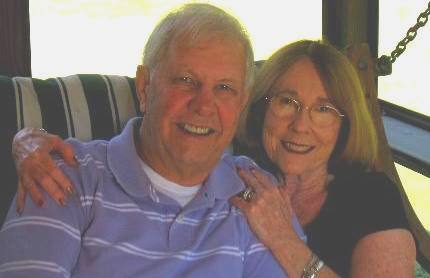 Mike & Joyce Hendrix who we are
We hope you liked this page. If you do you might be interested in some of our other Travel Adventures:
Mike & Joyce Hendrix's home page
Travel Adventures by Year ** Travel Adventures by State ** Plants ** Marine-Boats ** Geology ** Exciting Drives ** Cute Signs ** RV Subjects ** Miscellaneous Subjects
We would love to hear from you......just put "info" in the place of "FAKE" in this address: FAKE@travellogs.us
Until next time remember how good life is.