Places Visited:
Louisiana: Lafayette

Thursday, June 23: Acadiana City Park & Campground in Lafayette, Louisiana. $13 for 50-amp & water with central dump paved interior roads & sites: N30° 49.436' W91° 59.417'
Joyce and I headed out today to explore Cajun Country west of Lafayette. Depending on time of year this area is rice fields or crawfish ponds. Crawfish ponds are created in harvested rice fields.
Rice field west of Lafayette, Louisiana
We were determined to make the most of our time in the Lafayette area so we headed out to get a better look at the rice crop growing to the west and south of Lafayette.
Special Louisiana "crawfish harvester boat"
We stopped somewhere along the way to inspect equipment used to harvest crawfish. One day I am going to hitch a ride on one of these rigs while the operator is actually servicing his traps. All I can do today is get a good look at the "boat" and equipment.
This "crawfish-boat" is powered by a "stern drive" hydraulic wheel that pushes it through flooded rice fields. The gasoline engine driving the hydraulic pump is located next to the seat in the back of the boat.
The "boat" however, is much different than a normal boat. The boat is propelled by a special wheel operated at the end of an arm off the stern of the boat. These boats operate in VERY shallow water -- as in 8" or less. A propeller will not work thus this "mud-wheel" that operates much the same as a special tractor tire designed to operate in mud. The wheel is turned by a hydraulic motor. The engine mounted in the boat appears to be air cooled and the sole function is to power the hydraulic pump. The boat is aluminum with two "wells" fashioned in the forward part of the boat one on each side. A pneumatic tire is mounted in each of these wells so that the boat can roll on these tires when the water is too shallow to float it. In the back of the boat is a bag of crawfish bait that looks to be mostly rough ground cornmeal pasted into small cylinders the size of empty toilet tissue tubes.
Now that I have seen this equipment up close I really want to ride with an operator.
Tires mounted in Louisiana "crawfish harvester boat"
These pics show tires mounted in "tire-wells" located in the front of the boat to help when water is REAL shallow or I suppose to move from one pond to another.
Closeup of Louisiana crawfish trap
A crawfish trap/pot looks very much like a crab trap that one might see in any coastal town.
The operator of that crawfish boat is tending to hundreds of crawfish pots or traps located in flooded rice fields. After dumping the crawfish out he drops a tube of bait in the trap then places the trap back in the water. The traps are spaced so that the operator sets the speed of the motor so that he can complete these functions in time to drop the baited trap back in the water within a foot or so of the next trap he is going to empty & rebait. As you can now imagine these pots are set out in long rows and equally spaced. Now you know why.
Flooded Louisiana rice fields but no visible crawfish pots
The end of Louisiana's crawfish season is at hand, get-em while you can
Crawfish season is about over as this sign proclaims. .
Louisiana rice field as seen from bridge
Joyce took the pic of this rice field from a bridge you can see tractor tracks in the rice field.
Mahatma and Water Maid are the 900# Gorilla in the Louisiana Rice world
Mahatma and Water Maid aren't the only rice companies but they are one of the big ones.
Lush green Louisiana rice field
While this rice is bright green now it will turn golden with heads of grain at harvest time.
By now it was time for lunch so we headed to Dupoy's in Abbeville a place we try not to miss when in this neck of the woods. I was hoping for one of those special Cajun lunches but the special today was pork chops and garlic mashed potatoes. That is what we had and they were good but, it wasn't one of those exotic Cajun dishes I am accustomed to getting at Dupoy's.
Joyce's adventuresome spirit had ebbed and she was wanting me to return to Lafayette where she could carouse the new mall so that is where we headed. Thankfully, we were not there long before I got a phone call from the Chevy Dealer informing me that they were finished and we could pick up the motorhome. In only a few minutes we had settled up with the Chevy Dealer and were headed to Pensacola, or so we thought. It was 3PM, we could make the Mississippi Coast and stop for the night at Casino Magic in Bay St. Louis where they have 50-amp connections and free entertainment in the Casino.
Our joy was short lived. Not 10-miles from the Chevy Dealer that pesky "check engine soon" light came on. At least it didn't come on immediately. Possibly it was an aberration and would not come on again. I kept on going past one exit. My optimism was not rewarded. It came on again and again before I got to the next exit and turned around. When I called the Chevy Dealer from the interstate they said bring it back first thing in the morning.
That was what we were thinking would be best as well. We exited I-10 and pulled into the same campground we stayed in the past two nights. Thankfully, it has 50-amps and shade.
Joyce and I both have been trying to stay positive but we pulled into Lafayette Monday afternoon and tomorrow will be Friday. Enough is enough! We have been having a good time while in Lafayette but we want to be in Pensacola. Something has got to happen for the better tomorrow or my sweet/mellow disposition is likely to go into meltdown.
In an hour or so, after we had cooled down, Joyce announced we were going to Mulate's tonight. Mulate's is a Cajun tourist place in Beaux Bridge. They feature live Cajun music nightly. We don't particularly care for their food but they do have the live music and dancing. We ordered the minimum necessary to stay and enjoy the evening. Joyce got to dance and that is what mattered. We didn't stay out too late since we had to get up early again in the morning.
Until next time remember how good life is.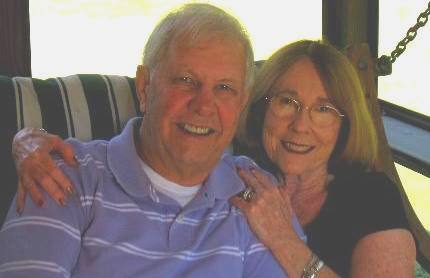 Mike & Joyce Hendrix who we are
We hope you liked this page. If you do you might be interested in some of our other Travel Adventures:
Mike & Joyce Hendrix's home page
Travel Adventures by Year ** Travel Adventures by State ** Plants ** Marine-Boats ** Geology ** Exciting Drives ** Cute Signs ** RV Subjects ** Miscellaneous Subjects
We would love to hear from you......just put "info" in the place of "FAKE" in this address: FAKE@travellogs.us
Until next time remember how good life is.