Planting rice with an air craft near Rayne & Crowley, Louisiana
Places Visited:
Louisiana: Planting rice with an air craft near Rayne & Crowley

Thursday, June 23: Acadiana City Park & Campground in Lafayette, Louisiana. $13 for 50-amp & water with central dump paved interior roads & sites: N30° 49.436' W91° 59.417'
Rice field west of Lafayette, Louisiana near Crowley
Bright green Louisiana rice field somewhere around Crowley.
Rice field west of Lafayette, Louisiana near Crowley
Rice fields seem to stretch to the horizon around Crowley, Louisiana.
Aircraft spraying chemicals on rice fields in southern Louisiana around Crawley
As we headed south out of Crowley through miles and miles of bright green rice fields we spotted one of those crop duster planes and turned down a side road to get a closer look.
We got close all right, we were close enough to get some of the chemical on our windshield. They fly so low and so fast. This one was applying a liquid. We were stopped to watch and take pictures. While we were there a nice man in a pickup truck stopped and told us that the airfield the plane operated out of was just up the road and that we should stop in and watch the operation. We saw the air craft land and decided to take the nice man up on his offer. The owner of the air operation was just as nice. He was the pilot of the aircraft we had been watching.
Aircraft being readied with another load of liquid fertilizer or chemicals near Crawley, Louisiana
We watched as he taxied his aircraft up to a big tank with a large hose dangling off an extended arm. Someone jumped up on the aircraft and attached the hose and within a minute or so he was loaded for another run.
Aircraft being loaded with 2,000 pounds of rice seed in southern Louisiana
Another of his aircraft arrived and was loaded with 2,000-pounds of rice seed that was being spread about 4-miles north of us. Another aircraft was being loaded with fertilizer. The fellow rattled off the type of fertilizer but the only thing I remember was the 40% nitrogen. It was interesting to watch the aircraft being loaded with seed rice. A big truck arrived with these huge 2,000 pound bags of seed. A truck crane lifted one of the 2,000 pound sacks of seed corn then maneuvered the huge bag over the aircraft. When held in the air by the crane the 2,000 pound bag of seed rice did not look like it did sitting on the back of that delivery truck where the bag looked to be basically square. Once in the air I could see that the bottom of the bag was fashioned into a funnel. Once positioned over the aircraft someone pulled a draw string on the bottom of the bag and the seed rice began pouring out of the bottom of that "funnel" which appeared to be 10" or so in diameter. Within a very short time, like a minute or so, the bag was empty and the aircraft was ready to head out again. The total turn around time might have been 5-minutes if the pilot had not jumped out to answer a call of nature.
Aircraft loaded with 2,000 pounds of rice seed actually seeding rice field in southern Louisiana
We quickly said good buy to the owner and headed out to get in position to watch this plane seeding a plot of land. We had to get on down the road because it wouldn't take the pilot long to catch us. The pilot flew over us when we were about 3-miles up the road so it was easy to follow him to the field. Once there we couldn't get as close as we would have liked to the field he was seeding as it was not next to the highway and we did not want to go driving down any of those dirt trails on private property so we watched from the side of the nearest paved highway which was about ½ mile away. Look closely and you can see the seeds being dispursed.
Low flying aircraft seeding rice field in southern Louisiana
Talk about getting low to spread seeds this "crop duster" is low.
Until next time remember how good life is.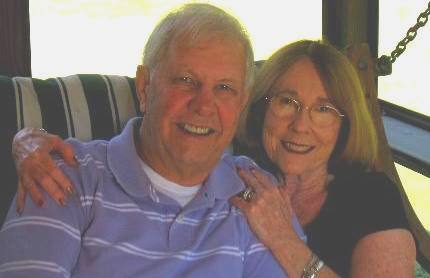 Mike & Joyce Hendrix who we are
We hope you liked this page. If you do you might be interested in some of our other Travel Adventures:
Mike & Joyce Hendrix's home page
Travel Adventures by Year ** Travel Adventures by State ** Plants ** Marine-Boats ** Geology ** Exciting Drives ** Cute Signs ** RV Subjects ** Miscellaneous Subjects
We would love to hear from you......just put "info" in the place of "FAKE" in this address: FAKE@travellogs.us
Until next time remember how good life is.