Idaho: Along the Wyoming border west of the Grand Tetons
Montana: From Bozeman east on I-90 & Billings
Wyoming: West Yellowstone north to Bozeman, Montana
Places Visited:
Idaho: Along the Wyoming border west of the Grand Tetons
Montana: From Bozeman east on I-90 & Billings
Wyoming: West Yellowstone north to Bozeman, Montana
Monday September, 13: Grizzly RV Park, West Yellowstone, Montana: N44° 39.335' W111° 6.298' $42.52 full hookup paved interior roads and gravel pads.
Today was our day to see Idaho. When I say Idaho you have to know that in West Yellowstone, Montana we are just a few miles from the border of Idaho. In fact the Montana-Idaho border is the continental divide that runs east and west a few miles south of West Yellowstone. We had been told that some of the prettiest country around here was in Idaho south of West Yellowstone, Montana.
In Idaho near the Montana-Idaho border around West Yellowstone, Montana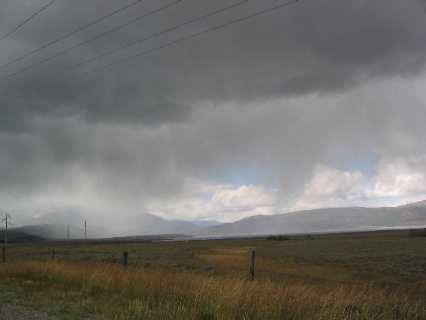 We headed out on US-20 west this morning in a light rain. The first thing we did was pass over the continental divide and into Idaho. Shortly after passing over the continental divide we dropped into a broad well watered valley formed millions of years ago when the center of a huge caldera dropped. Actually it is a basin surrounded by a ring of mountains that are the remnant of the giant volcano that created this region.
We spotted a herd of antelope in a large pasture then found a pullout designed for wildlife watchers. The pullout was actually the Nature Conservancy's parking lot adjacent to their wildlife viewing building. We walked down to the building and found that 16,000 acres of the land that we are overlooking are owned by the Nature Conservancy. It was obvious that this land was much different from the vast majority of privately owned land. The Nature Conservancy representative explained to us how they actually worked with local ranchers to run cattle on the property. The Nature Conservancy leases these "pastures" to ranchers but ranchers can only keep cattle on the land for so many days then they have to move them to another pasture. They are doing this to assure that the pastures are not overgrazed. A small river (Henry's Fork I think) passes through the middle of the property and actually has willow trees growing along the banks like the riparian area would normally look when it isn't overgrazed. When the Nature Conservancy purchased the property one of the first things they did was fence off a riparian area around the river and plant willow trees. Now moose thrive in that riparian area feeding on those willow trees.
We were able to spot several pair of sand hill cranes in addition to a number of antelope. We all wondered why the sand hill cranes were still there since most had already flown south. Additionally, it would seem that a pair of cranes should be looking after some juveniles but these were not in the company of juveniles. The Nature Conservancy representative said the sand hill cranes that traditionally nest here during the summer wintered in Bosque Del Apache National Wildlife Refuge near San Antonio, New Mexico.
We were not expecting the Nature Conservancy view station. But the experience was exciting. For those of you contemplating a scenic drive down US-20 look for the Nature Conservancy wildlife viewing building near N44° 32.726' W111° 19.512' We did not have the GPS with us so that Lat Lon will only be close but out in those wide open spaces it will be close enough for you to locate the place. The Nature Conservancy owns the land east of US-20 almost to the base of the mountains.
Mesa Falls on the North Fork on Henry's Fork of the Snake River in Idaho
As we continued south on US-20 we were following a beautiful clear river presumably Henry's Fork but some say it is a fork of the Snake River (a local told us that). Anyway, it is a beautiful fast flowing river filled with wading fly fisherman. We veered off US 20 on to Idaho State Road 47 at N44° 39.335' W111° 6.298'. State Road 47 has been touted as a Scenic Drive with advice to stop and see Mesa Falls which we did. There is an upper and lower falls area. The upper Mesa Falls is operated by the National Forestry Service. A walkway has been constructed from the parking area down to the falls so that you can actually walk a few feet away from the falls on a safe steel walkway. It isn't Niagara Falls but very impressive never the less. The river (Henry's Fork) flows over the falls that are several hundred feet high. Unlike other falls this one is deep in a gorge of extremely hard volcanic rock. On the east side of the river where we are the molten magma cooled while still underground creating extremely hard rocks that fractured while in the cooling process. On the other side of the river we can see another kind of volcanic rock consisting of more ash and conglomerate indicating molten lava was oozing in between existing sedimentary rocks like cement might do under similar circumstances. Of course the sedimentary rock was subjected to super heat during this process thus transforming much of it into metamorphic rock. In any event that rock is not as hard as the molten rock that cooled slowly underground. The river is falling over the extremely hard igneous rock as it wends its way down the canyon. In my opinion Mesa Falls is as impressive as anything you will see in Yellowstone National Park. The difference is that it has not been advertised in fact it is one of those jewels that has been overlooked.
Lower Mesa Falls on the North Fork on Henry's Fork of the Snake River in Idaho
A mile or so south of Mesa Falls is a pull out where you can walk a hundred feet or so to an overlook with a beautiful view of lower Mesa Falls. This is another spot that makes SR-47 an awesome scenic drive.
Idaho wheat field near the small town of Ashton, Idaho
A few miles south of lower Mesa Falls we unexpectedly popped out of the mountains comprising the lip of an ancient caldera onto a golden plain. We were not expecting this at all. We were surrounded by wheat fields. The next 40-miles were comprised of irrigated wheat fields, alfalfa fields and regular hay fields with a few farms specializing in seed potatoes.
As SR-47 neared the small town of Ashton we turned south on SR-32 toward Felt, Tetonia, Driggs and Victor. At Tetonia we had to turn onto SR-33 for the rest of our ride into Victor. All of these small towns are in the shadow of the Grand Teton Mountains. They are just on the west side of the mountain range. These towns are farm towns and golden is the operative color around here this time of year. We are having a visual overload with the rolling hills of golden wheat juxtaposed against the craggy snow covered peaks of the majestic Teton Mountain Range.
We really wanted to watch the wheat harvesting process but the harvest equipment was all idle in the fields. It rained earlier in the day and we guessed that the rain may have halted the harvest operations. We saw 6 or 8 of the harvesters in fields where they were they had obviously been harvesting a short time ago.
As we were on our way home we saw a big 18-wheeler being loaded with grain from roadside silo. That was the extent of what we saw of the wheat harvest. Joyce said we needed to save something for next time so I guess that is the way we will have to look at it.
All along this route in Idaho there were campgrounds both private and forestry service, full hookups to dry camping. It was also evident that winter activities thrived in each of the small towns. Hundreds upon hundreds of ski mobiles were sitting on the ready waiting on the first snow.
We will definitely visit this area again. Next time we will seriously consider basing our motorhome along US-20 somewhere for a few days.
Tuesday September, 14: Chevy Dealer's Parking lot Laurel, Montana: N45° 39.896' W108° 46.083' $Free Boondocking in Chevy dealers repair facility with 115v. @ 15amps
I did not mention it the other day but we started experiencing a warning light on the motorhome as we were making our way from Billings to West Yellowstone. The warning light said to "have throttle system checked". I stopped in Bozeman and replaced the extremely dirty fuel filter. I thought that would fix the problem. It didn't! I continued to have trouble between Bozeman and West Yellowstone. Since it was Sunday we continued on to West Yellowstone.
Monday morning I started making phone calls and every one said that the problem was probably the injector pump but only a place with the proper equipment could make that determination for sure. On top of that the injector pump runs $1,500 plus about $500 for labor to remove and reinstall. OUCH! However, the injector pump is under warranty by Chevrolet and if an authorized Chevrolet dealer does the work the pump and labor is free. Bottom line for me is: I have to get the motorhome to an "authorized" Chevrolet dealer that can perform the diagnostics and is "authorized" to remove and replace the injector pump (for free). The bad thing is the nearest "authorized" Chevrolet dealer is located 225 miles from West Yellowstone in the small town of Laurel, Montana about 10-miles west of Billings. This is beautiful country out here but services are few and far between.
Anyone that knows anything about diesel engines knows that an injector pump problem is a big problem. In addition hurricane Ivan is churning away in the Gulf with a projected landfall Wednesday night in Pensacola (where our stick and brick house is). We decide that we just had to "bite the bullet" and get the motorhome repaired in case we have to make a dash back to Pensacola. And that meant returning to Billings/Laurel----IF the motorhome would make it without breaking down. In that case we would have to be towed to Laurel. Just the thought of all that could potentially go wrong was nauseating.
We awoke this morning to driving snow at the RV-Park in West Yellowstone. Undaunted, we connected the Saturn and headed south on US-191 that scenic route over the Gallatin Range and into Bozeman 89-miles north. Gratefully, the throttle only acted up 6 or 8 times as we struggled to get over the pass 7,314' pass. It really isn't a bad pass to get over but my throttle problem manifests itself when accelerating or applying power like is normal to climb over one of these mountain passes. Each time the engine would stall I would have to back off the accelerator then slowly keep going. We actually got down to 30-mph over that pass. Once we were over that pass and heading down to Bozeman at 4,800' the throttle didn't give me any more significant problems.
It snowed almost the entire way. In addition to fighting the throttle problem we were fighting a moisture problem in the motorhome. The cold snow hitting the windshield and side windows was making the glass cold. The warm moist motorhome was responding by creating moisture on the cold glass. In response I knew we had to reduce the moisture in the motorhome so we turned on the generator and ran the house air conditioners in addition to the dash air conditioner plus dash heater. In addition I have two fancy 15 amp 12 volt fans that circulate air on the front windshield. We managed to keep enough moisture off the windshield so that I could see. The side windows were another matter. Thank goodness for all the equipment. It kept the moisture at bay until we finally drove out of the snow and sleet in Bozeman.
US-191 is an amazingly beautiful drive between West Yellowstone and Bozeman. We know that it is because we remember it from our drive up on Sunday. The drive back down today in the snow with the injector pump problem on my mind wasn't nearly as picturesque. Actually, we did enjoy some of the drive but the stress sure did take away from the natural beauty.
Besides the constant snow that accompanied us from West Yellowstone the absence of fly fishermen was just as stark. We didn't see the first one of those fancy costumed fly fishermen. The snow had obviously sent these fashion mavens to their respective lodges to "talk" about dressing up and pursuing those wile trout another day.
Once in Bozeman we headed east on I-90. For the most part it was uneventful and downhill. One exception was Bozeman Pass a few miles east of Bozeman where we had to climb to 5,703' before we could descend the rest of the way to Billings as we followed the Yellowstone River in its pell-mell rush to the Missouri River. We crept over Bozeman Pass at 30 mph. Gosh I hated to be going that slow on I-90 but it was better than being behind a tow truck and it only lasted for about 2-miles but it seemed like an eternity. It was all in my mind because there isn't any traffic to speak of on the interstate system out west. Only a few cars whizzed by me while I was struggling up the grade and possibly one 18-wheeler but none of them were fazed by my struggles in the least. They whizzed past me like I was standing still.
Wednesday September, 15: Chevy Dealer's Parking lot Laurel, Montana: N45° 39.896' W108° 46.083' $Free Boondocking in Chevy dealers repair facility with 115v @15amps.
Hurricane Ivan is churning in the upper Gulf of Mexico with 140 mph winds and scheduled to make landfall later today west of Pensacola in Mobile, Alabama. We have family along the entire coast in that area. There really isn't a preferable place for this large hurricane to go ashore. Ivan drifting to the west and making landfall around Mobile was a relief for my Mother and baby sister in Panama City. However, my brother and sister-in-law live in Mobile. I don't know where they are going to hunker down for the hurricane. With Ivan making landfall 60-miles west of Pensacola that will put Pensacola in the path of the heaviest surf, and most destructive winds. That is NOT good for our "stick & brick" home in Pensacola or our Son, DIL & Grandson who are going to ride out the storm in their home or a professional building owned by our DIL's orthodontist entrepreneur/developer father. Where they ride out the storm depends on how close the hurricane will be when it makes landfall or said another way how great the expected wind speeds will be. I suspect that they will ride it out in the office building if they expect winds over 110 mph. Our son has ridden out several hurricanes and knows that they are a bunch of excitement until the winds get over 110 mph. Over 110-mph they become terrifying. We know that they will make the appropriate decision and be safe.
There is absolutely nothing like dealing with mechanics. We had an appointment for 2PM yesterday afternoon. We were here with bells on. This afternoon at 4:30 a mechanic dropped by the motorhome to start his "troubleshooting". He spent the next 45-minutes muttering under his breath. It seems that the motorhomes Chevy engine computer is not giving him the "trouble codes" that he relies on. He says we will drive it in the morning until it recreates the problem with him in it. I guess he doesn't believe me. I don't know! Dealing with mechanics is like wrestling with pigs……you get dirty and they enjoy it! However, mechanics like doctors are something you have to deal with on their terms especially when they are the only game in town or in this case I should I say state?
We settled in to watch the weather channel as they feature hurricane Ivan as it comes ashore in the Florida Panhandle. We got a call from our son every few hours to let us know what was actually happening in Pensacola from someone not trying to hype things like the TV personalities. Around 12:00 we were talking and a strong gust came through and took down a big pine tree. He didn't stay on the line long after the tree went down saying he would call later and give us an update.
Thursday September, 16: Wall-Mart Super Center Sheridan, Wyoming: N44° 46.877' W106° 56.381' $Free.
We spent much of last night watching the weather channel and their round-the-clock coverage of hurricane Ivan as it went ashore just west of Pensacola. It was obvious that Pensacola was taking a major pounding. This morning we were able to get a neighbor on the phone who told us we had trees down in our yard and a limb through a window and some hopefully minor roof damage. Later our son called to say that all of our yellow popular trees were down so that would be 8 yellow popular trees on the side of our house and in the front yard. He did not mention the hickory and oak trees. Jeff said that the yellow popular trees on one side of my house fell toward the uphill neighbor's house and were either on his automobiles or blocking them. We couldn't get those neighbors (John & Vicky) on the phone. I suspect that when the trees fell they took out his phone lines and power lines. We couldn't understand much that my son said because of the incredibly bad phone connection. Jeff did say that he and his friends were out clearing trees from houses and automobiles in his neighborhood. Jeff happens to have access to his father-in-laws tractor that they outfitted like a front end loader. I think he said that they had that tractor and his chain saws and were ripping through trees even though the winds were still blowing with tropical storm force.
The mechanic found an electrical short around 3PM and we were on the road around 4:30 heading for Pensacola. We made Sheridan, Wyoming before we pulled into a Super Wall-Mart for the night. From our location in Montana it was 2,200 miles back to Pensacola we put 147 of those behind us today. We think it will take us at least 4-more 10-hour days driving @ 60MPH. That is a gruesome thought for us but we need to get back and take care of things.
Jeff told us that a limb went through our 2nd story bedroom window. He has removed the limb and put plastic over the opening with duct tape. I will handle the remainder when we get home. I can only wonder how long it will take for me to cut up and remove the 8 large yellow poplar trees that are down in the yard.
Friday September, 17: Wall-Mart Super Center Mitchell, South Dakota: N43° 41.236' W98° 0.586' $Free.
We have not seen any news since heading 3PM yesterday afternoon. When we rolled into the Wall-Mart parking lot it didn't take us long to get to sleep. We were up this morning and on the road before 8AM and drove until 8: PM. We were able to put 514 miles behind us today. We are still over 1,400 miles from Pensacola. That will mean 3 more 12 hour days to make 500. We stopped several times trying to purchase generators but did not locate any until we reached Mitchell, South Dakota.
We were traveling 60-mph but the stops looking for generators, eating lunch and two stops at truck stops for diesel ate up about three of the 12-hours.
The other places were out. Our son has instructed us to purchase all the generators we can fit in the motorhome. He told us to get them as soon as possible. There weren't any in the Southeast. It has been reported that there aren't any generators as far north as Chicago. He was serious enough to make us stop in every town large enough to have a Sam's, Lowe's or Home Depot. They were all out. Employees would lead us to the section where they display their generators and when we got there they would say "they are gone". We got used to that. Finally in Mitchell we stopped in a Menard's. We have never been in a Menard's before but this one had generators. We purchased two 5KW Coleman units with 115V and 220V outlets. Pensacola does not have water and authorities are saying that it will be 6 to 8 weeks before water is restored. Jeff has a deep well with a 220 pump. He knows that if he can get that well working he can supply the neighborhood with water.
He said that everyone was bathing in swimming pools but the swimming pools were beginning to get skuzzy.
One neighborhood house was being repaired and had a porta-potty or whatever you call them in your part of the country. That porta-potty has saved the neighborhood.
Sewage is not expected to be restored any time soon.
We spent the day traveling east when we needed to be traveling southeast. The problem was there are not any highways going in that direction and precious few going north and south. We were heading east on I-90. We will continue east on I-90 to Sioux City, South Dakota then turn south on I-29.
As we made our way east today across Wyoming and South Dakota we saw hundreds of antelope. I don't know what it was about today but they were everywhere. We had just traveled I-90 west within the past week or so and did not a fraction of the antelope that we saw today. Some days they are out while other days they seem to be in hiding.

Until next time remember how good life is.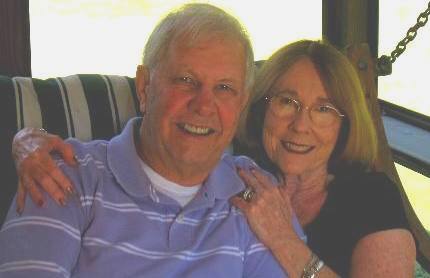 Mike & Joyce Hendrix who we are
We hope you liked this page. If you do you might be interested in some of our other Travel Adventures:
Mike & Joyce Hendrix's home page
Travel Adventures by Year ** Travel Adventures by State ** Plants ** Marine-Boats ** Geology ** Exciting Drives ** Cute Signs ** RV Subjects ** Miscellaneous Subjects
We would love to hear from you......just put "info" in the place of "FAKE" in this address: FAKE@travellogs.us
Until next time remember how good life is.