Missouri: St Louis, St Charles, Washington, Missouri Wine Country, Babler State Park
Places Visited:
Missouri: St Louis, St Charles, Washington, Missouri Wine Country, Babler State Park
Monday July 26, 2004 Babler State Park Campground 20-miles west of St Louis: N38° 36.533': W90° 41.214' $18.00 for 30amps no water & central dump.
Today was our day to do factory tours, after all that is why we moved to this side of St Louis. First thing this morning I called the Chrysler Dodge Plant to get particulars on their plant tour. From the get go things weren't going good. The phone number published in the book "Watch it made in the U.S.A." was no good. Undaunted, I called information and got the telephone number for the factory. Of course this number got me a recording directing me to "press-4" for info on the plant tour. Pressing 4 did nothing. After several alternative attempts I gave up.
On to the next tour, which was the Purina feeds tour, a nice lady answered and said that they do not do tours on Mondays but would be happy to have us Tuesday morning. I agreed that we would join them at their 10AM tour tomorrow morning.
Now it was time for the phone call to the third and last plant tour on our list, McDonald Douglas. A nice man answered and told me that they do not give tours any more. That stopped when they merged with Boeing.
Mercy! Here we were on the west end of St Louis and ready for factory tours and there would be NONE today and only one tomorrow. Things had gone south quickly.
Joyce and I looked at each other, what do we do now? The old saying "when you are dealt lemons make lemonade" applies here. That is exactly what we did. Joyce said it was meant for us to spend the day in St Charles. I agreed so we switched gears, gathered up our St Charles information and headed out.
First Brick House west of the Mississippi River here in St Charles, Missouri
St Charles turned out to be a good decision. St Charles is a very interesting and historic city. Main Street has been there since before the days of Lewis and Clark's historic journey. Journal entries from the Corps of Discovery indicate that they stopped in St Charles and visited the street that roughly paralleled the river.
Reading the historic plaques on buildings up and down that brick street helped me put into perspective the unique spot St Charles played in the westward expansion of our country.
Old building in St Charles, Missouri
Missouri became the twenty-fourth State of the Union in August of 1821. St Charles was the site of Missouri's first state capitol. I walked through that very building with its hand hewn beams. The State has preserved that original capitol building and conducts regular tours through it.
St Charles was founded by a small group of French Canadian farmers and hunters in the 1760s. France had ceded Louisiana to Spain shortly before losing the French and Indian Wars in 1763. St Charles was French but laid out according to Spanish Law: one or two long streets paralleling the river. The French built vertical log homes with the ends in the ground (poteaux en terre) or on stone foundations (poteaux sur sole). We did not see any examples of construction with the vertical logs in the ground forming exterior walls even though I looked for them. Back in the mid 1700s there was no business district as each private home served as shop, storefront or government office as well as family residence.
In 1804 when the territory became a territory of the United States (Louisiana Purchase) the original name of San Carlos was anglicized to St Charles.
Explorers Lt. Zebulon M. Pike (in 1806 and Maj. Stephen H. Long (in 1819) both stopped in St Charles on their way west up the Missouri River. Each of these notables like Lewis & Clark before them were heading expeditions of discovery and documentation that would help open the western frontier for the next generation of settlers.
By the early 1820s Boone's Lick Road was established from St Charles to Franklin and from that road grew the Santa Fe, Salt Lick and Oregon Trail.
By river or overland people passed through St Charles on their way west.
Private traders had blazed an Overland trail to the old Spanish towns around Santa Fe, New Mexico. Realizing that the U.S. Government needed to help these private traders open the west President John Quincy Adams in 1825 appointed three St Charles men to survey and mark the Santa Fe Trail. They met at Eckert's Tavern on Main Street to write their reports. The leader of that group of "surveyors" was a man named Sibley. Sibley was a "household-word" by this time in these parts. Sibley had followed William Clark west in 1808 (two years after the L&C Expedition returned from the Pacific) to establish Fort Osage near present day Independence, Missouri. Sibley operated the "Factory store" at the fort for a number of years. We will be visiting that in a few days but for now keep Sibley's name in your mind. That Tavern is now an upscale restaurant in St Charles but the building still stands much as it did in 1825.
I really enjoyed my day in St Charles and so did Joyce. Those historic old buildings now house quaint shoppes which Joyce was enjoying while I read the plaques and admired the history of the place. Both of us were happy. Each of us had experienced a good day even if we didn't get to go on a plant tour.
Our plan was to eat dinner at "Blueberry hill" in west St. Louis. The "Blueberry hill" is the one made famous in the song "I met my thrill on blueberry hill" that has been a favorite for decades. It is just a hamburger place but we want to say we have been to "Blueberry hill".
Tomorrow we are going to do the Purina tour, which will be our only plant tour, while on this side of St Louis.
Tuesday July 27, 2004 Babler State Park Campground 20-miles west of St Louis: N38° 36.533': W90° 41.214' $18.00 for 30amps no water & central dump.
Barn Swallows nesting in barn at Purina Factory where we were on tour in Missouri
We did the Purina "factory" tour this morning only it wasn't a "factory" tour. It turned out to be more of a petting zoo with lots of dogs, cats and farm animals. Plenty of chickens, rabbits, sheep, goats, donkeys, horses, pigs, chickens, ducks and cows. The dogs put on shows to the delight of scores of children. We enjoyed bumming around with the children and animals for a while but tired much faster than the children. We watched as children were allowed to milk a cow. It was a hoot to watch the kids reach up and pull one of the teats then squeal when milk squirted out. I was fascinated with the barn swallows nesting in the barn where the farm animals were housed. The barn swallows were nesting in cross bracing between ceiling beams located about 8' from the floor. The swallows were busy swooping in and out openings in the barn delivering mouthfuls of fresh bugs to baby swallows that were as big as the adults. The baby swallows looked to me like they would fledge any day.
From the disappointing Purina "factory" tour we headed back to Washington where I dropped in on the only factory that still manufactures corncob pipes. The plant has been manufacturing corncob pipes since the 1860's. The building they were manufacturing the pipes in looked like it was right out of the 1860's but I did not see any markings that verified my suspicion. The factory is located on Front Street overlooking the Missouri River and does not advertise factory tours. However, the factory is NOT air conditioned so I walked along the sidewalk and peered in the open windows and doors. Signs on the doors said "Employees only beyond this point" but when I peered in no supervision was visible. As I stood in the door watching what was going on several workers invited me to watch what they were doing and explained their function to me.
This factory was anything but "high-tech". The first worker I spoke with was picking through a bin of cruddy looking corncobs. His job was to pick up each of these old dry corncobs complete with shucks still attached to the butt end. If a few kernels of corn happened to still be attached to the cob that cob was thrown in a container and sent to a process that would remove the existing kernels. The scruffy cobs with no kernels were placed into a revolving machine that sawed the cob into pieces the length of a "pipe-bowl". Each regular looking cob is chopped up rendering one or two pieces large enough to become a pipe-bowl. It was hard for me to tell the difference from the good pieces and scraps after the cutting process. A conveyor belt takes the proper sized pieces to the next step where a hole is drilled into the bowl then a machine trims up the "rough-looking" cob so that the resulting pipe-bowl is more or less smooth on the outside vice the rough cob. Next a router type machine put a "rounded" bottom on the bowl and puts finishing touches on the top of the bowl by rounding out the edges. By this time the bowl does not look like it came from a rough old corncob. The next step is to drill a hole in the side and near the bottom of the bowl where the pipe stem will be inserted. A few ladies that looked to be in their late 80's or possibly 90's were seated at tables inserting pipe stems into the pipe bowls then giving the stem one swift whack with a wooden hammer. That was all of the process I got to see. They may have been adding a finish after this that I was not able to see. The factory looked like they had about 20-employees most of which were elderly. Tourist information indicated that the factory was producing 7,000 corncob pipes daily. I wonder where they sell them. I haven't seen anyone smoking a corncob pipe in decades.
Red Mallots in full bloom in Washington, Missouri along the Missouri River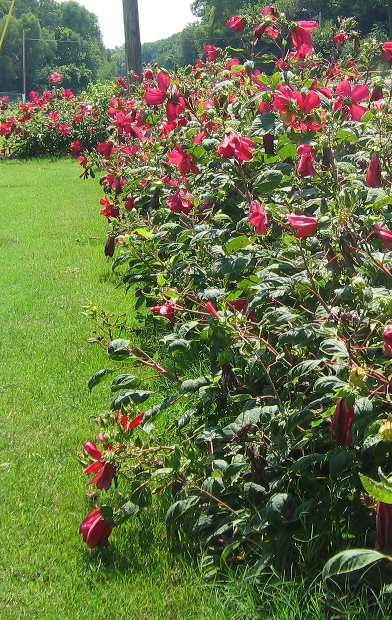 Joyce spent her time wandering around some antique shops. These old German villages are famous for their antiques and Washington is no exception. We also spent time in the large waterfront park Washington maintains along the bank of the Missouri River. The park had a flower bed along a length of fencing of deep red mallots that were in full bloom and demanded to be admired.
Joyce wanted to eat lunch across the river in the quaint German village of Augusta that is located in the heart of the winemaking region. Pleasing Joyce was easy today since I would enjoy the drive over to Augusta through the scenic farmland and vineyards. Lunch wasn't what Joyce had dreamed about but the drive was worth it.
We called it quits and headed home after enjoying a bit more of the scenic countryside around Augusta.
We atoned for the mediocre lunch by stopping at Fritz's Frozen Custard in Washington, on our way home. Frozen Custard is popular stuff in this neck of the woods. Fritz's had a big newspaper article framed in their window where they had won a contest to determine the best tasting "frozen custard" in St Louis. According to the framed article Fritz's is the winner for taste. I wouldn't argue. I had a "Hawaiian Sunday" featuring the frozen custard with cocoanut, pineapple and banana. That is a hard combination to beat but Joyce said that her berry Sunday was better. I questioned the owner about exactly what "custard" was and according to him it was ice cream without the air (according to him ice cream is whipped to introduce air and make it lighter). Their custard is not whipped. They advertise it as concrete to emphasize how solid it is. This fellow should know the difference between custard and ice cream since he owns the place and makes the stuff daily. Whatever, I have taken a liking to "concrete" aka Missouri frozen custard.
As you can see we made a slight detour by the custard shop on the way home.
Until next time remember how good life is.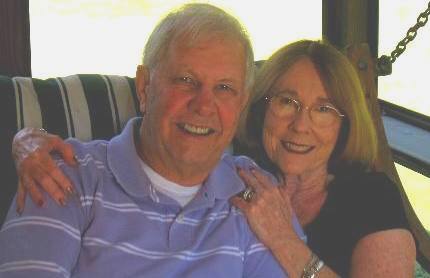 Mike & Joyce Hendrix who we are
We hope you liked this page. If you do you might be interested in some of our other Travel Adventures:
Mike & Joyce Hendrix's home page
Travel Adventures by Year ** Travel Adventures by State ** Plants ** Marine-Boats ** Geology ** Exciting Drives ** Cute Signs ** RV Subjects ** Miscellaneous Subjects
We would love to hear from you......just put "info" in the place of "FAKE" in this address: FAKE@travellogs.us
Until next time remember how good life is.