Illinois: East St Louis Casino Queen RV-Park
Missouri: Cape Girardeau, Trail of Tears State Park, Historic Bollinger Mill & the Historic Burfordville Covered Bridge, Ste Genevieve, St Louis
Places Visited:
Illinois: East St Louis Casino Queen RV-Park
Missouri: Cape Girardeau, Trail of Tears State Park, Historic Bollinger Mill & the Historic Burfordville Covered Bridge, Ste Genevieve, St Louis
Monday July 19, 2004 Casino Queen RV-Park Bogy Ave, east St Louis, Illinois: N38° 37.570': W90° 10.120' $24.00 for full hookup/50amps & cable no water but central dump. Telephone at site was $3 per-night extra. This place has LOCATION! Walk across bridge to arch. Arch is visible out our window across the river. LOCATION!
Our day was filled with unplanned excitement. It seemed after we had one challenge behind us another presented itself. Once we were settled into the RV-Park we took time to laugh about it.
Our destination today was Casino Queen RV-Park in East St Louis, Illinois: directly across from the arch. However, we had several places we wanted to visit on the way. Our first scheduled visit was Bollinger Mill. Bollinger Mill and the Burfordville Covered Bridge are superb examples of the ingenuity, skill and resourcefulness of settlers in the 1800s. The state of Missouri has saved both of these historic sites located in the small community of Burfordville about 10-miles west of Jackson, Missouri. As we always do we plugged in the address of Bollinger Mill into our SA 2004 mapping program. As always it plotted us a route. As we neared Burfordville on SR-34 we turned onto CR-360(County Road-360) leading to Bollinger Mill Road. CR-360 turned into a gravel road. From the amount of dust we generated the gravel must have been crushed chalk. The dust cloud was enormous. As we turned off SR-34 there was an official brown sign advertising Bollinger Mill with an arrow pointing to where we turned. A mile down this dusty road we came to "Bollinger Mill" road. A sign warned us that the bridge was pedestrian only, no cars or trucks. Ouch! If we were playing football it would be time to punt. It would have been easier to punt! Here we were in the motorhome with the Saturn tagging along behind us. There was no place to turn the motorhome and car around so we unhooked the Saturn so I could make the 3-point turn in the motorhome using an OLD driveway to stretch the small gravel road. While we were unhooking and reconnecting the Saturn several country gents stopped in their pickups to ask if we were lost. Were we lost? It really wasn't a good time. Joyce was sitting in our previously RED Saturn (now crushed limestone white) fuming. Each of the gents said that we could get to the Mill by going back to the paved road and continue about a mile to the town of Burfordville then turn on the other end of Bollinger Mill road. I got the motorhome turned around and the Saturn connected again. It is unbelievable how much dust was deposited on the Saturn.
Bollinger Bridge and Bollinger Mill in Missouri
Bottom line we got back on the paved road and went directly to the Mill and Bridge from the other end. The old mill has been preserved and really is a historic place to visit as was the old covered bridge that preserves construction techniques used back in 1858 to span the 140' across the creek. We had to unhook the Saturn again at the Mill & Bridge since there wasn't a turnaround. By this time it was no big deal. The Saturn was still a total mess as was the back end of the motorhome.
We just shrugged it off and joked that we were always looking for excitement, today we just got some we were not expecting.
Shortly we were back on I-55 headed north toward St Louis. We wanted to stop by the historic town of Ste Genevieve. Street Atlas routed us off I-55 on to US-61 about 20-miles south of Ste Genevieve. This was fine with us since it would get us off the interstate and along the historic River Road. We were having a scenic drive when just outside Ste Genevieve we spot a sign saying that the road ahead of us was closed because of bridge repair. We just laughed as the detour routed us 10-miles back to I-55 where we turned north to the next exit and took it into downtown Ste Genevieve. We laughed with each other. The detour gave us an unexpected scenic drive through the Missouri countryside. No big deal and we got to see some farm country we would not have seen otherwise.
Old Brick House in Ste Genevive, Missouri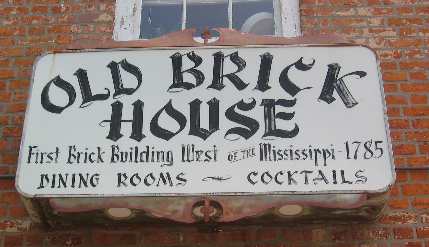 Ste Genevieve is touted as being the "oldest town west of the Mississippi". This historic community was settled by the French more than 250 years ago, when the area was still part of Upper Louisiana, claimed by France. The historic area has some rich architectural buildings. It is remarkable that so many of the old French-Creole buildings have survived. One brick building has a sign on it saying that it is the "oldest brick building west of the Mississippi 1785".
While they may claim to be the "oldest town west of the Mississippi" that just isn't a true statement. Anyone familiar with history knows that Santa Fe, New Mexico and some other New Mexico towns along the Rio Grande River were settled "by Europeans" in 1609. To put that into perspective those New Mexico villages were settled 13 years before the Pilgrims landed at Plymouth Rock, and 167 years before the Declaration of Independence was signed. Among US cities, only Florida's St. Augustine is older. So Ste Genevieve may have been an early town along the Mississippi but the Spanish clearly settled towns in New Mexico before any Frenchman settle in Ste Genevieve.
Back on I-55 we were heading to St. Louis. The route into the Casino Queen RV-Park is a piece of cake. We exited I-55 to I-255 east and took it across the Mississippi to Illinois (East St Louis). At exit 10 we got onto SR-3 passing through the small town of Cahokia where we saw the RV-Park Larry & Cindy Gobin had stayed a few months ago. This RV-Park was our second choice behind the Casino Queen so we noted its location and that it looked like a nice clean park and would be a good backup.
From SR-3 our route took us a short distance on McArthur Bridge Road then took a right onto another road that would lead us to the Casino. We were tooling along with out a care in the world heading up SR 3 following our pre-planned route when all of a sudden the exit we are supposed to take is CLOSED there was nothing to do but continue and continue we did right on to I-55 west, there were no exits the only thing to do was continue on the I-55, I-70, I-64 & US-40 Bridge across the Mississippi River smack into downtown St Louis and 4PM traffic. Wham bam thank you ma'am, in less than the twinkling of an eye my world had gone from ho-hum to "Oh my gosh, I think we are experiencing a Gobin" (our friends the Gobin's will understand). I turned north on I-70 into the heart of downtown St Louis which was the first available exit on the west side of the river. I was trying to get Joyce to tell me which exit I could take off I-70 to take another bridge east across the river. Joyce looked at all that traffic and the ARCH passing us on her side of the motorhome and froze. My navigator had shut down. I exited from I-70 at the first available exit and found the first available place to pull over with the motorhome and Saturn. Once stopped we had SA-2004 map us a new route to the Casino Queen. Ah! This was nothing for a stepper. We just had to make a few tricky turns in a seedy part of downtown St Louis and we were back on the Martin Luther King Bridge heading east across the Mississippi. Like I said it was a piece of cake. The joke was on me, the "Gobin factor" was working overtime. SA-2004 had us routed to take the first exit on the east side of the Mississippi--------only when we got there------there was no exit, we were way up in the air and the road we were supposed to turn on was down there under us. Geeze! This is a big city to be doing this type of stuff. Again I exited at the first exit possible and found a place to pull our rig over. Again we go back to SA-2004 and plot another route to the Casino Queen. This time we end up at the Casino but I can't see any RV's. (We were on Front Street between the Casino and the river). I slowly turned into the parking area and cautiously moved toward the parking lot being careful to make sure that I didn't get into a situation where I couldn't turn around. It was only a matter of seconds before a nice security guard appeared on a bicycle. He was laughing as hard as we were. He knew we were in a predicament and assured us that all we would have to do was follow him to the RV-Park. I agreed. All concerned thought that was a good idea. He guided us past the entrance to the Casino then into the back end of the parking lot where we could turn then he took us out the "north" exit of the parking area and to the nearby RV-Park.
Looking back on the day it was funny. Joyce didn't think it was funny in downtown St Louis but in retrospect we did have some excitement when it was supposed to be a rather blasé day.
Tuesday July 20, 2004 Casino Queen RV-Park Bogy Ave, east St Louis, Illinois: N38° 37.570': W90° 10.120' $24.00 for full hookup/50amps & cable no water but central dump. Telephone at site was $3 per-night extra. This place has LOCATION! Walk across bridge to arch. Arch is visible out our window across the river. LOCATION!
Joyce standing on the historic Eads Bridge across the Mississippi River with The Arch in the background
This was our day to do the ARCH. It was an all day thing. Following someone's advice ( I think it was Dave & Helen from Golden, Colorado) we walked across the river from the RV-Park on the historic Eads Bridge constructed in the 1874. It is still a fine looking bridge. I am amazed. This bridge was under construction during the Civil War years but not finished until later. The walk across the bridge was awesome. You really get to see the city and a spectacular view down the Mississippi River.
This is Joyce on the Ead's Bridge with the "Arch" and downtown St. Louis in the background.
Casino Queen Casino & RV-Resort in East St Louis, Illinois
It really is a small world. That point was brought home to us today when it was pointed out that the "Casino Queen" gambling boat was made in Pensacola where we are from. The Casino Queen's RV-Park is where we are staying. We remember that boat being constructed by Patti Ship Yard in Pensacola. Near the end of construction the people who ordered the boat had financial problems and the completed boat became the banks property. It sat in Pensacola for several years before these people purchased it. It was BIG news when it left its mooring spot up in a small bayou.
Casino Queen Casino & RV-Resort in East St Louis, Illinois

That behemoth squeezed through a drawbridge with just inches on either side. The pictures of it squeezing through the old Bayou Chico draw bridge are hanging in Joe Patti's fish market on the waterfront near downtown Pensacola. If I am not mistaken (and I could be) it was a $1,000,000 check from the construction of this boat that was placed in Mr. Patti's desk drawer and "forgotten". If you are from Pensacola you will remember that story.
This pic was taken from the Arch looking East across the River about 10PM one night.
At the Arch we did everything that costs money. We still have several "free" things to do another day. We went up in the ARCH, we watched the IMAX film of Lewis & Clark's expedition, we watched a documentary film about the construction of the ARCH and finally we took a riverboat cruise up and down the Mississippi River. We also spent several hours in the Museum of Western Expansion housed in the base of the ARCH. All of these are "must do" items when visiting St Louis.
Someone could and has written volumes about the ARCH. I won't do that; suffice it to say if you are ever in St Louis you have to do the ARCH. I think I have seen a documentary on the Discovery Channel about the construction of the ARCH. Documentary films about the Lewis & Clark expedition will probably be played several times on the History or Discovery Channel this year. That is why I am not going to spend any more time describing these things.
The walk back across the Eads Bridge seemed to be much farther than the walk over. That phenomenon might have been because it was at the end of a long day.

Until next time remember how good life is.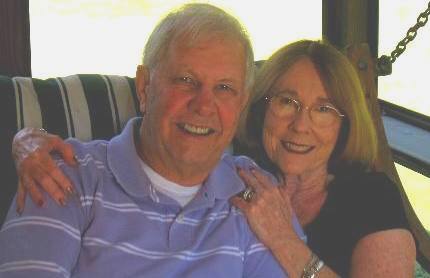 Mike & Joyce Hendrix who we are
We hope you liked this page. If you do you might be interested in some of our other Travel Adventures:
Mike & Joyce Hendrix's home page
Travel Adventures by Year ** Travel Adventures by State ** Plants ** Marine-Boats ** Geology ** Exciting Drives ** Cute Signs ** RV Subjects ** Miscellaneous Subjects
We would love to hear from you......just put "info" in the place of "FAKE" in this address: FAKE@travellogs.us
Until next time remember how good life is.