Missouri: St Louis, Washington, Chesterfield, Missouri Wine Country, KATY Trail State Park, Babler State Park
Places Visited:
Missouri: St Louis, Washington, Chesterfield, Missouri Wine Country, KATY Trail State Park, Babler State Park

Sunday July 25, 2004 Babler State Park Campground 20-miles west of St Louis: N38° 36.533': W90° 41.214' $18.00 for 30amps no water & central dump.
We moved the motorhome to Babler State Park 20-miles west of St Louis. If you do not know------St Louis is a BIG place. Traffic is terrible. We moved to the west end of town because we have several days worth of things yet to do in St Louis and they are all on the west end of town.
After an uneventful transition from the Casino Queen RV-Park to Babler State Park campground we headed out in the Saturn. Our plan was to take in a scenic drive through the wine country of Missouri. The National Geographic Guide to Scenic Highways and Byways list this Scenic Drive as "Missouri Valley Wine Country".
The Scenic Drive on State Road 94 heads west out of St Charles following the north bank of the Missouri River. The landscape is gently rolling limestone hills. The area is heavily agriculture. All along the highway is access to the KATY Trail State Park. The KATY Trail is an old RR right of way that the state purchased and created a State Park that stretches along the North bank of the Missouri River along here. The KATY Trail is now a bike path or hiking path…….. I suppose joggers use it also. Today is was full of bikers. Every stop had vehicles with bike racks jam packed in the parking lots and there were numerous entrances with parking areas.
This Scenic Drive is also featured in Readers Digest "The Most Scenic Drives in America". As we negotiate the seductive curves of the Missouri River past cornfields and limestone bluffs we contemplate how SR 94 negotiates the once-wild landscape viewed by Lewis & Clark in the early days of their epic voyage.
The Boone House in Missouri, it belonged to Nathan Boon, Daniel Boone's Son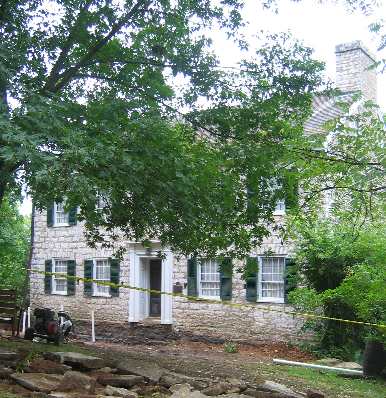 Not far from the start we took a side trip 4-miles up a small country road to Daniel Boon's House. Amazingly, the home where Daniel Boon died at the age of 86 back in 1820 is still standing. It has been repaired over the years but it is still there and still impressive. Actually, the home belonged to Daniel's youngest son Nathan. Nathan and his young wife had followed his father to Missouri in 1795. Nathan started construction on the home in 1803 the same year L&C passed through here on their famous journey. The house was not completed until around 1810. Although the house was not completed historians are almost certain that the family began living in the home when the first floor was completed.
On the 10th day out on their journey up the Missouri River the Corps of Discovery stopped by Boone's Settlement looking for the legendary Daniel Boon but he was away at the time. The expedition members instead spent time with other settlers and even purchased corn and butter.
Tour of the Boone house in Missouri
Back to the construction of the Boone house; 7-years may sound like a long time to be constructing a house but they did it when they had time and it was a BIG house. It is a 4-story dwelling with 2 ½ foot thick blue limestone walls. The limestone came from an outcropping several miles to the east. Timbers in the house are original and are massive Black Walnut. It is easy to see where these massive beams were hand hewn. The marks along the sides of those squared timbers are unmistakable. The docent said that the mortar used in the joints back in 1803 was a mixture of crushed limestone, clay and pig hair. All of that has been covered over by real mortar. Some parts of the limestone rock have been covered with plaster both inside and outside. Windowsills in walls that are 2 ½ feet thick provide immense places to put things.
Unlike most places they had a kitchen with a fireplace complete with oven on the ground floor. Most structures of this time had kitchens separate from the main house because of the danger of fire. Docents speculate that cooking in this fireplace was only done in the winter because at other times it would have put too much heat into the house.
Daniel Boon was 61-years old in 1795 when he moved to Missouri leading a group of settlers. The Spanish owned and controlled this area and wanted to see it settled. The Spanish "courted" Boone, giving him a large land grant complete with tools and stock in exchange for his influential presence in settling the rich bottomlands. They contacted Daniel because of his reputation for settling Kentucky. They gave him a large land grant if he would get a group together to settle this area. He did so. Of course he had not been here long when the Spanish transferred the Louisiana Territory to France (1802) who promptly sold it to the United States (April 1803) to pay for Napoleon's War in Europe.
Boone house in Missouri: it was Nathan Boone's home (Daniel Boone's Son)
Nathan invited his dad and mom Rebeccah to move to his place and help him build his house. Daniel and his wife built a log cabin close to the house Nathan was constructing and helped Nathan both with the design and construction. Daniel Boon was 70-years old when construction of Nathan's house began.
Judgment Tree where Daniel Boon held court under the huge Dutch Elm tree
One other thing we saw at this house was the famous "Judgment Tree". This famous tree was a giant elm tree that succumbed to Dutch elm disease years ago. In its glory years the tree had a circumference of 16-feet. It was none other than the Governor of Louisiana Territory (Meriwether Lewis) of Lewis & Clark fame that appointed Daniel Boone as "Justice of the District of Femme Osage". Lewis was only Governor of the Louisiana Territory for two years 1808 and 1809 so it was during that time that he appointed Daniel Boon as Justice of the District. Daniel was a Quaker and didn't believe in the death penalty so no one was ever hung from the "Judgment Tree". The tree got that moniker because Daniel liked the outdoors and held court under that tree when court was necessary. The trunk of the massive tree is reposed on the ground slowly rotting away. I read somewhere that most of the decisions Daniel made were disputes between Indians and the Settlers. Daniel had no training in the "law" so his decisions had nothing to do with "the written law" his decisions were made on what was fair and right.
As we pass through the small town of Defiance, SR 94 hugs the banks of the Missouri River, following its lazy course through countryside confettied with tidy farmhouses, old barns, neat country inns and fields of corn and soybeans. Along the way SR 94 ventures briefly across wooded hills and narrow valleys that form the northernmost reaches of the Ozarks. As we approach Augusta neat vines cascade down the gentle rounded slopes. This is the heart of Missouri River wine country-or Rhineland, as the locals affectionately call it. Nostalgic German immigrants, reminded of their beloved Rhine River valley, flocked to the Missouri River in the 1800's, bringing with them their Teutonic architecture, fondness for flowers, and traditional wine-making skills. At one time Missouri's vineyards were second only to California. Prohibition destroyed all that. The wineries are once again reemerging. As we drive we see one vineyard after another advertising their cellar and wine tasting facilities.
Wineries abound along State Road 94. According to National Geographic the Montelle Winery (636-228-4464), perched 400 feet above the river valley, provides the most scenic views of the bluffs and verdant farmland below. All of the wineries offer tours and tastings. Joyce and I stopped by Montelle to take in the VIEW National Geographic had referred to. We were not disappointed. From SR-94 we climbed up a steep road. Sorry no trucks or RV's allowed (there isn't room in the parking lot at the top). There was ample parking for automobiles and the parking lot was crowded. We could tell from the parking lot that the view was going to be awesome. From the parking lot we heard the sounds of a band. Things were looking up. As we looked around we found that the winery had constructed a deck hanging on the edge of a precipice. In fact the huge deck wraps around the cliff in an L shape complete with a bandstand and considerable area under a roof. All this was very nice. We could quickly tell that the wine and cheese crowd from St Louis had drifted out here for a bottle of wine and cheese while taking in a quality country band. Views across the valley are awesome, totally awesome. The entire countryside is beautiful but the view from this place is breath taking. No wonder there was a crowd sipping wine and dancing the afternoon away. We were in the midst of "beautiful people". There is absolutely NO WAY Joyce and I could sit down and drink a bottle of wine no matter how much fun it looked. I know some people love wine but I would just as soon sip vinegar…….and trust me I don't want to sip vinegar. I wish we did enjoy the taste of wine since so many people do and it is difficult for us to "get with it" when we aren't indulging. The band was playing "I can't stop loving you" as we arrived so we started dancing. We could have stayed for the rest of the afternoon but we had a scenic drive to do. It was a tough choice but we decided to continue our scenic drive. I was surprised, I though surely we would be there the rest of the afternoon and into the night. Joyce doesn't often walk away from live music and a dance floor.
The remainder of our drive was more bucolic countryside and undulating hills. We crossed the Missouri River to Washington. Washington is a metropolis compared to all the other little places along the river. In addition to having a beautiful mile long city park along the banks of the Missouri Washington is home to the world's only corncob pipe manufacturing factory. It seems that back in the 1860's (Civil War era) a woodworker mechanized the production of corncob pipes. The factory that supplied such aficionados as Mark Twain and Gen. Douglas MacArthur still stands on Front Street, turning out corn cob pipes. It is Sunday and the factory is closed otherwise I would see if I could watch. Perhaps we will be back through Washington before we head on down the road, if so I will check on this factory. From Washington we headed back toward the motorhome with only one more stop to make. On the South side of the Missouri River Lewis & Clark wrote about visiting a cave, that cave came to be known as Tavern Cave.
We know about this cave because Lewis climbed the cliff next to the cave in order to get a better view of the area. At the top Lewis slipped and almost fell the 300' to the bottom. According to their Journals "While Clark was adding his name to the register inside the cavern, Meriwether found a break in the precipice, ascended it, and began working his way along the edge. A foothold crumbled. He slid and bounced downward about 20 feet. Just short of disaster," Clark wrote in his journal, "He saved himself by the assistance of his knife, driving it wildly one assumes, into some crevice that held. Just how he extricated himself from the dizzy perch does not appear."
Knowing where the cave was located we headed to it using GPS coordinates. Street Atlas 2004 wound us around streets in an upscale housing and golf development until we arrived at the marker. The drive back to the marker was worth it. Who would have known this ritzy community was tucked away back here and they had forgotten to put up a gate to keep "common-folk" like us out. Most places like this are gated and guarded. Anyway, without any problems we located the marker. From here it was time to return to the motorhome. It was a good day.

Until next time remember how good life is.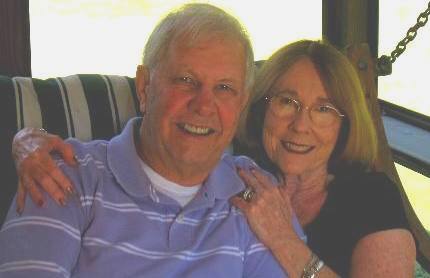 Mike & Joyce Hendrix who we are
We hope you liked this page. If you do you might be interested in some of our other Travel Adventures:
Mike & Joyce Hendrix's home page
Travel Adventures by Year ** Travel Adventures by State ** Plants ** Marine-Boats ** Geology ** Exciting Drives ** Cute Signs ** RV Subjects ** Miscellaneous Subjects
We would love to hear from you......just put "info" in the place of "FAKE" in this address: FAKE@travellogs.us
Until next time remember how good life is.