Places Visited:
Thursday July 1, 2004
Two Rivers Campground; Nashville, Tennessee: N36° 13.936' W86° 42.251' $35 with Good Sam 50-amp full hook up. (Between KOA & Yogi Bear Campgrounds)
It rained again today. Will it ever stop?
Yesterday afternoon the RV-Park sponsored a family blue grass group performing by the pool. It seems that this family is performing locally while staying in a large motorhome here in the Park. I think the Park worked out a "good-deal" with them to put on an afternoon performance. We enjoyed several hours of good music. Remember this was yesterday afternoon.
Then at 7:00 last night the RV-Parks regularly scheduled entertainment started performing by the pool. This was a super good band. It was made up of a group of professional musicians. The drummer had toured and played with the Temptations in the 70s. The Sax player toured with James Brown then Charlie Pride. The guitar player toured with Earth Wind and Fire. Those were the ones that we remember. Although Nashville is a "country-music" town these folks were 60s & 70s Rock and Roll of the Mo Town variety. They provided several hours of top notch music. It can't get much better than that. I don't know how yesterday could have been any better. Well, on second thought we could have done the Saturn tour, but we would have missed the group performing in the park yesterday afternoon. Keep in mind this was yesterday.
The rain today was heavy. Very heavy! Two RV's in the park had their awnings destroyed by the water. The negligent owners were actually in one of the RVs while their awning filled with water. Once enough water was trapped in the canvas-bag--that is what the canvas becomes when rain can not run off--became so heavy that it actually buckled the long aluminum roller shaft. I can tell you one thing-----that is one expensive oops.
The highlight of today was the entertainment we enjoyed from 6:00PM until nearly 11:00. The nice folks running the RV-Park told us about a monthly event happening next door to the RV-Park. That special event is called the "Elders Ball". The "Nashville Nightlife" an auditorium/restaurant located 2620 Music Valley Drive opens their doors one night a month to local musicians. Local musicians who don't happen to have a gig that night drop by with their instruments and have fun jamming together. These professional musicians absolutely love to jam with one another. Most, if not all, of these professional musicians tour with the stars as well as play local gigs and in the myriad recording studios. The audience was also full of "top-vocalist" from house bands around the area. The vocal talent was as awesome as the instrumental assemblage.
To cap off a night we didn't think could get any better--------in walks Billy Dean an established country music star. The women squealed with Billy just standing on stage. I suppose he is what they call "a good looking hunk". Eye candy is the appropriate term I think. His voice could open any door. The instrumentalists really enjoyed performing with him. Several other vocalists joined him on stage to perform certain songs. Of course he performed his signature song "We just Disagree".
What we enjoyed tonight was better than some of those high priced concerts and tonight was FREE. If you plan to visit Nashville you might want to check on the "Elders Ball" and see when they are next scheduled to get together. They do not have a web address but you can get info by e-mail ----- EldersBall@bellsouth.net Remember that this is just a lose knit group---no membership or anything-that gets together once a month to jam and see each other and they keep in touch via that e-mail address.
It is going to be hard to top the entertainment provided by the musicians at the "Elders Ball".
Friday July 2, 2004
Two Rivers Campground; Nashville, Tennessee: N36° 13.936' W86° 42.251' $35 with Good Sam 50-amp full hook up. (Between KOA & Yogi Bear Campgrounds)
We spent the day in downtown Nashville. The first order of business was getting the "lay of the land" especially locating the important venues. As we were getting oriented we were also looking for a "special" place to eat breakfast. While investigating "Music Row" Joyce spotted --Noshville-- note the spelling. Noshville looked like the place we were looking for, it had location, the parking lot was full, and a waiting line was out the door. Joyce had spotted a good one, Noshville is where the recording industry dines. Once inside we found out Noshville is an "Authentic New York Delicatessen" billed as "An Eating Experience, Not Just a Place to Eat". Nosh, according to Merriam Webster, is a verb meaning to eat. The etymology being Yiddish and High German. I am usually game to try new & different menu items but couldn't bring myself to be adventuresome this morning. Lox (smoked salmon) Eggs and Onions just wasn't setting off fireworks if you get my drift, neither was Salami & Eggs (pancake style). Of course there was Matzah Brei (scrambled eggs & matzah) what ever that is. We settled for eggs, bacon and toast with Noshville potato cakes. The place was an experience. If you are visiting Nashville it would be a fun place to visit. Located at 1918 Broadway in the Music Row area of Nashville it would be a good easy stop for lunch or breakfast.
After getting acquainted with where the important places were we toured the Country Music Hall of Fame plus took a gray line tour of "Studio B". Studio B refers to RCA Records Recording Studio B. It is famous, even hallowed ground, for Country Music fans and Rock N Roll fans because of WHO recorded some of the biggest hits ever there. Elvis recorded hits like A Big Hunk O' Love 1958, It's Now or Never 1960, Are you lonesome Tonight? 1960, Crying in the Chapel 1960, Little Sister 1961, You're the Devil in Disguise 1963. Bobby Bare recorded Detroit City in 1963, the Browns recorded The Three Bells in 1959 and Skeeter Davis did The End of the World in 1962. Then the Everly Brothers did All I Have to Do Is Dream in 1958 and Cathy's Clown in 1960. Roy Orbison recorded only the Lonely in 1960 and Running Scared in 1961. Dolly Parton did Jolene in 1973. The list goes on and on.
Our guide told us Chet Atkins shut Studio B down when Elvis died. The guide stressed over and over that Chet Atkins was the producer on most of these hit songs especially the Elvis hits. Even though our guide said Chet Atkins closed Studio B when Elvis died I think technology in the studio was probably dated and it was time to "shut it down" when Elvis died and his death was the excuse.
We visited downtown Nashville again after the sun went down. We dined at the Wild Horse Saloon while the band Livewire performed. The Wild Horse Saloon is something of a "must-do" when visiting Nashville. The Wild Horse Saloon is a Nashville institution and a good place to take your family. After the Wild Horse we ventured back to Broadway and headed to the row of honky-tonks located between 4th and 5th streets. We went into 4 or 5 of these places and enjoyed the house bands. These places were standing room only. We wanted to experience Tootsie's but there was just no way to get in and the band in Tootsie's wasn't any better than any of the others we were able to get into. Nashville was hopping; all the young folks were out for a Friday night while tourists were enjoying the scene. The row of honky-tonks between 4th and 5th streets reminded us of Bourbon Street in New Orleans. The similarities were there in that as you walked down the sidewalk you could stand outside and hear the music streaming out of each establishment, crowds of people were moving on the sidewalk, horse drawn carriages plied Broadway and street musicians were performing on the corners. What was absent was the SMELL; if you have ever experienced Bourbon Street in New Orleans you know the absolutely gagging, reeking stench of stale beer that permeates the entire French Quarter. Also absent in Nashville was the garbage on the street. The streets were clean in Nashville vice the garbage bags and boxes that must be negotiated even dodged on Bourbon Street. Also missing from Nashville were the rude, crude and shockingly unacceptable novelty shops. If you have ever visited Bourbon Street you know what I am talking about. The other thing missing in Nashville was Daiquiri shops. Nashville, and the Country Music scene, is deeply entrenched in the long neck genre. A Daiquiri shop here would be as out of place as whitewalls on a garbage truck.
To say we had a good time would be an understatement. There is NO doubt we will sleep late tomorrow.
Saturday July 3, 2004
Two Rivers Campground; Nashville, Tennessee: N36° 13.936' W86° 42.251' $35 with Good Sam 50-amp full hook up. (Between KOA & Yogi Bear Campgrounds)
We slept late and experienced a slow day. We needed to slow down.
It did not rain today. It is the first day sans rain since we left home nearly 2-weeks ago.
We headed to Opry Mills Mall located across the street from the Grand Old Opry and spent the afternoon wandering around.
By late afternoon we had located a bandstand outside The Grand Old Opry where two groups were going to perform. This being the 4th of July weekend all the expensive entertainment venues were full to overflowing and being fought over. Joyce and I settled in to enjoy the free entertainment provided by the two bands. While both were good entertainment neither band was as good as the other entertainment we had been fortunate enough to stumble upon since arriving in Nashville. We both joked that it was time for our lucky streak to end. Mind you we aren't grousing about tonight's entertainment it just wasn't as good the others this week.
Sunday July 4, 2004
Two Rivers Campground; Nashville, Tennessee: N36° 13.936' W86° 42.251' $35 with Good Sam 50-amp full hook up. (Between KOA & Yogi Bear Campgrounds)
This is the 4th of July. When we looked outside this morning we were surprised to see that it has rained during the night. We weren't surprised that it rained just that we didn't hear it.
Do you remember me telling you about the vegetables Joyce purchased while we were touring the Amish Country? Well, she cooked them and they were great. So those of you that thought the stove in this motorhome didn't work are wrong. It does just fine.
We were going to drive to downtown Nashville this afternoon and make our way to the waterfront (Cumberland River) where Sarah Evans, Oak Ridge Boys-Phil Vaser and several other top performers were entertaining before and after the fireworks display. After the fireworks we were going to wander up Broadway and spend the remainder of the night visiting the honky-tonks between 4th and 5th street. That was our plan but our plans changed because it was so HOT and no breeze was blowing. We decided to stay in the motorhome air conditioning instead. It turned out to be a good decision because the RV-Park had entertainment scheduled for 4:00 to 6:00. A thunderstorm raced through the area dropping the temperature 20 degrees in a matter of moments. We were able to enjoy Paul Hill a solo vocalist that used karaoke equipment to put on an outstanding performance. Paul is great I don't know why he doesn't have a record contract. He was head and shoulders above the two groups performing outside The Grand Old Opry last night.
Paul Hill is a Nashville resident who moved here with his wife to try and break into the recording industry. He is scheduled to perform weekly at the RV Park the remainder of 2004. If you are planning a visit to Nashville you might want to check the RV-Parks web site www.tworiverscampground.com and check their entertainment schedule. Stay around the park and soak up Paul's performance. Paul has what it takes to be a big time performer. You can also get a copy of Paul's schedule via e-mail at friendsofpaulhill2002@yahoo.com
We may have struck out with our entertainment selection yesterday but today made up for it. Well almost, since I will wonder about missing that free Sarah Evans-Phil Vaser concert.
Monday July 5, 2004
Two Rivers Campground; Nashville, Tennessee: N36° 13.936' W86° 42.251' $35 with Good Sam 50-amp full hook up. (Between KOA & Yogi Bear Campgrounds)
The sun came up big and bold this morning boiling all that moisture out of the ground. Humidity, along with temperatures in the very high 80s made it a bit unpleasant to be outside until the afternoon thunder shower that came roaring in around 3:00 ripping off awnings and tree limbs. The temperature dropped from 88 to 72 in less than a minute. That temperature difference was welcome.
We were out on a Gray Line Tour of "mansions" or "homes of the stars" around Nashville when the storm came through the park. The Gray Line Tour was fun. Some of the stars live in "upscale" neighborhoods in NICE houses while others live in palatial estates. Martina McBride's place was 12,000 sq ft, with several acres, while Alan Jackson's place was around 30,000 sq ft on several hundred acres. Kix Brooks lived in a 7,000 sq ft home on a cul-de-sac in a very upscale neighborhood while his partner Ronnie Dunn had a place farther out with a hundred acres or so. Dolly Parton had what looked to be one of the larger places on several hundred places. Little Jimmy Dickens had a smaller place in a nice neighborhood. He is 83 and still likes to mow his own yard. Hank William's old house was a huge rambling ranch house on what looked to be 10-acres. While in Brentwood----- an exclusive area the driver pointed out Al Gore's home. He laughed and said Al must be the only Democrat in the subdivision from the tone of editorials he read in the local rag when Al and Tipper started building the home several years ago. One disgruntled neighbor wrote that the "neighborhood is going down the drain". For you Florida State fans: Samari Rolle lived in a nice neighborhood a few doors down from Trace Atkins. The driver said Samari (pro-bowl foot ball player that played his college football at Florida State) made 8-million last year. I guess that FSU player has done good (southern expression), but not up there with Dieon!
Laurie Crook of Crook & Chase notoriety has a home in the country with a fire station about a half mile down the road as her nearest neighbor. Do you remember when Chase used to kid Laurie on the show about the fire department moving next door because they heard that Laurie was going to cook? Our driver told us that Laurie did have a fire in her kitchen a few years after Chase had so mercilessly kidded her on live TV about it.
That is enough about the stars homes. The driver told the old saw about one of the stars mowing his yard when a lady who had just moved into the neighborhood drove by rolled down her window and shouted "How much do they pay you to mow this yard?" The star thought for a moment then replied "The woman of the house lets me sleep with her!" That one has been around for a long time but it is still funny.
When the sun went down we headed downtown to honky-tonk row (Broadway between 4th & 5th). Tonight we were able to get into Legends and Tootsie's. Both places had top entertainment. While they were changing bands at Legends we moved to Tootsie's and enjoyed a band downstairs. When that band took a break we realized there was another band playing upstairs. Needless to say we moved upstairs. That is where we stayed the remainder of the night. While in Tootsie's we met some extremely nice locals. The locals took us under their wing and made us feel at home. All of them were in their 40s while Joyce and I are in our elder 50s. One of our new friends worked with the lead singer of the band in their day job. Before the night was over we exchanged names and addresses with us making promises to get in contact the next time we were in Nashville. You can bet that we will do that, in fact we have enjoyed Nashville so much that we will schedule a return trip. Carlton, Brenda & Betty------we will return! And thanks for a memorable night.
Tuesday July 6, 2004
Two Rivers Campground; Nashville, Tennessee: N36° 13.936' W86° 42.251' $35 with Good Sam 50-amp full hook up. (Between KOA & Yogi Bear Campgrounds)
Wow, what a night! I am sure glad we didn't have to go to work this morning! Da boss wouldn't have been happy with our performance even if we would have been able to get out of bed. No, we don't drink but we did have fun until ------ late last night.
We made it a down day and got some chores done--like the laundry. Some things like that still have to be done even when you are having fun. As night fell upon Nashville we thought about returning to honky-tonk row but neither of us had our heart in it. We had "funned" out last night. It is hard for us to imagine that we both agreed to stay home and get an early start tomorrow.
This was our last day in Nashville. Tomorrow we continue our trek north to start our Journey along the Lewis & Clark Trail.
Until next time remember how good life is.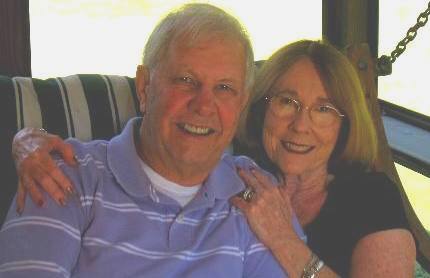 Mike & Joyce Hendrix who we are
We hope you liked this page. If you do you might be interested in some of our other Travel Adventures:
Mike & Joyce Hendrix's home page
Travel Adventures by Year ** Travel Adventures by State ** Plants ** Marine-Boats ** Geology ** Exciting Drives ** Cute Signs ** RV Subjects ** Miscellaneous Subjects
We would love to hear from you......just put "info" in the place of "FAKE" in this address: FAKE@travellogs.us
Until next time remember how good life is.