Prickly pear cactus
This is early September along the Gulf of Mexico east of Panama City Beach. While this prickly pear cactus is blooming it is really late in the year to see a bloom.
This prickly pear cactus is still blooming, see the yellow bloom in the upper left hand corner. Earlier flowers have procuced fruits called pears. As the pears ripen they will turn dark purple.
Prickly pear cactus can be eaten, in fact prickly pear cactus has been a staple of the Mexican and Central American diet for thousands of years.
The prickly pear cactus plant has two different edible sections: the pad of the cactus, which are used as a vegetable, and the pear, which is used as a fruit.
The pears with the reddish-orange or purple skin and deep purple interiors are considered to be the sweetest.
People that know tell me that when you are foraging for prickly pears, to keep in mind that while all pears are edible, only a few will actually be ripe and taste good.

The flesh of the prickly pear can be used to make jam, jelly, sorbet, wine, and "cactus candy."
I have never eaten any prickly pears but I want to try some. I dearly love the pads fixed in a variety of methods from fried (they are to die for) and cut up like string beans and cooked the same way.
This is a beautiful prickly pear cactus growing at a beach house less than 100-yards from the Gulf of Mexico near Panama City Beach, Florida.
Prickly Pear Nectar is made with the juice and pulp of the fruits and is available online.
Mike & Joyce Hendrix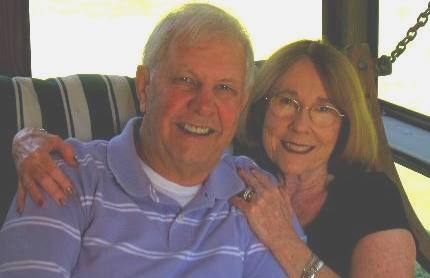 Mike & Joyce Hendrix who we are
We hope you liked this page. If you do you might be interested in some of our other Travel Adventures:
Mike & Joyce Hendrix's home page
Travel Adventures by Year ** Travel Adventures by State ** Plants ** Marine-Boats ** Geology ** Exciting Drives ** Cute Signs ** RV Subjects ** Miscellaneous Subjects
We would love to hear from you......just put "info" in the place of "FAKE" in this address: FAKE@travellogs.us
Until next time remember how good life is.