Beautyberry
Beautyberry with unripe berries
You can tell this picture of beautyberry was taken in early to mid-summer. By August these green fruits are turning purple.
From August through January the fruits will be purple. Actually, in the Panhandle of Florida where we live the berries disappear by December. I am not sure what happens to them but they disappear. Birds may eat them but I never see birds on the bush eating the berries.
Beautyberry
This beautyberry picture was taken in early August. As you can see the green fruits are turning purple. By the end of August all the fruit will be a bright purple.
Beautyberry can be found in most of the southeast, between Florida and Texas.
Beautyberry
All the fruit on this beautyberry has not yet turned purple. The picture was made in mid-August.
Beautyberry
This picture shows what beautyberry looks like from August through January. Hang on a minute, this is how beautyberry will look until birds and small animals have eaten all the fruit.
Beautyberry fruit and seeds are eaten by a wide variety of songbirds, deer, raccoons, opossums, armadillos, and numerous small rodents.
Beautyberry leaves are also a common food source for deer in the southeast.

Beautyberry
Another picture of beautyberry taken in mid-August before all fruit has turned purple.
Beautyberry
This is what beautyberry looks like in early September. This picture was taken near the beach in the Florida Panhandle, west of Panama City Beach.
Beautyberry
This beautyberry was being used in the yard of a nice beach house. It is a native plant and thrives well in poor soil with little water. The sandy coastal soil suits it perfectly. The picture was taken in early September. The fruit has set, but before the birds and animals have begun feeding on it.
Beautyberry
Note how this beautyberry was planted with the palm tree to decorate this beach house.
Mike & Joyce Hendrix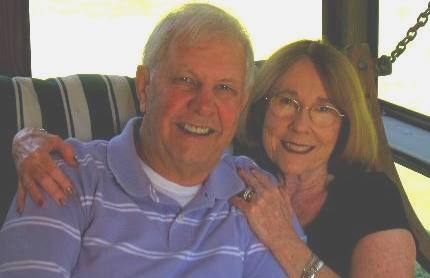 Mike & Joyce Hendrix who we are
We hope you liked this page. If you do you might be interested in some of our other Travel Adventures:
Mike & Joyce Hendrix's home page
Travel Adventures by Year ** Travel Adventures by State ** Plants ** Marine-Boats ** Geology ** Exciting Drives ** Cute Signs ** RV Subjects ** Miscellaneous Subjects
We would love to hear from you......just put "info" in the place of "FAKE" in this address: FAKE@travellogs.us
Until next time remember how good life is.