Columnar Jointed Basalt in Yellowstone NP
The speed with which lava cools can determine the type of rock that is formed. In this instance the cooling lava has formed columnar jointed basalt.
The cliff wall on the other side of the Yellowstone River near Tower Falls, in Yellowstone National Park, has some interesting geology. A thick layer of columnar jointed basalt provides a cap over an even thicker layer of glacial moraine (river rock or cobblestones if you will) that appears to be around 50 feet thick.
This is a closer look at the thick layer of glacial moraine covered by that thick layer of columnar jointed basalt.
A kiosk indicated that the lava flow across the river is 25 feet deep and was deposited 1.3 million years ago. The kiosk indicates there is a loose mix of gravel (river rock/cobblestones) carried here by glacial melt water on top of the columnar jointed basalt. I can see earth on top of the basalt layer but I can not identify it as cobblestones from this distance.
If that be the case then the deep deposit of glacial debris was in place before the lava welled up and flowed over the debris field. Then another glacier formed and deposited yet another layer of glacial debris on top.
Click here for some more Columnar Jointed Basalt
Click here for Columnar Basalt in Idaho
Click here for more Miscellaneous Subjects
Mike & Joyce Hendrix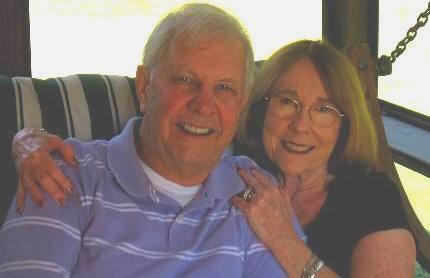 Mike & Joyce Hendrix who we are
We hope you liked this page. If you do you might be interested in some of our other Travel Adventures:
Mike & Joyce Hendrix's home page
Travel Adventures by Year ** Travel Adventures by State ** Plants ** Marine-Boats ** Geology ** Exciting Drives ** Cute Signs ** RV Subjects ** Miscellaneous Subjects
We would love to hear from you......just put "info" in the place of "FAKE" in this address: FAKE@travellogs.us
Until next time remember how good life is.