Red Canyon south of Lander, Wyoming
Red Canyon wall visible south of Lander, Wyoming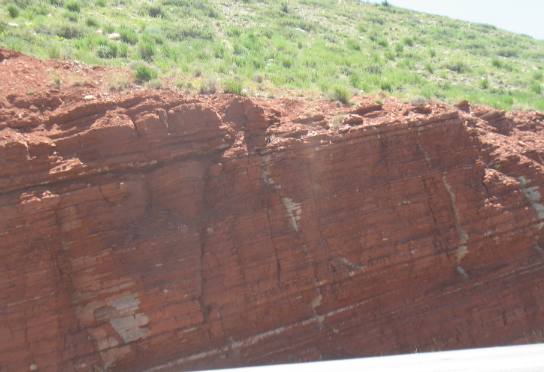 Red Canyon is located 13 miles south of Lander, in south central Wyoming
The orange and red sandstone exposed here is colored by ferrous oxide or iron.

This is the view from the Red Canyon Overlook 24 miles south of Lander on Highway 28.
This is one of the most scenic vistas you will see anywhere.
The canyon was formed some 60 million years ago during the uplift of the Wind River range west of here. As the sedimentary rocks tilted, the more easily erodible rocks were removed by the action of water, creating the canyon as it is seen today.

The bottom of the canyon and the lower 300 feet of the east side are eroded into the Triassic Chugwater formation. This consists of brick red sandstone, shale, and siltstone. The bright red color of the Chugwater formation is due to oxidized iron between and on the grains of the rock. It is this coloration that gives Red Canyon its name.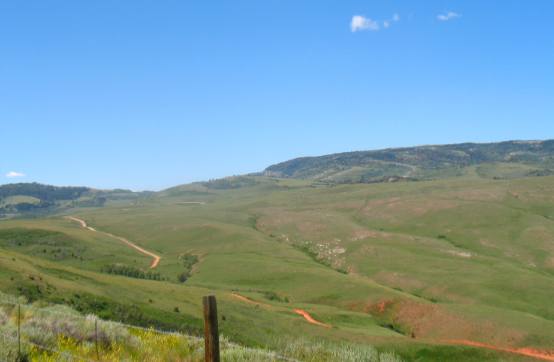 For 19th century prospectors and miners in the rich gold fields of South Pass, Red Canyon meant a change in diet.
From the wind-swept sagebrush prairie at South Pass, they could descend nearly 2,000 feet down a steep wagon road to the fruit orchards and vegetable gardens in the warm valley below where they purchased fresh produce - a welcome switch from wild game meat they had been living on.

Today Red Canyon draws travelers who gather at this overlook approximately 15 miles south of Lander on Wyoming 28 where you can pull over for a stunning vista of iron-laden Triassic rock. At the center of the canyon is the Red Canyon Ranch, protected by The Nature Conservancy.
Red Canyon Creek & Little Popo Agie River south of Lander, Wyoming
Red Canyon Creek and Little Popo Agie River is in the valley. As a tourist I can not tell one from the other.
The spectacular orange and red sandstone formations you see here have been exposed through millions of years of erosion. The brilliant red color comes from concentrations of ferrous oxide or iron, in the soil and stone.
Red Canyon Wildlife Habitat Management Area south of Lander, Wyoming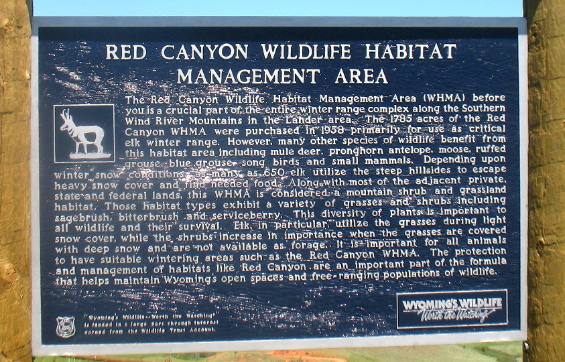 One of the main Indian trails through this region followed Red Canyon Creek in the valley below. Traces of the trail may still be seen on the face of the slope west of here. Mountain men used this same trail in the days of the rendezvous. Later it became a wagon road and stagecoach route from South Pass City to Lander and Fort Washakie. The road was so steep that it was called the "Red Grade".
These slopes are crucial winter range for elk. Over 700 elk use this area every winter. Sometimes it is possible to see several hundred elk on the open slopes to the west during winter months.
Red Canyon is cooperatively managed by the Wyoming Game and Fish Department, the State of Wyoming, the Bureau of Land Management and private landowners.