Alfalfa in the field and solar water heater on the south facing roof
We noticed this small farm house with a roof covered in south facing solar panels along side a field of freshly mowed alfalfa along US-6 in Nebraska.
Grain elevator in rural southern Nebraska along Scenic US-6
This grain elevator was not like the majority. This one was not constructed of galvanized metal. These looked to be constructed more along the lines of petroleum storage tanks.

We see a lot of corn, a good bit of wheat and some alfalfa. We even spotted a few fields of potatoes and some newly planted fields of soy beans.
This is a serious grain elevator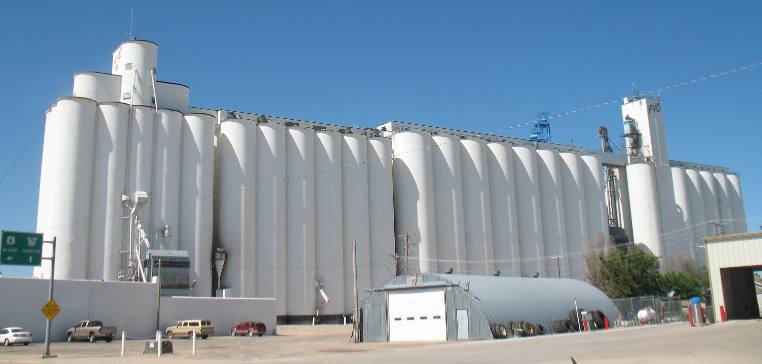 Rural Nebraska buildings visible from Scenic US-6 Nebraska
Grain train heading west
This was a very long grain train heading to the west coast I suspect. It was more than a mile long. We never found the front of the train. It did have engines in the middle. Can trains get too long? I can not recall seeing engines in the middle of a long line of loaded cars. And yes the engines in the middle were under serious power. How long can a train be?
Until next time remember how good life is.
Mike & Joyce Hendrix who we are
We hope you liked this page. If you do you might be interested in some of our other Travel Adventures:
Mike & Joyce Hendrix's home page
Travel Adventures by Year ** Travel Adventures by State ** Plants ** Marine-Boats ** Geology ** Exciting Drives ** Cute Signs ** RV Subjects ** Miscellaneous Subjects
We would love to hear from you......just put "info" in the place of "FAKE" in this address: FAKE@travellogs.us
Until next time remember how good life is.