Alan Jackson at Country Music Association Awards
June 16, 2009
Alan Jackson at CMA Country Music Association Awards in Nashville, Tennessee
This travellog is nothing but pictures we captured as Country Music Stars exited the Red Carpet area to enter the Sommet Center where the CMT Country Music Television was hosting their nationally televised Awards show. We did not have tickets. We were looking for free tickets and did not luck out although we did get VERY close. Ticket hawkers on the street were selling tickets for $175.
On the last night of "Fan Fair" we noticed a huge tent being erected on 5th street as we made our way back to our car, after the big show at LP field (Titan Stadium). It was after midnight and we wondered why they were erecting a tent in that location while every other venue was being disassembled. The stages and stuff being disassembled were associated with the CMA Music Fest" which was officially over. Later we found out that the huge tent being erected on/in 5th street next to the Sommet Center was the location for the Red Carpet where the media fawns over each "star" as they arrive for the CMT Awards Show scheduled for Tuesday night.
Now you know the setting. It is Tuesday night around 5pm and we were arriving on Broadway later than usual since we were still recovering from Fan Fair where we had NOT gotten home earlier than 2am in 5-days/nights. As we are walking down 5th street past the old Ryman Auditorium toward Broadway, and our favorite honky tonks, we noticed a crowd of folks around that huge tent which was situated about 1/2 block south of Broadway. We peaked in Legends Corner and did not recognize the band so decided to walk down to the tent and see what was attracting the crowd.
What we found was an area that had been barricade off so as to cordon off a pathway from that tent into the Sommet Center where the CMT Awards Ceremony was being televised. Ahhh, so now we were able to put things together. The tent was the Red Carpet area where massive amounts of media were interviewing each star as they arrived. After leaving that Red Carpet the stars still had to make their way into the Sommet Center and it was along this barricaded area that they walked. Now we knew what all the excitement was about. Most people in this crowd had tickets to the event and had to be in their seats by 6:30 because the entry doors closed then and no one was allowed into the seating area after that. That seemed strange to me but they all said it had to do with the event being televised and was customary.
While we are not the brightest crayons in the box it did not take either of us but a nanosecond to realize that it would not be long before this crowd would dissipate. In a few minutes they evaporated as they rushed into the Sommet Center to take their seats thus leaving us with "ring side seats" to the walkway between the Red Carpet and the Sommet Center.
In short order there we were with ring side seats ------ getting caught up in the excitement and having as much fun a couple of teenagers.
Alan Jackson leaving the red carpet at CMA Country Music Awards Nashville, Tennessee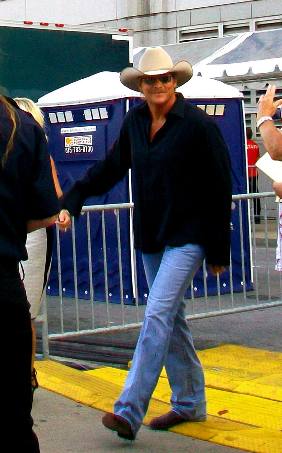 Here comes the really big guy. It is hard to get any bigger than Alan but here he is holding his wife Denise's hand. Ya gotta love this picture as Alan passes by the porta potties set up for the media covering the red carpet activities.
Alan and Denise Jackson leaving CMA Country Music Awards Nashville, Tennessee
I was surprised. Alan dressed up in a new pair of jeans for his walk down the red carpet. He is about as unassuming a guy as there is. Ya-recon Denise threw away his jeans with the holes?
Alan Jackson at CMA Country Music Awards Nashville, Tennessee
Alan is talking with the folks as he makes his way to his waiting Escalade
If you look close you can see Joyce's red hair at the bottom of this picture.
Alan & Denise Jackson leaving the CMA Country Music Awards Nashville, Tennessee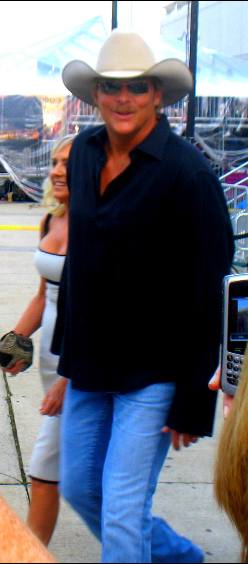 I think Alan is talking with Joyce in this picture. You can see a sliver of Joyce's head in the lower right corner.
Alan & Denise Jackson at CMA Country Music Awards Nashville, Tennessee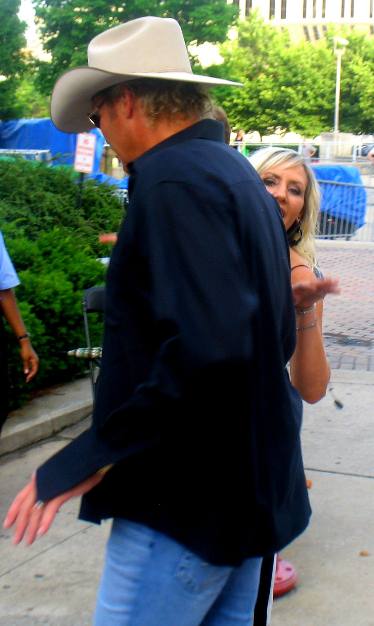 Alan and Denise were making their way to their chauffeured escalade that was ready to whisk them away from the event rather than staying for the awards ceremony. Joyce and I were standing behind his "getaway" vehicle in this picture. Joyce shouted to Denise, "Denise, I love your book" Denise is looking at Joyce and saying "thanks". Alan is telling her to "get in the car".
That is all there is.