January, 5 2009
This travellog covers a short visit to Tarpon Springs one afternoon on our way to south Florida. We stopped in Odessa, Florida to visit with friends.
Our plan was to meet at Carrabba's around 6PM. Joyce and I arrived at a Super WalMart in Odessa where we dropped the motorhome and headed to Tarpon Springs for the afternoon.
One of the first things we saw upon arriving in Tarpon Springs was this large center console boat coming up the Ancelot River. Notice the mangrove islands dotting the mouth of the river.
Tarpon Springs is synonymous with the sponge industry and Greeks.
Drying sponges on sponge boat at the sponge dock Tarpon Springs, Florida
Sponges drying on the back of a sponge boat at the Tarpon Springs Sponge Docks.
The sponge industry, sponge docks & sponge exchange has been around Tarpon Springs since the early 1900's.
More sponges drying on one of the sponge boats tied up along the Tarpon Springs sponge dock..
This pelican was posing for Joyce on a piling at the Tarpon Springs sponge dock.
Sponges at the sponge exchange Tarpon Springs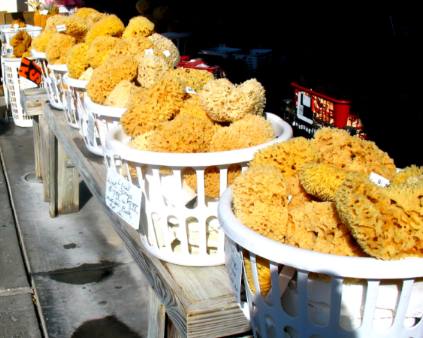 Baskets of sponges for sale at the Sponge Exchange in Tarpon Springs.